Joanna Gruesome : Peanut Butter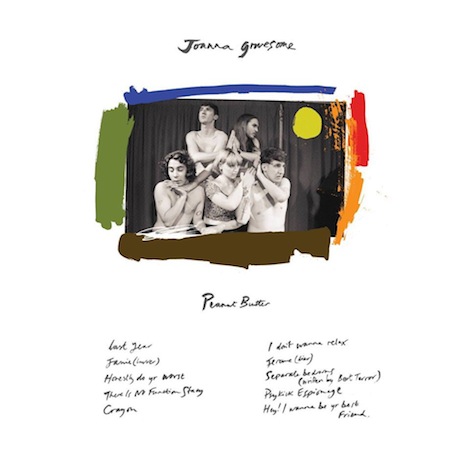 Opposites have always been attractive to fans of pop music. We prefer even our sweetest celebrities and musical icons to come with a little scandal, and no artist has ever succeeded by being a pure villain in the eyes of the public. But things get a little more complicated when we apply that formula to the music itself. The quiet/loud attack of '90s grunge is evidence enough that all it takes is a little melody to turn a fundamentally abrasive sound into something easily digested by the masses. But what happens when you turn that approach around?
At their core, Welsh quintet Joanna Gruesome play a sweet, earnest style of indie-rock that could best be described as twee pop. It's fluffy, extra sugary and tangibly sincere. But on top of that cake they pile on a thick, noisy icing of distortion and feedback. This duality is clear from the very onset of Peanut Butter, the group's sophomore LP. Opener (and lead single) "Last Year" spends less than a minute masquerading as a Perfect Pussy sound-alike before bursting into a softly-spoken, sing-along chorus that could very well give Belle and Sebastian a run for their money. But instead of filling in the space with strings, harp or piano, Joanna Gruesome inject every blank area with dissonance and feedback. Unlike '90s acts that fused pop-melodies and noise in a way that married the two into one whole, Gruesome's music comes across as an alien mashup—an awful sonic accident that just so happens to work terribly, beautifully well.
Compositionally, Peanut Butter takes its inspiration from punk rock, boasting 10 tracks that rarely clock in much past the two-minute mark, with the slow jams barely hitting three. The production too, helmed by Hookworms' MJ, is also intentionally muddled, providing Peanut Butter's most distinct connection to Perfect Pussy and dampening Alanna McArdle's otherwise straight vocals to a level just above indiscernible. But if the listener puts the work in, the message on Peanut Butter is clear enough. Whether she's describing a tragic visit to a water park ("Last Year") or longing for a love she shouldn't desire ("Separate Bedrooms"), there's a bitter sort of nostalgia to McArdle's writing that can't help but be read as socially critical. She never quite reaches the blunt levels of political commentary that U.S. counterparts Chastity Belt exert, but there's an undeniable tension in Joanna Gruesome's music that's just begging to be cut loose.
Similar Albums:


Perfect Pussy – Say Yes to Love


Alvvays – Alvvays


Joyce Manor – Never Hungover Again