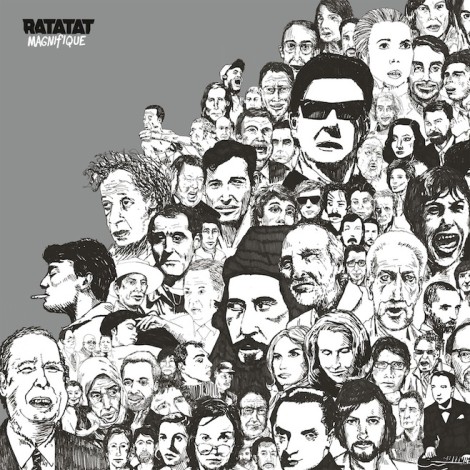 Cultural relevance isn't an exact science. It's difficult enough to put a finger on what music is defining any specific moment in time, but the bull's eye moves even further away when trying to determine which of those trends will stand the test of time and wind up truly intertwined with a specific decade or generation. But, eleven years after their self-titled debut, it's safe to say that Ratatat were a defining element of the mid-oughts. Love 'em or hate 'em, the instrumental stylings of "Seventeen Years," "Wildcat" and "Lex" mixed elements of rock and hip-hop in a way that had a tendency to spark up a wild dance floor of otherwise awkward youth in ten seconds flat. The duo of producer Evan Mast and guitarist Mike Stroud achieved possible perfection with this form on 2006's Classics, a record that lived up to its ambitious title by producing ten infectious, intoxicating instrumentals, all capable of holding their own weight as singles.
But after two albums churning out dance-friendly, guitar-driven flurries, Evan Mast and Mike Stroud got hungry for something a little different, taking an excursion down a more experimental, ambient path for 2008's LP3 and 2010's LP4. Tapping into world music, as well as the more experimental sides of hip-hop and instrumental rock, the compositions on those records were more about creating a feeling than igniting a sense of excitement. That didn't make them bad records, but it perhaps didn't quite reward the duo's fanbase for their patience.
If Magnifique is any sort of indication, that seems to be a sentiment that Mast and Stroud can agree with. The band's fifth studio record (and first in five years) takes an intentional turn back to the guitar dances of Classics, with only rare moments of outright experimentation. It's not that the effects of LP3 and LP4 have been completely erased from the band's handiwork—plenty of tropical flourishes and heavy waves of synth accent almost every single piece here. But the focus has returned to the dance floor, with the duo churning out potential hit after potential hit. Singles "Cream on Chrome" and "Abrasive" wear this goal most obviously, but almost every track here has the ability to excite and stimulate, especially when the bass knob is cranked up a bit.
Even the slower, offerings here—the title track, "Drift," "Supreme," the duo's cover of Springwater's "I Will Return"—veer less in the direction of moody experimentation, instead favoring a slow dance vibe. "I Will Return," in particular, fills the once-abandoned Ratatat tradition of ending each record with a slow jam, or night cap or sorts ("Cherry," "Tacobel Canon"). Its slow-brewing vibes reach out with both a strong wave goodbye to the listener and a firm sense of familiarity, as if to say "We heard you—now, can we have this dance?"
Similar Albums:

Ratatat – Classics


Phoenix – Wolfgang Amadeus Phoenix


LCD Soundsystem – This Is Happening