J Mascis : Tied to a Star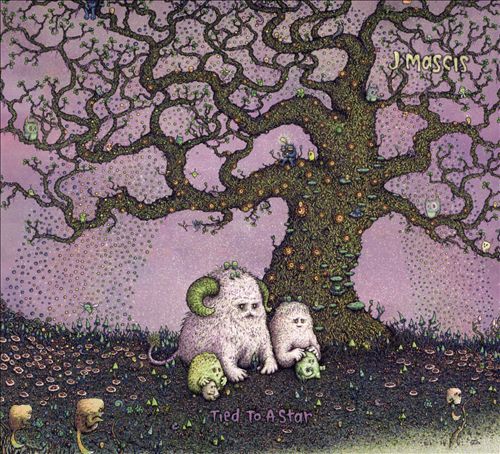 Few artists are as prolific as Massachusetts' favorite creaky-voiced indie-rock guitar hero, J Mascis. Between Dinosaur, Dinosaur Jr., Witch and his solo efforts, he has released an average of at least one album every other year since the mid-'80s. In 2007, Dinosaur Jr. ended its 10-year hiatus, and has continued on with the melodic grunge the band helped pioneer, a move that appeared to strengthen Mascis' commitment to his own reputation as a songwriter first, and bandmate second. His first solo album for Sub Pop, 2011's Several Shades of Why, was the anti-Dinosaur Jr., not only in its sparse instrumentation but also in Mascis' new coffeehouse-folk compositions. His latest, Tied to a Star, is a continuation of that, as if Several Shades was his debut, and he is evolving from that point rather than attempting any other reinventions or misdirections.
Tied to a Star opens with the unassuming, playfully-titled, "Me Again." This lightly accompanied beauty has the feel of a song that was created on a front porch in the moonlight – easy, simple, calm, and featuring Mascis's unapologetic falsetto in the bridge. It could have appeared on Several Shades, but it appears more poignant here as a follow-up to 2012 Dinosaur Jr. album, I Bet on Sky. Second track, "Every Morning," however, is upbeat, anchored by a full drum kit (as opposed to light percussion), with crunchy solos, as if Mascis moved from the front porch to the garage, where he was joined by his friends for a jam session.
"I could use a little downtown/I could use a bit less down," Mascis sings on "Heal the Star," imploring his friends to get him out of his house (though this particular song is very much a solitary effort). Cat Power's Chan Marshall joins him on "Wide Awake," another light tune featuring some easy and lovely finger picking, reminding us why Mascis was on Rolling Stone's list of the 100 Greatest Guitarists. He drives that point home with the stomp-folk instrumental "Drifter," whose acoustic instrumentation deceives the fact that he is striking the strings with great intensity.
The bulk of Tied to a Star is low-key — sticking to the "front porch" sound that I mentioned — but there are enough surprises and pleasant additions to the orchestration that it can be seen as more than Several Shades Part II. Closer "Better Plane" features some atmospheric tones and effects, particularly in the solo that ends the album, implying that Mascis had more fun once he took these numbers to the studio. If he continues his solo recordings in this direction, there is no reason Dinosaur Jr. and solo Mascis can't co-exist.
Similar Albums:


J Mascis – Several Shades of Why


King Buzzo – This Machine Kills Artists


Thurston Moore – Demolished Thoughts