All Dogs : Kicking Every Day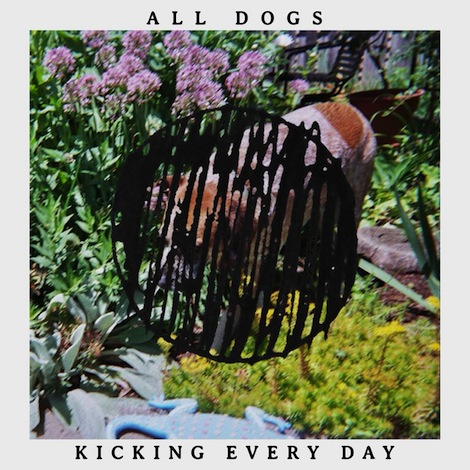 All Dogs aren't a supergroup, at least not in the traditional use of the word. In fact, the punk-leaning power pop group has been around for quite a few years, writing and performing as a Columbus, Ohio-based trio. But the recent success of singer/guitarist Maryn Jones' other project, Saintseneca, has led to a pretty significant spotlight upon the group's debut full length. Add to that hype the addition of second guitarist Nick Harris, an ex-member of NONA, hailing from Philadelphia and representing another indie-rock scene that's recently found itself under the hype-blog microscope, and you've got yourself a hell of a set up.
But to pump Kicking Every Day up with grandiose or far-fetched expectations would be an injustice. It's public knowledge that All Dogs' early eponymous EP caught the attention of Waxahatchee's Katie Crutchfield, and there's a good reason for that—the band's focus is on elevating the personal songwriting of Jones, and they do that by focusing on clear, power-pop songwriting. Sure, elements of the member's indie and punk leanings pop up here and there in a particular riff or drum fill, or especially in Jones' earnest, unfiltered delivery. But the purpose here is to hone in on each track's emotional core, whether that's furious, adrenaline-fueled ruckus on the break-up fueled "That Kind of Girl" or painful, solemn meditation on the more introspective "Skin."
To capture these ten tracks, All Dogs worked with Philly's Kyle Gilbride, and they couldn't have chosen a better fit for their evasive sound. Having worked extensively with both Crutchfields (in Waxahatchee and Swearin'), Gilbride has the talents to capture both quiet, reflective moments and loud bursts of college-rock enthusiasm, both of which All Dogs make plenty use of.
Kicking Every Day positions Jones, alongside Harris, bassist Amanda Bartley and drummer Jesse Withers, as a dealer in that most basic of artistic release—pure emotional catharsis that is complicated enough to dive into but simple enough to sing along to by the second listen. It's a deceptively simple formula that many lesser bands have fallen short of, especially in an age where vintage indie-rock revival seems to be the name of the trade. But by keeping things basic and playing only to their strengths, Jones and company score another major win for their hometown scenes, ideally winning some newfound fans in the process.
Similar Albums:


Worriers – Imaginary Life


Saintseneca – Dark Arc


Swearin' – Surfing Strange