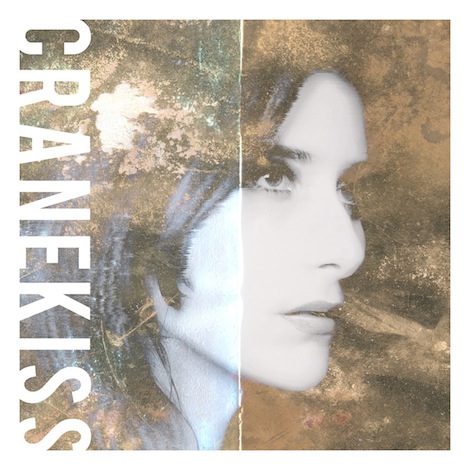 Shoegaze has experienced something of a revival in recent years. The recent influx of onetime Creation Records bands' reunions has no doubt revitalized a genre that was once growing stale with an inordinate amount of Loveless carbon copies and Ride-­inspired rehashes. Oddly, the originators of the genre seem less content with reliving their own pasts than their own modern counterparts. MBV was a resounding success that smeared noise guitar over a punishing layer of rapid­fire drum and bass, while Swervedriver's recent record simply did away with the gauzy aesthetic of their previous work. Cranekiss, the product of Tamaryn and fellow new addition Shaun Durkan (frontman of the noisepop group Weekend), unfortunately falls into the less­ inspired "modern counterpart" category.
Not that there isn't a lot to enjoy here—the duo are able to instill a passionate energy throughout the first half of the record. The unabashed directness and glossy production will be a welcome change to those who were familiar with her previous effort in 2012, Tender New Signs. But the growing pains are subtle enough here to leave a sense of ambivalence upon each listen, as if Tamaryn's metamorphosis into a Scritti-­Politti-­meets-­Medicine tour ­de ­force was too purposeful in its conception. The concept of stripping away one's sound and rebuilding it in artful manner is nothing new (it has served critical darlings Radiohead quite well). Still, if the pair's intent was to rid themselves of the haziness of their last effort, they have instead obscured themselves in hi-­fi sheen, artificial reverb and gated snares.
The new wave aesthetic can feel a bit tiring after a while, even if it is mired in shoegaze underpinnings. Despite that, there are moments when these influences fit together into a strange quilt of nostalgic dream pop—the album's title track successfully takes a glide guitar sample and juxtaposes it against pop melody not too far off from something off of Hounds of Love. The vocal delivery on "Last" might be one of the most affecting performances Tamaryn has ever laid to tape, even if her lyrics are comparatively less bold ("If you say that this will last / And we play like this will last / I'll be waiting in your past"). The MPC ­handclaps and chorused guitar jabs that clutter the sonic landscape of the following song, "Collection," build into an undeniably danceable groove. The percussive clatter and earworm pop melodies that swell throughout each measure place it above the rest of the tracks on this album.
Lamentably, Cranekiss stalls mid­-record, taking a sudden nosedive after "Collection." The tracks suffer under the weight of their lost immediacy as tempos slow down and their post­-punk puppet strings become more apparent. The dreampop veteran becomes more content with relegating her vocals to the backdrop as each track grows more arduous and drenched in goth melodrama. "Sugar Fix" manages to bring back some lost momentum with airy acoustic strums and Cocteau Twins-­like arpeggios, but by then it is a case of too little, too late. It's a recurring theme on an album that is undoubtedly the result of commitment and dedication, yet exudes a little too much of the past for its own good.
Similar Albums:


Frankie Rose – Interstellar


Doldrums – Lesser Evil


No Joy – More Faithful