Riffs blazing: An interview with Windhand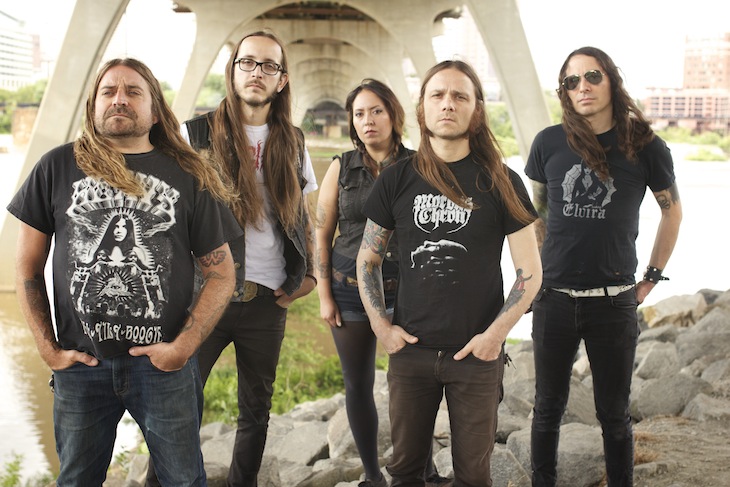 Windhand are constantly in pursuit of something epic. The Richmond, Virginia band's take on doom metal is more soaring than most, their thick, noxious riffs only slightly concealing the powerful melodies at the heart of their songs. On their 2013 album Soma, Windhand carved out six slabs of meaty, albeit heroic metal, which ranged from the accessible churn of "Orchard" to the colossal, 30-minute majesty of closing track "Boleskine." And the band's new album, Grief's Infernal Flower—out this week via Relapse—likewise features its share of massive beasts, including two songs that handily coast over 14 minutes apiece, which would be daunting if they weren't so easy to get lost in and be hypnotized by their power. Windhand aren't so much writing dirges as they are towering metal anthems.
Not that it's necessarily an end goal for the band to tackle each album with a grand, overarching plan. "I wish I could say that, yeah, but no—we just bring in riffs and write a song," vocalist Dorthia Cottrell says in a phone interview during a trip to the grocery. "We don't try to make it anything in particular." If Windhand's majestic songs just sort of happen, as Cottrell suggests, then perhaps they arrive by supernatural force or by divine inspiration. Or perhaps, as evident on the epic sprawl of Grief's Infernal Flower—which treads a wide expanse of sounds, ranging from the powerful opening thunder of "Two Urns" to the gentle acoustic strums of "Sparrow"—Windhand are so dialed in and seasoned as a band that constructing a great song requires no mystique or romance—it's just their job. And it's a job they do remarkably well.
Treble spoke to Cottrell about Grief's Infernal Flower, the creative fertility of the Richmond, Virginia scene, and her recently released solo album.
Was there an ultimate goal or prevailing idea behind Grief's Infernal Flower?
Dorthia Cottrell: Um, we don't really plan things out like that too much. we just let the songs evolve naturally. Everyone brings in a riff and we work the songs out from that, and just make it something that we want to hear. There's not too much forethought about whether it's going to be one genre or another.
This album, like Soma before it, has a lot of songs that sprawl out and end up being pretty epic. What draws you to these bigger compositions?
DC: I think it just comes down to, while we're practicing them or writing them, we'll just get stuck on a riff and end up playing it in practice. No matter what we do, or how we try not to make it that long, we end up playing it over and over again. It's just so trance-like and fun. "Hesperus" was kind of like that. "Kingfisher" was more like (Soma closing track) "Boleskine" in that there were many parts and it was kind of a Frankenstein kind of thing. More or less, it just kind of happens.
We just kind of play the riffs over and over again, and other people might like to hear this, 30,000 times too! [laughs]
And yet, the first song that was released from the album was a 'radio edit' of "Two Urns"…
DC: I don't know why, for a song to be released, it had to be shorter. If it were up to me, I would have picked "Hesperus," but yeah. It was kind of weird, right?
When do you know when a song is finished? Is there ever a point where you say "Okay, this song is done."
DC: I think we kind of have to make ourselves do that. We can get pretty obsessive, especially when we're recording stuff by ourselves. You can get pretty nitpicky. It was nice having someone else's help this time around to say, "Enough's enough guys. Go away for a while, I need to mix this by myself."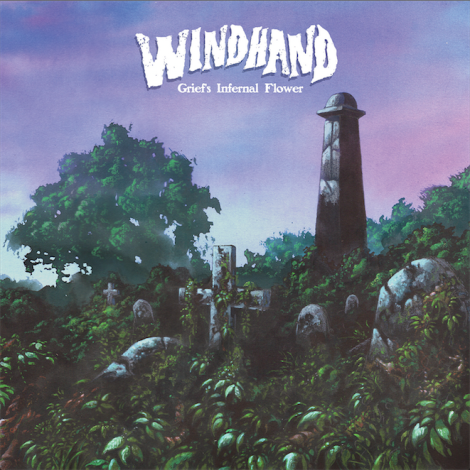 How was the band's experience working with Jack Endino as producer on the album?
DC: We've all been really big fans of all the stuff he's ever done—especially his stuff in the '90s. It was, we were kind of a little starstruck to meet him and talk to him. He was really helpful and really honest. Gave us his straightforward opinion and was cool whether or not we wanted to take his advice. One thing that was really cool is that I was really into vocal harmonies. I've never really gotten a chance to play around with vocals or anything, but working with Jack, he was really into harmonies too so we got a chance to play around with that.
Earlier this year, you also released your first solo album; how long had this been in the works?
DC: I was doing that before I joined Windhand. I had years and years of random songs that I wanted to finally get down.
When you're writing songs, do you go into it with the idea that it'll be for a specific project? Or is there some crossover?
DC: That song "Sparrow," from Grief's Infernal Flower, that one I was kind of on the fence about. It's one of my favorite songs I've ever written, so in a way, I was kind of selfishly thinking I would keep it for myself, but I think in the end it ended up having more of a Windhand vibe. I wrote an acoustic song at first that was supposed to go in its place, but I ended up changing my mind at the last minute, and put 'Sparrow' in there.
Windhand is one of several heavy bands out of Richmond right now that's really active—how much of a sense of community is there between artists?
DC: It's kind of weird, because it's still a small pool. Everybody is really close. We all see each other multiple times a week, we're always together. Everybody is trading members and just getting fucked up and, you know [laughs], writing songs together. So yeah, it's kind of special I think.
Does that closeness among the bands lend itself to fostering creativity?
DC: I think it must, right? I don't know if I can eloquently describe how, but it should. You're constantly immersed in that.
What do you hope to communicate to listeners with Grief's Infernal Flower? 
DC: We usually just try to write songs that we all like, so if other people like them, then that's cool too. I guess 'liking' might be a lot to say. At least all of us have to agree that the song doesn't suck. [laughs]
You might also like: