Destruction Unit : Negative Feedback Resistor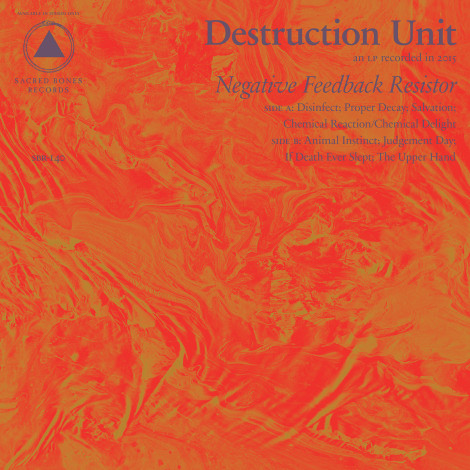 Listen to Destruction Unit long enough, and your ears might start to bleed, or your speaker cabinets might crack. OK, maybe that's an exaggeration, but not by much. Because Destruction Unit is really loud—their intense noise punk mimicking the feel of driving at 135-mph with the windows down—and could reasonably claim to be the noisiest in the land. The Phoenix-based outfit is certainly a contender, but what does that really mean in a world full of clamorous rock bands?
Being the loudest doesn't necessarily guarantee you the most attention. Playing instruments at extreme volumes will only be appealing to those who enjoy getting their brains turned to stew. Destruction Unit's psychedelic noise rock is delightfully mindless, but it's not like it's supposed to be cerebral. Throttling speed, hammering rhythms and disorienting effects are what matters on an album like Negative Feedback Resistor. Could D-Unit afford to be more creative? Sure, but I don't think that creativity is at the top of their agenda. According to their label, Sacred Bones, the five-piece band burned through three twin reverb guitar amps and a pound of weed.
Negative Feedback is the logical follow-up to 2013's Sacred Bones debut, Deep Trip, though it doesn't best that album. Negative Feedback doesn't progress much from Deep Trip, and its predecessor had better songs, better hooks and what sounds like a better recording clarity, as hard as that can come across for a band this piercing and distorted. There was a time when Destruction Unit wasn't so snarling and fiery—2011's Sonoran, released on Volar Records is chiller, groovier and a song like "Listen" could pass for something from Explosions In The Sky. Sonoran wasn't psychedelic noise rock, but D-Unit started moving towards the racket of their Sacred Bones LPs on early 2013's Void. Void was a realization of power, but recorded at a lower fidelity than their most recent two.
If Destruction Unit is great at one thing, it's pounding everything into submission, and they do 40 consecutive minutes of that here, give or take some guitar ambience at certain moments. The nine-minute "Chemical Reaction/Chemical Delight" is an evil monster of noise with two transitions and Motorhead velocity; the song starts to crawl, gains its galloping speed back and smashes any distractions to bits. By the time D-Unit gets to "If Death Ever Slept," they're essentially beating an already dead horse. And the awkward guitar movements of closer "The Upper Hand" could never win against the psychotic candy of Deep Trip's "Night Loner." It's hard to concentrate when Negative Feedback Resistor is playing; I suggest avoiding important tasks while listening. The album is heavy enough to capture the interest of metalheads, but if you're looking for versatility, you're likely to be leftt unsatisfied.
Negative Feedback Resistor is a loud statement, and if that's what Destruction Unit was going for, mission accomplished. But it's not their best album, and doesn't earn the hyperbole of the press release attached to it ("…to see to it that the thrones of every despot erected within you are destroyed"). But, in digression, Destruction Unit sacrificed their gear and possibly their ears for our sonic enjoyment, so we at least owe it to them to endure a little of that sonic onslaught.
Similar Albums:


Ty Segall Band – Slaughterhouse


Purling Hiss – Water on Mars


Milk Music – Cruise Your Illusion