Welcome to the Black Lodge: The Music of David Lynch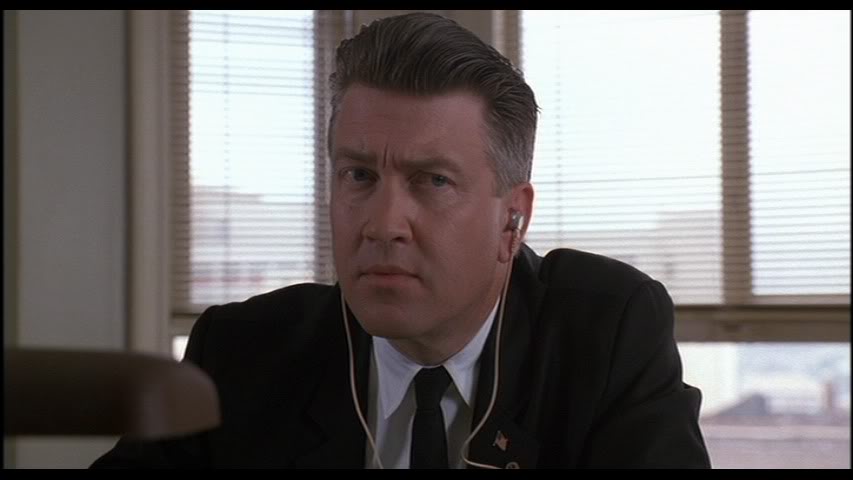 When I read about the recent passing of Catherine E. Coulson—known by many as the infamous "Log Lady" of Twin Peaks—it felt more than fitting that my iPhone's illuminated screen provided the only bright spot in my dark, pre-sunrise room. As the Log Lady, Coulson brightened many a rather eerie Twin Peaks scene, popping up next to Agent Cooper at the Double R, log in arm. I continued to scroll past a few tributes to the Log Lady on my Instagram feed and was overcome with a sudden eagerness to get to my violin lesson later that day, immediately remembering that my violin teacher is a fellow Twin Peaks fan. In fact, I learned last semester that a fair amount of the professors in my school's music program were secret fans. I began to stew over their appreciation, which left me baffled at the time. As a musician, I was already drawn to the enticing bass lines, jingly piano riffs and jam-ready moments of David Lynch's films—take the classic Roy Orbison cover in Blue Velvet, for instance. The scores composed for his pieces are all at once complex and accessible, which might explain why the musical academics in my life can't get enough of the puzzling world of Lynch.
Music has perpetually been an active component of Lynch's style. His characters have it running through their veins—just look at Audrey Horne. Her infamous dance moves consistently distracted (and maybe made uncomfortable) patrons of the Double R. But, it was clear how deeply she felt the music. Better known as "Audrey's Dance," composed by Angelo Badalamenti, the theme is just as sensual as Audrey's cherry-pie-red lipstick. In total contrast, the show's progression leads to backwards-talking and abstract dancing from The Man From Another Place, set to that same, undeniably cool theme that gets Audrey's oxfords moving. The Twin Peaks theme itself is everything fascinating about the show, wrapped into just a few minutes. A simple synth line and echoing bass outlined the odd features of the fictional town—the theme immediately induces vivid images of that oddly comforting, lime-green credits font geeks grew to love.
Eventually, David Lynch graced us with the gift of a Twin Peaks prequel, Fire Walk With Me, which once again perpetuated the strong role of music in Lynch's world. This time around, we saw an overtly sexualized scene at the Roadhouse, featuring a stellar blues band. Contrasted against Laura Palmer essentially stripping, it became clear just how overwhelming the aspect of music was for her character's persona. Perhaps Laura found solace and comfort in the laid-back attitude of the band, in a time where her world was in absolute turmoil. Badalamenti's scores added the suave touch that complemented Lynch's works so smoothly. Naturally, Lynch's creations needed a touch of noir jazz to play off a twisted reality.
Both Blue Velvet and Mulholland Drive were filled to the core with strong musical influences. In the case of Mulholland Drive, Lynch creates his classic confusion via a mystical performance of "Llorando" (another Roy Orbison cover). And, as expected, Dorothy Valens does a gooey rendition of "Blue Velvet," in the movie of the same name. Throughout Blue Velvet, Frank's sidekick Ben seems to be in a constant swing of his own. The film's orchestral score was heavily influenced by Shostakovich, even making direct quotations from his 15th Symphony. Mulholland Drive and Blue Velvet's soundtracks were both supervised by Badalamenti, the mastermind behind the irresistible cool of Lynch's accompanying sounds. In comparison to Twin Peaks, these musical numbers hold significance, mainly in the characters who perform them. Watching Dorothy Valens perform "Blue Velvet" feels like the essence of the movie, all in one song—a tortured soul putting on a happy face to protect those she loves. In Mulholland Drive, the musical number brings Betty and Rita immediately closer together, as they mutually shed tears over the pain exuded through the singer's performance. Meanwhile, in eerie Twin Peaks, music merely energizes scenes, adding dimensions to effects the characters already portray.
Though it predates his partnership with Badalamenti, Lynch's 1977 film Eraserhead showcases how music has played a crucial role in his films, however minimally. The soundtrack to the film, which was reissued via Sacred Bones in 2012, is mostly dark ambient musique concrete, with the hissing of pipes and clanging industrial sounds of the harsh urban environment of the movie providing most of the sounds. Yet the city itself is an intriguing enough soundtrack, with little dialogue to get in the way of the unsettling ambiance, though what dialogue is uttered is unforgettable ("You just cut them up like regular chickens?" "Yeah, just cut 'em up like regular chickens!"). The actual uses of composed music arrive only as breaks from reality, whether in the dreamlike Fats Waller instrumentals that float in and out, or via "In Heaven," the song that Henry Spencer hallucinates, as sung to him from a woman inside of his radiator. The surrealism of it is merely another side of the same kind of bizarre, hallucinatory nature of musical scenes in Lynch's canon, delivered perhaps more crudely but with just as much romance and idealism.
The works of Lynch have continued to play a significant role and influence in pop culture on up to the present. Twin Peaks has found a new niche among '90s nostalgia junkies and younger viewers discovering the show for the first time, as they latch onto the misunderstood persona of darling Laura Palmer and her amalgam of obstacles. And with a reboot of the show on the way, there's still more of the story to be told. Plenty of contemporary artists have been influenced by Lynch's musical world, too, between Surfer Blood's "Twin Peaks," Bastille's "Laura Palmer," and a band from Chicago that actually took the name Twin Peaks. It seems like a nearly impossible feat to capture the effervescent cool that Lynch so naturally portrays in any of his works, but it's a summit that many continue to strive to reach.
With each work by David Lynch, there is something that seems impossible to name. Watching the world through his lens makes everything seem much cooler, yet there's a hint of darkness to it. Moreover, the musical essence encompasses the unforgettable wave of yearning we—and Lynch's protagonists—too often experience. Lynch's careful musical choices have molded his masterpieces and shaped his fictional worlds into an enticing dark side. I'm sure that Lady's log would have something to say about this.
You might also like: