David Bowie : ★ (Blackstar)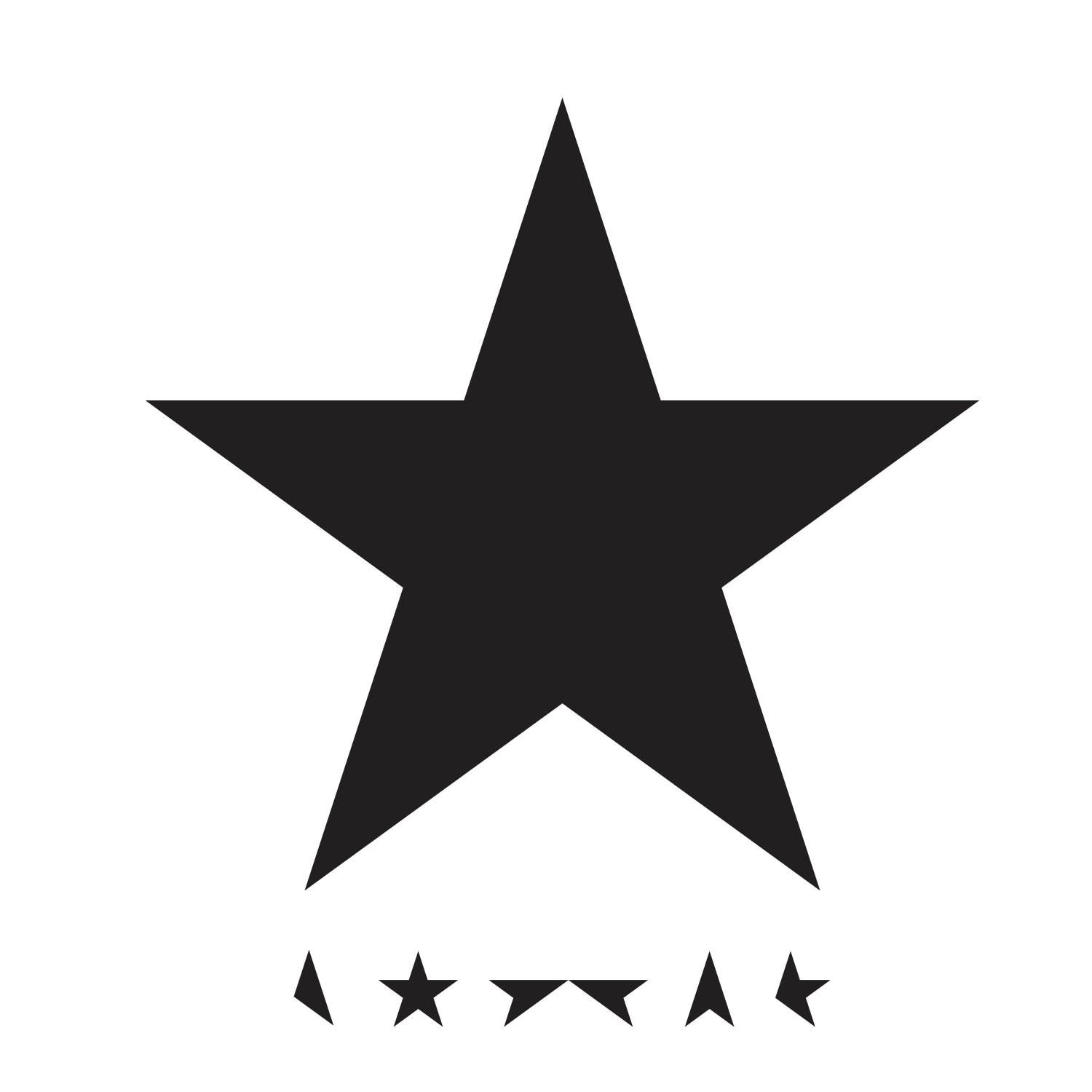 David Bowie died today. What seemed impossible or in a far-off future came in with brash unexpectedness. He was genre transcendent, constantly pushing the envelope of what we expected in pop music, but more than anything, he was human. The outcome of his battle with cancer was, and remains, unreal. Perhaps we truly hadn't expected him to ever pass away—even hoped he would carry on as immortalized as the music he created, or that he would rise again, like Lazarus himself, and expose the whole affair as a twisted rumor. Without that expectation, and with a little more analytical foresight, we might have read more into the motifs of occultism, imminent mortality and the passage of time. Indeed, the lyrics to the finale of his 25th studio album, Blackstar, seem to be a direct address to the world; a tired lament suggesting that he couldn't possibly give away enough to the cultural lexicon of music, or endear himself to his fans.
But Bowie gave more to us than few could with multiple lifetimes. His final dirge had little to prove, nothing to confront but the transient confinement of human existence itself. It is fitting then that his last album would be rife with avant-garde experimentation, surreal juxtapositions between the vulgar and poetic, and subtle nods to his countless permutations of identity. In that vein, "Blackstar" aptly opens with a Greogorian chant that sails over dynamic swells of cello and woodwind, harkening back to his years of mysticism during the late 1970s. The sprawling track cycles in and out of a faintly asiatic vocal melody, anchoring the stutter-and-stop of Mark Guiliana impressive percussion. Once again, the premonition of the his own death seems to be etched into the very canvas of his post-modern lyricism, as he ruminates, "Something happened on the day he died/ Spirit rose a meter and stepped aside/ Somebody else took his place, and bravely cried/ I'm a Blackstar." Whether this represents a certain legacy he expected to pass onto another generation of artists, or a metaphor for the nature of political hierarchy, his use of simple allegory is as adept as his age suggested.
The tonal palette of instrumentation here is much wider than on The Next Day, his previous work. Tony Visconti is once again manning the boards, but the inclination to repeat previous success is cleverly eschewed in favor of a more organic approach. As such, saxophones blare, electric guitars seethe, and Bowie's trademark baritone takes on an apparition-like quality in tracks like "Sue (Or in a Season of Crime)" and "'Tis a Pity She Was a Whore." The former builds off of the thump and growl of a John McLaughlin-esque riff, and an intricate motorik beat that builds into a discordant crescendo of subterranean synths. LCD Soundsystem's frontman, James Murphy, was apparently involved in the song's anxiety-inducing percussion, but a watermark indicative of his past artistic achievements is nowhere to be found—a testament to the creative unity between Bowie's collaborators rather than a detriment. Elsewhere, the focused undercurrent of krautrock and jazz fusion is successfully held in place by a group of New York City session players led by Donny McCaslin.
I suspect that it will be impossible to listen to Blackstar without having the looming specter of Bowie casting a shadow over his cryptic prose. He was a musician that toyed at the threshold of meaning and double-entendre, often obscuring grandiose statements or fragmenting specific ones. Bowie once infamously made use of a cut-up technique that Burroughs pioneered years earlier on "Subterraneans" (a track off of his 1977 album Low), intoning the enigmatic lines "Share-bride failing star / Care-line, care-line / Riding me Shirley, Shirley own." With this in mind, perhaps the words of songs like "Lazarus" and "Dollar Days" should not be taken merely at face-value, although suggesting that they be taken in any particular fashion sounds prescriptive in and of itself. Still, the distant refrain on the latter track, "I'm dying to / I'm trying to," is poignant enough to gut the insides of your well-being, given its newfound context.
It's been a popular adage among music journalists to compare each new Bowie album with Scary Monsters—supposedly his last "great" record, or the one that served as the balanced conclusion to his audacious years of experimentation and forward-thinking rock. The time has come to lay the comparison to rest. Blackstar surpasses Scary Monsters on a visceral, intellectual and conceptual level. The sheer cohesiveness of the record as a whole, along with the amorphous, genre-bending arrangements, serve as a fine concluding chapter to a career of perpetual risk-taking. It's difficult to grasp what impact David Bowie had on humanity in concrete or relative terms; but little doubt persists as to how he affected us personally. Whether you were the child who discovered Ziggy Stardust in a crate of old records in the garage, or a twenty-something listening to "Heroes" in the car on your way to work, or even the casual listener who only heard his singles on the radio, you knew Bowie. You knew a deep, ineffable part of his soul. Blackstar elicits that same experience. And, as he himself would say, "This is all I ever meant/ That's the message that I sent."
Similar Albums:

Eno/Hyde – Someday World


Scott Walker – Bish Bosch


Can – Ege Bamyasi