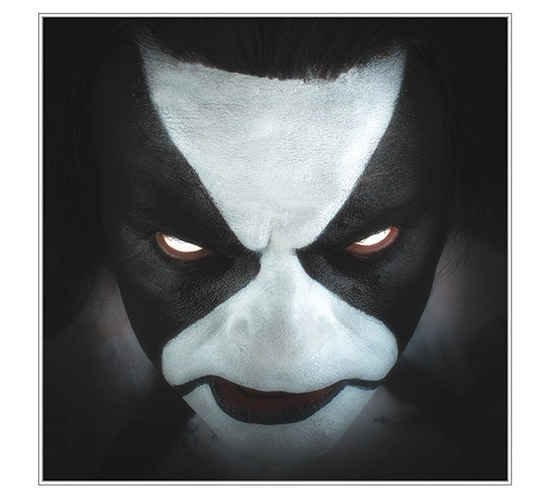 We can either choose to focus on the battle of the Blizzard Beasts the members of Immortal waged trying to wrest ahold of the band name, or we can focus our energy on the fact that Abbath went and basically formed an Immortal-meets-Gorgoroth super group, which brings more warmth to my black little heart. The almighty Abbath Doom Occulta  has joined forced with Gorgoroth bassist King ov Hell, and while can speculate that the songs on this album are what would have appeared on the follow up to Immortal's 2009 full-length All Shall Fall, if that's the case then Abbath took all the good stuff for himself. This is not all icy epics, though, as the Gorgoroth influence King brought with him has created an added intensity. On the second of "Winterbane" you begin to hear the ghosts of Immortal, but it pounds much harder than they did back in 2009.
Abbath croaks less and has a taken on a rougher, more aggressive rasp. At one point he goes into a sing-song spoken-word vocal that comes close to singing on "Winterbane." It's obvious that Abbath was the thrash fan of the band, given the way the group attacks "Ashes of the Damned." This album also has less of Immortal's overt melodic leanings, with only a brief passage clean guitar tone in a quick bridge; these guys are still, for all intents and practical purposes, black metal. There is still frequent mention of warriors on Abbath, so it very well could be set in his familiar, war-ravaged fantasy world. The lyrics don't always jump out at you, but it is clear that the vocals have purpose in the song rather than just screaming for the sake of screaming.
Drummer Gabe Seeber, who also plays for Benighted, manages for the bulk of the album to keep things intense without resorting to blast beats. They do eventually come, but they're never used as a crutch. If you must have a steady diet of blast beats with your black metal, however, they arrive on "Count the Dead." This song also brings light to the fact that Abbath can actually shred. Perhaps I just didn't pay attention to the solos on Immortal albums, but he has pretty tasty chops when he wants to flex them. Things start speeding up on "Fenrir Hunts," though it's songs like "Root of the Mountain" where they really work their magic and meet somewhere between classic metal and black metal with a thrashing gallop. They ride out with the blasting mania of "Eternal," silencing unbelievers who deem them not kvlt enough (even though Immortal was kvlt before you were born). They handle high speeds better than most.
Immortal might have gone the way of Venom and Queensyrche, but this is good enough to fill the void. Abbath is a solid piece of black metal, fusing the big scale of sound Immortal once captured with Gorgoroth's mean streak. Turn it up, grab your lighter, and burn one down.
Similar Albums:


Triptykon – Melana Chasmata


Primordial – Where Greater Men Have Fallen


Agalloch – The Serpent and The Sphere