Black Tusk : Pillars of Ash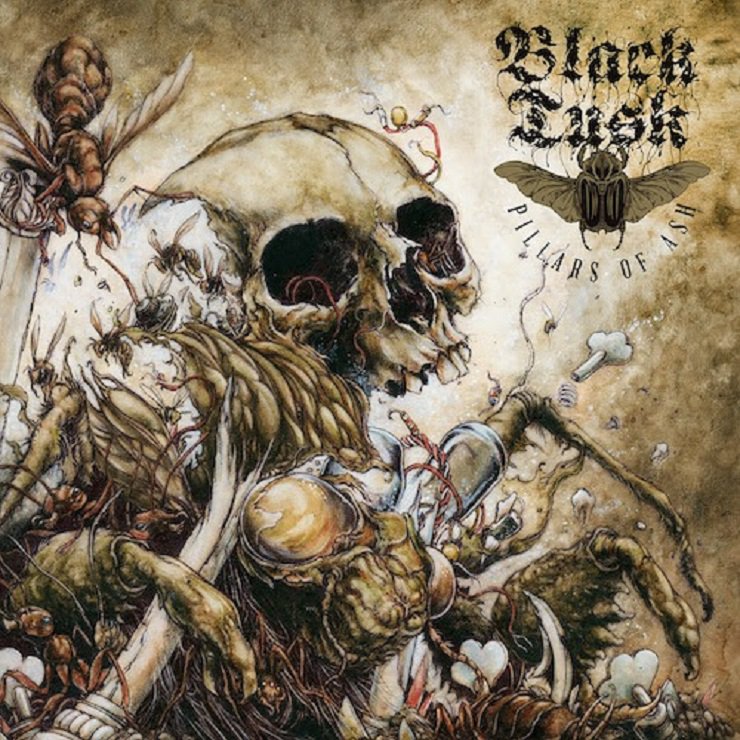 Black Tusk, the Savannah, Georgia-based "swamp metal" trio, enter 2016 with unwavering resilience. Now in the early stages of their second decade as a band, Black Tusk were faced with decision of whether or not to press on without founding member, Jonathan Athon, who passed away as a result of a terrible crash in the closing months of 2014. Surviving members of the group, Andrew Fidler and James May, chose to honor their brother's legacy by continuing on as a band (now buttressed by Corey Barhorst, who assumes the roles of bass guitar and vocals) and releasing their final recordings as an original trio. The resultant memoriam takes the form of their fifth and finest studio album, Pillars of Ash.
It is immediately apparent from the booming riffs of "God's On Vacation" that Black Tusk had no intentions of changing a formula that has made them wildly popular in the sludge scene throughout the last ten or so years. This is not to suggest that what they are doing on Pillars of Ash is a result of complacency, but more of an adherence to the idea that if something isn't broke, there's no need to fix it. Black Tusk has always been known for its sludgy hardcore/punk sound (as well as their relentless touring), and to change their formula this late into their run would not make a whole lot of sense. With every release prior, Black Tusk built on their cohesiveness as friends and as a band. In their final works with Athon, the trio fires on every cylinder.
The eleven songs of Pillars of Ash are condensed cans of ass whippings. They combine Remission-era Mastodon-style riffs with the electricity of hardcore and punk. The members' screams and the intermittent gang vocals roar over songs like "Bleed on Your Knees" and "Still Not Well." Grimy guitars courtesy of Athon and Fidler are soaked in distortion and are louder, faster and more forceful than ever before. May's drumming is jarring and frenetic at most times (see "Born of Strife" or "Beyond the Divide"), its booming intensity the basis for Tusk's trademark "swamp metal" sound, and displayed in its most refined and well-executed state on Pillars of Ash. It seems fair to posit the extra intensity is as a result of working with Joel Grind of thrash band Toxic Holocaust, whose most recent production projects of note include the latest albums from Abyss and Lord Dying.
Pillars of Ash represents another consistent release from Black Tusk. It is a thunderous effort from the Savannah trio, and more than that, a fitting memorial to their fallen brother, Jonathan Athon. This diligent work and attention to detail is large reason why Black Tusk have continued to make great hardcore music over the years. Their meticulous mayhem is a result of the blood and sweat that Athon, Fidler and May poured into their music. It seems naturally fitting that, in their final works with Athon, Black Tusk is heading into their next decade at their highest point.
Similar Albums:


High on Fire – Luminiferous


Lord Dying – Poisoned Altars


Eyehategod – Eyehategod