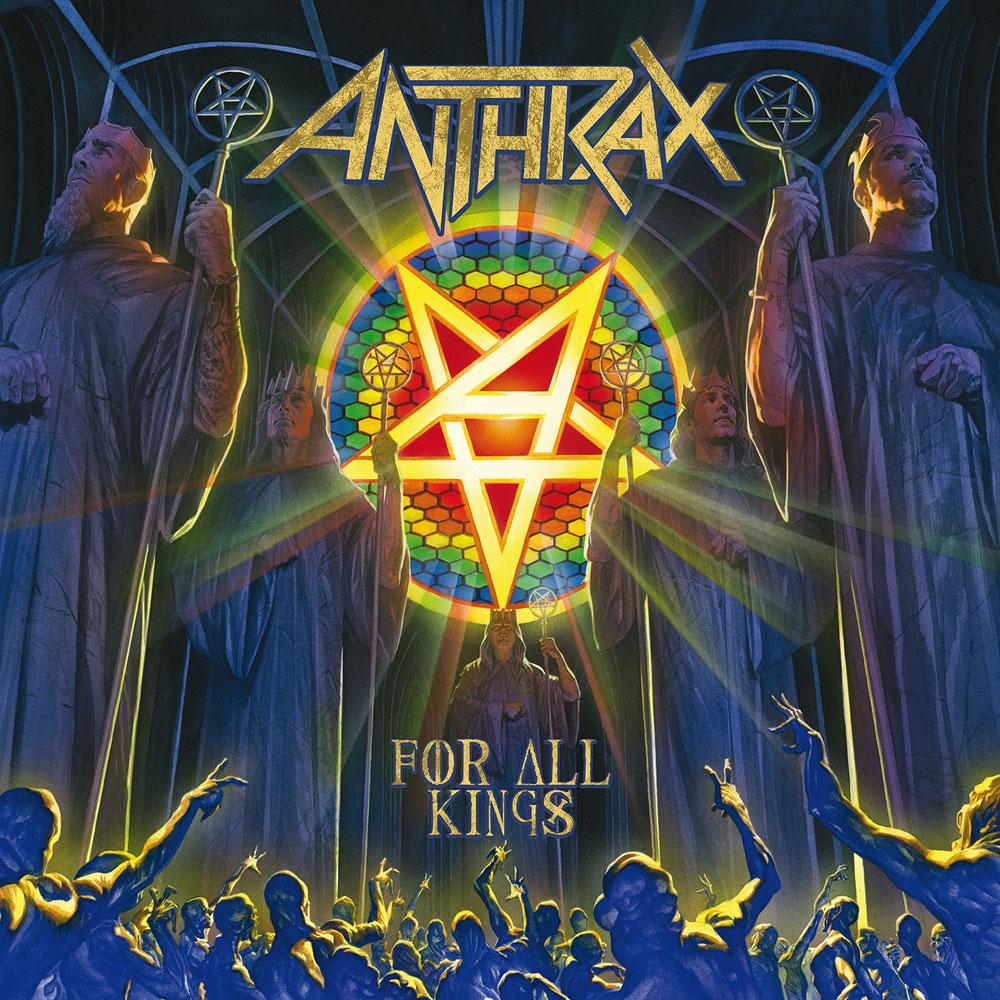 The challenge for many classic metal bands face in today's climate of metal is retaining a sound that is true to who they are, without being weighed down by dated production and out-of-touch presentation that some have trouble shaking. Back in the day Anthrax were at the head of the pack, and their classic album Among the Living will always be regarded as one of the best metal albums ever, with Spreading the Disease not too far behind, even with its high-pitched yodels that have long since gone out of vogue. When Joey Belladonna left the band and John Bush took his place, however, the band changed as well, turning away that classic, full-throated metal assault in favor of a grunge-like sound more suited to the '90s, shelving the old-school Anthrax sound for an extended period.
With 2011's Worship Music, Joey Belladonna returned to shaky results (hearing live clips of Belladonna struggling with the older songs was a little disheartening). Yet on eleventh album For All Kings, age has helped him. Belladonna's voice is lower, and carries more grit and aggression. The band takes on an overall meaner sound, more like 1990's Persistence of Time than the almost pop-punk glee of State of Euphoria. There is younger blood injected in the band, as well, as Jonathan Donais from Shadows Fall now handles lead guitar duties. The band plows into the opener, "You Gotta Believe," with renewed power. They have plenty of crunch while still allowing for surprises up the sleeves of their hockey jerseys as they throw melodic section into the middle of song before smacking you back in the face with the trash. Not letting up on the heavy songs like "Monster at the End," Anthrax lays down a smoother groove for Belladonna's vocals to coast over. The album's loaded with big hooky choruses that lean closer to mainstream metal, but makes for plenty of headbang fodder.
Belladonna belts it out on the title track in a Dickinson-like manner. Yet, he is not the only one whose chops have improved with age on this one, as drummer Charlie Benante proves he still has it as well. Putting the vocals are way up front in the mix the band retains the feel of the old arena anthems, while still keeping pace with where more melodic hard rock is today. At the end of the day it's all very well executed even in the places that might lack the classic Anthrax bite. They shed the '80s in the machine-like chug of "Suzerain" and continue to blend aggression and melody on "Evil Twin," a song guitarist Scott Ian wrote about the recent rise in mass shootings.
For All Kings showcases a wide range of sounds and approaches, the band sometimes getting darker and more deliberate on songs like "Blood Eagle Wings" while making a mosh-friendly return to their hardcore roots on "Defend Avenge." They're old pros, and the band is a finely tuned metal machine even after so many line-up changes. Anthrax has exceeded expectations, forging some solid metal that strikes an excellent balance of past and present.
Similar Albums:


Iron Maiden – Book of Souls


Slayer – Repentless


Motörhead – Aftershock