Quicksand, Thursday top Wrecking Ball festival lineup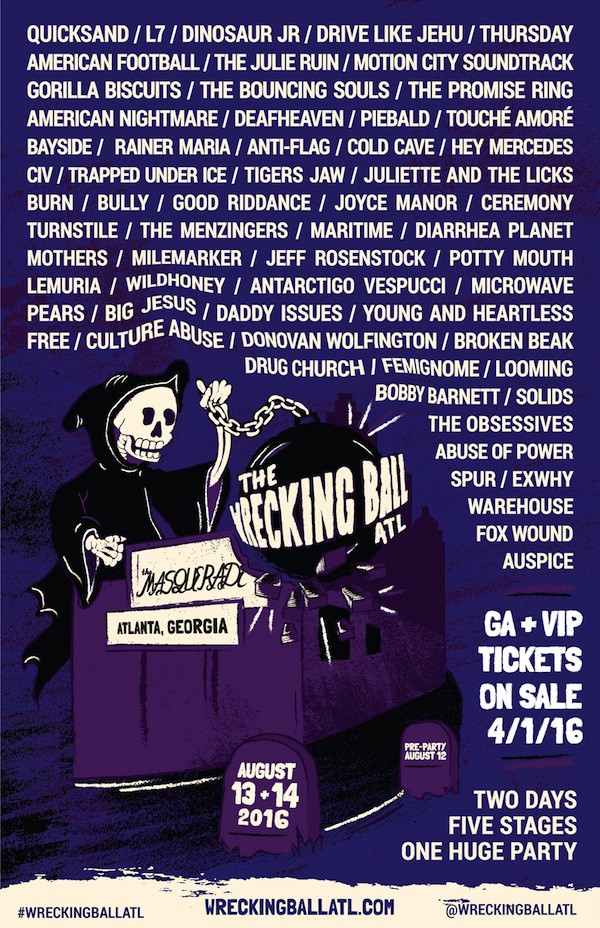 The Wrecking Ball Festival, a punk-centric two-day fest in Atlanta, Georgia, returns on August 13 and 14. The festival just announced its lineup, and it's pretty badass. Headlining the festival are Quicksand, L7, Dinosaur Jr., Drive Like Jeu and a reunited Thursday. Also on the Wrecking Ball lineup are American Football, The Julie Ruin, Motion City Soundtrack, Gorilla Biscuits, a newly reunited Piebald, The Promise Ring, Touche Amore, Deafheaven, Cold Cave, Hey Mercedes, Bully, Joyce Manor, Ceremony, The Menzingers, Maritime, Diarrhea Planet, Maritime, Milemarker, Lemuria, Potty Mouth and a long list of other bands, which you can check out on the poster above. Noisey also reports that more bands are expected to be announced in the coming months.
Tickets for Wrecking Ball go on sale on April 1, via the festival website, which right now doesn't have a lot going on. We expect that to change next week.