Mutilation Rites : Harbinger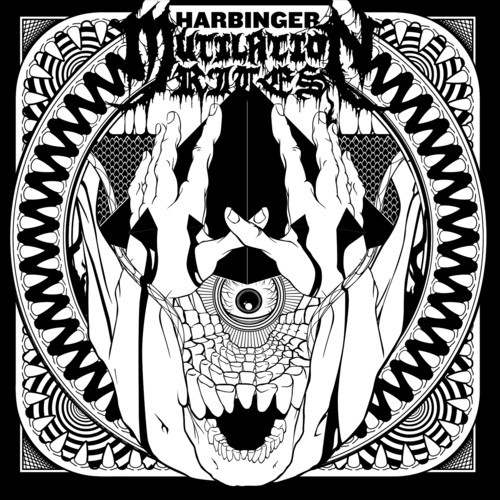 The black metal bands of today don't always operate in a manner similar to those of the 1990s. Certainly, some still invite controversy, as Inquisition did recently via an interview that went poorly, and an even more poorly handled follow-up. And in no way has the grim, harrowing sound of black metal gone out of favor; the are arguably more musicians than ever indulging in such relentlessly cathartic heathen sounds. But some of the greatest myth-makers of the classic black metal era made their name either via an elaborately constructed stage presence (like Gorgoroth's straight-faced Gwar act) or by avoiding the stage entirely (like Darkthrone or — by incarcerated necessity — Burzum).
Brooklyn's Mutilation Rites are neither recluses nor a carnival act. Since forming in 2009, the band has made a name for itself as a hard-working and tour-heavy unit, building from the bottom up via an admirable work ethic rather than through any kind of manufactured mythology. They look a lot more like an old-school thrash band than a viking horde, their faces free of corpse paint, and there's a visceral muscularity to their music that often recalls that of hardcore punk. Their 2012 debut Empyrean was one of the better no-frills, bullshit-free black metal albums in recent memory. Harbinger, their impressive follow-up to that album, is even better.
Even more than its predecessor, Harbinger sounds like the work of an airtight unit, or more accurately, four musicians who have honed their skills over time, and sound stronger as a band than they did before. As much classic black metal aesthetic seeps into their approach, Mutilation Rites' songs feel more fleshed out and beefier than many of the genre's sacred lo-fi scrolls. A song like "Black Pyramid" hits the listener in the gut, its discordant riffs and streamlined melodies aiming less for a kind of eerie, ephemeral darkness as a corporeal one. Mutilation Rites sound remarkably rich and full here, their blood and sweat coursing through each song in an almost palpable way. Some of that can likely be attributed to producer Kevin Bernsten, who captures the live intensity of the band. But most of it is simply the band itself, playing the living shit out of each and every note of raw, abrasive terror.
As strong a performance as Mutilation Rites give on Harbinger, it's propelled to an even loftier space through the group's songwriting, which has matured considerably in just two years. They're still focused on the more direct aspects of black metal; you're not going to hear much in the way of shoegaze influence a la Deafheaven, or elegantly drawn out instrumental passages like Agalloch. But even within a distorted, go-for-the-jugular strategy as Mutilation Rites pursues, there's a wide range for them to maneuver in. From the onset, there's a sense that the band is putting greater stock in textures and contrast, with the dense layers of guitar in "Black Pyramid" bleeding into the melancholy arpeggios of "Exhaling or Breathing In." The group slows their tempo and ascends toward soaring, power-chord driven hooks in "Ignus Fatuus," whereas the outstanding "Contaminate" mixes their venomous aesthetic with the dizzying, Kill 'Em All-style thrash riffs. And nowhere does the band employ as cruel a swing as they do on "Gravitational Collapse."
Given how much history already exists within the well-worn style of black metal, it's getting a lot more complicated to innovate while staying true to the sound — if that even really matters anymore. Mutilation Rites render the idea of innovation less important by simply writing and performing the best songs they possibly can. But listen closer to the roaring sounds that come flooding out of the speakers; on Harbinger, black metal is just a starting point for something even greater.
Similar Albums:


Ash Borer – Cold of Ages


Bosse de Nage – III


Tombs – Savage Gold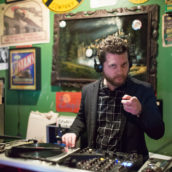 Jeff Terich
Jeff Terich is the founder and editor of Treble. He's been writing about music for 20 years and has been published at American Songwriter, Bandcamp Daily, Reverb, Spin, Stereogum, uDiscoverMusic, VinylMePlease and some others that he's forgetting right now. He's still not tired of it.