Prince's band, The Revolution, to play reunion shows
It's entirely possible that no one person's death has caused more reverberations in 2016 than Prince's passing away in the spring. One of the few bright spots to come in the aftermath of his untimely death is that his original backing band The Revolution, announced plans to reunite as a form of continuing his legacy. This is the first time the original lineup—which includes Wendy Melvoin, Lisa Coleman, Bobby Z., Brown Mark and Matt Fink (along with Dez Dickerson and André Cymone)—will have performed together in over 30 years.
Appropriately enough, they've announced two shows at Minneapolis' celebrated First Avenue, where many of the scenes in Purple Rain were filmed, for Labor Day weekend on September 2nd and 3rd. Tickets go on sale this Friday.
The Revolution first formed in 1979 but didn't perform on Prince's records until 1982's 1999, going through many lineup changes before eventually breaking up in 1986.
Reign in purple.
Read our feature, Sexy MF: On Prince, sexuality and empowerment.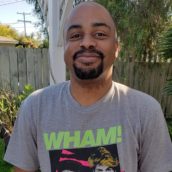 Butch Rosser
Butch Rosser is a frequent writer, part-time DJ and full-time audiophile. In addition to his Treble contributions, he is currently at work on his first novel, The One Man Jihad. He lives with his fiancee and her cat.