When asked in a Decibel interview about the difference in approach between the band's previous two EPs and new album Starspawn, Blood Incantation guitarist/vocalist Paul Riedl submitted the following: "That great specific, the grand differentiator of 'here,' 'there,' 'then' and 'now': Time. The revolution is NOW, each moment an insurgency of the will against the greater spectacle of civilization, if you choose to seize it. No, there is no magickal/instantaneous technique which would propel such evolutions, but rather the eternal refining of one's craft upon the altar of The Riff." For those still new to the intricate language of stoned metalheads, I'll translate: "We got better."
A Denver-based quartet with a handful of well-received if not widely heard EPs to their name, Blood Incantation started to gain some traction in recent years in what's quickly becoming a kind of renaissance for forward-thinking death metal with an ostensibly classic aesthetic. And, indeed, they've gotten even better in just a few short years. Don't let the relatively abbreviated five-song tracklist of full-length debut Starspawn fool you. It's an ambitious album by any measure, showcasing an impressive versatility while creating something that never betrays "the altar of The Riff" as Riedl put it.
Indeed, The Riff is sacrosanct on Starspawn—it is Blood Incantation's Lord and Master. And it's also what makes the album such a thrill to listen to. The massive, 13-minute opening track "Vitrification of Blood (Part I)" is a multi-part journey wherein the riff guides the course of the song: dizzying and complex in its opening sequence, melodic and melancholy the next, chugging and guttural just minutes later. It's both heroic and punishing in equal measure, and in the end exhausting in all the best ways. But that's just one piece of the album's torturous and triumphant puzzle. "Chaoplasm" is a more concise and direct application of Riedl and Morris Kolontyrsky's furious fretwork, its dramatic blend of harshness and melody a callback to vintage Death in its best moments. Nowhere is their guitar playing more utterly dizzying and dazzling than in the sprinting triplets of the title track, but the strongest track in terms of sheer songwriting is "Hidden Species (Vitrification of Blood Part II)", which builds on the labyrinthine structure of its counterpart and translates it into dirty grooves, moments of haunting space and a post-hardcore outro.
As a death metal debut albums go, Starspawn proves to be the sound of a band accomplished well beyond their brief catalog. It's chock full of musical showmanship, yet that's likely not what'll bring listeners back. There's a lot of detail and ear candy, but there's also simply some great songs. All hail the riff, but praise be to melody.
Similar Albums: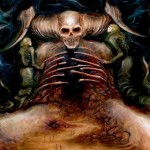 Horrendous - Anareta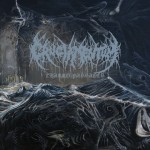 Cruciamentum – Charnel Passages

Chthe'ilist – Le Dernier Crepuscule