Spring of 1993 was a portal into a bizarro 1980s
When I think back to 1993, no musical phenomenon at the time seemed more important—whether or not it actually was—than Pearl Jam and Nirvana releasing albums at the same time. Something about the drummed-up feud between Eddie Vedder and Kurt Cobain, which more or less stemmed from some throwaway shit-talk on the part of the latter, made the event feel weirdly charged, as if it were a competition to see who could grunge the most grunge in a single grunge. The winner was Pearl Jam's Vs. in the long run, selling more than 7 million copies to In Utero's 4 million. It's hard to name any bands that sell records at that level, let alone bands supposedly on the fringes (a dubious distinction even then, but remember this wasn't long after Whitney Houston broke already seemingly untouchable records with The Bodyguard).
That's how we might remember the year-in-alt now, but the reality for alt-rock in 1993 was a mass makeover for every '80s band still locked into a major label contract. That's reflected in the data of the May 1, 1993 Billboard Modern Rock chart, fully half of which comprises artists who would have been on the list a decade earlier, if such a thing existed. The Wedding Singer-inspired nostalgia trip for all things a-ha and Marty McFly vests wouldn't come until later on in the decade, so it was still early to call this a kitschy throwback trip. If anything, the return of Duran Duran and Midnight Oil to the charts was a result of long-running bands giving an earnest effort at staying relevant. The crazy part is that most of them actually pulled it off. And let's be clear: The '90s were not kind to a lot of artists from the '80s, particularly in the second half. Hell, the mid-'90s were not kind to artists from the early '90s, even; think of how long it took Vanilla Ice or M.C. Hammer to fall out of favor and then subsequently attempt an ill-advised makeover. I have four words for you: "Pumps and a Bump."
On This Week in Alternative Rock, New Order claimed alt-rock's peak with their single "Regret," an all-time classic that ranks among the best of their songs. Go ahead and put it alongside "Blue Monday," "Ceremony" or "Temptation"—it holds up well, not the least of reasons behind it being that it sounds like quintessential New Order. It leans more heavily on Sumner guitar jangle than Hacienda beats, but over time that more or less became the dominant aspect of their music anyway. The weird thing, or perhaps the inevitable yet regrettable (pun unintended but I'll take it) thing that happens to every band eventually, is that the rest of their 1993 album Republic isn't very good. It's still better than most bands' average, but when you set a high bar for a solid decade, a set of midtempo sleepers feels like a major letdown. Or maybe it's the other thing; "Regret" is so good that everything else feels drab by comparison. But, then again, "Perfect Kiss" and Low-Life. So that can't be it.
Just as Pearl Jam and Nirvana would end up going face to face in the fall, so did post-punk peers Depeche Mode with New Order in spring of 1993. That I don't really remember being a competition, partially because massive drug use and some long locks of hair likely gave Dave Gahan the very real impression that he was Jesus. That Songs of Faith and Devotion was Depeche Mode's album to lean most heavily on religious references at the time bore that out to an overbearing degree. Yet while it was far less subtle than New Order's full-length contribution, it also was a better album, if only because it was driven by a higher purpose, whatever chemical or metaphysical form that may have taken. It also had some monster singles. "I Feel You," at number 9, basically took the template they previously laid out with "Personal Jesus" and made it grungier (that was a thing bands were doing), but "Walking In My Shoes" at number 10 (back to back!) proved more impressive in its overall execution. Admittedly, Gahan's "gimme a break you'd be doing heroin too" narrative is a bit much, but my god it's an incredible sounding song. Even heavier and more gothic than "Never Let Me Down Again" or "Enjoy the Silence," it's an intense piece of work made all the better by an Anton Corbijn-directed video with creepy bird people. That you don't hear it as often as "Just Can't Get Enough" is a failing of our society as far as I'm concerned.
It's remarkable how well a lot of new wave-era bands adapted to the '90s. Duran Duran's "Come Undone," at number 20, might not be the second coming of "Planet Earth," but its trip-hop sensuality suited them surprisingly well (much better than their awkward batch of covers, Thank You, that came a year later). The The's "Love Is Stronger Than Death" (number 19) was one of Matt Johnson's most haunting ballads, suggesting that his synth-pop era was well behind him. Curiously, Johnson's next move was an album of Hank Williams covers called Hanky Panky that I sure didn't see coming, especially when his voice seems more suited to Johnny Cash. World Party's "Is It Like Today," at number 6, had a slow-burn and nuance that managed to translate into a big hit for the band, and one that sounds unusually fresh today. And in a sort of surprise comeback, David Bowie returned to alt consciousness with the number-five song "Jump They Say," his first major single of the '90s, and another indication of his ability to adapt to new eras and styles. Just wait until he meets Trent Reznor, though; that'll get exciting.
Likewise, artists that launched careers in the '80s but started up new projects had some fascinating results at this time. Jane's Addiction was essentially over by the time Nirvana arrived, but Perry Farrell's next band, Porno For Pyros, got off to a pretty remarkable start with a debut album that seemingly launched a half-dozen singles. That's probably not exactly true, but "Cursed Female" (number three) proved Farrell still had some interesting ideas. We wouldn't stop hearing "Pets" for another two years (decades?) but it was intriguing at the time. Frank Black, fairly fresh off a Pixies break-up, released his first solo album in 1993, and lead single "Los Angeles" (number seven) still carried much of his band's signature volume and weirdness. Also it was grungy. And though Paul Westerberg wouldn't exactly come to dominate any kind of chart after the breakup of The Replacements, he did co-write maybe the best song The Goo Goo Dolls ever released, "We Are the Normal" (number 11). Weirdly enough, the band was signed to Metal Blade at the time, home of, well, metal bands. The Goo Goo Dolls were never at any point metal; earnest, rootsy, real, sure, but not metal. Also this was kinda grungy.
You know what else was grungy? Radiohead's "Creep." We all know Radiohead now as alt-rock's answer to Pink Floyd (or pick your other favorite art-rock band of the '70s, and it's still probably true). Their new album A Moon Shaped Pool is far too weird for mainstream radio, or so you'd think, but you'll hear songs from it next to Twentyonepilots, because the world we live in is a strange and confusing place. But "Creep," at number 14, was baby Radiohead in self-loathing mode, exploding into a huge chorus with some agitated Jonny Greenwood guitar chops that prove both cathartic and bewildering 23 years later. "I'm a creep, I'm a weirdo, what the hell am I doing here?" reads almost like a parody of a '90s-era grunge song, and though I'm not sure that was the point, at least Radiohead have the sense of good humor enough not to throw a fit about playing it live. Also grunge? Stone Temple Pilots. I'm not sure it's totally accurate to say "Plush" was a bigger hit than anything Pearl Jam did, but I sure heard it a lot. I'm guessing Kurt Cobain wasn't a fan of them either. He might have even gone Draper on 'em.
So you know how I mentioned early '90s bands that lost some cachet in a short amount of time? Jesus Jones is one of those bands. We still remember "Right Here, Right Now," but do we remember "The Right Decision," the number-13 charting song of this week in alt history? I don't. It's a dated sounding post-Madchester proto-rave freakout that might not be out of place on the Hackers soundtrack, but seems particularly awkward in the context of the other songs mentioned here. I think their problem was in not being grungy. Dinosaur Jr., however, fully embraced the production values of being on a major label, and as such their single "Start Choppin'" is the one moment where they actually came closest to Nirvana (in terms of success, not so much in sound). Also it was grungy. So was Living Colour's "Leave It Alone," a heavier and darker take from the funk-metal group that embraced the metal half of their equation more dramatically. From that same album, Stain, they'd later release a single called "Bi," which was a surprisingly ahead-of-its-time sexuality-positive song that borrowed liberally from Prince. Stylistically it felt more naturally Living Colour; politically, it was a pretty bold statement in the era of Don't-Ask-Don't-Tell.
Jesus Jones aside, the odd song out for May 1, 1993 is number 15: Tasmin Archer's "Sleeping Satellite." It's not a bad song, but it feels much sleepier, more in tune with the chart-topper of our last go-round, Suzanne Vega. But more than that, the smoothed-out adult-alternative sound seemed to predate the mid-'90s era Lilith Fair-style adult-alt takeover that saw Sheryl Crow, Sarah McLachlan, Joan Osborne and Patti Griffin taking up residence previously occupied by Stone Temple Pilots. But I'm getting ahead of myself a little bit. We'll have time to explore the great smoothing out of 1996 in due time. But "Sleeping Satellite" is a decent song that, like many other brief modern rock hits of the early '90s, had its moment and faded into the ether. Also, it wasn't grungy.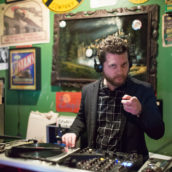 Jeff Terich
Jeff Terich is the founder and editor of Treble. He's been writing about music for 20 years and has been published at American Songwriter, Bandcamp Daily, Reverb, Spin, Stereogum, uDiscoverMusic, VinylMePlease and some others that he's forgetting right now. He's still not tired of it.