Mother Love Bone box set, On Earth As It Is, due in November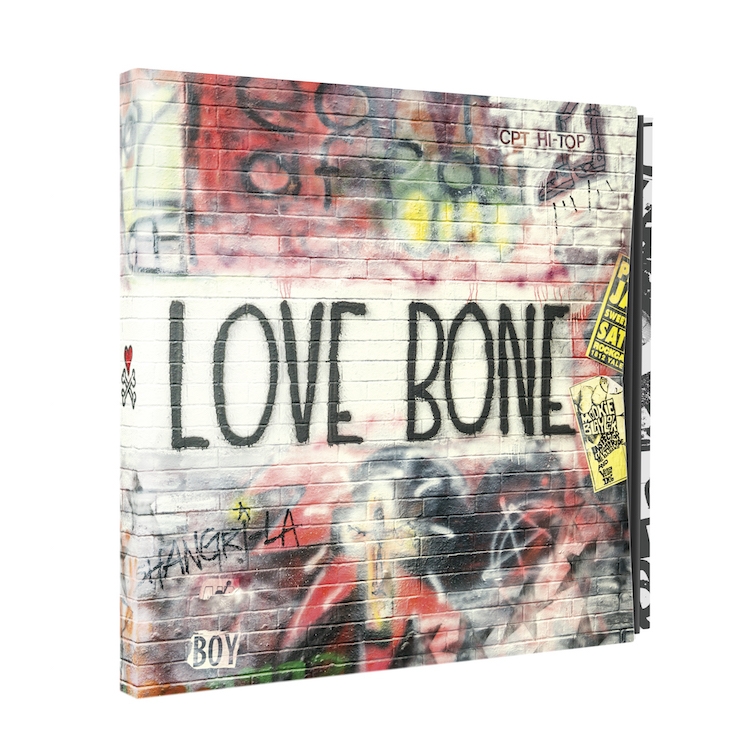 Mother Love Bone, the legendary Seattle cult band that featured musicians who would later form Pearl Jam, is the subject of an upcoming box set. Titled On Earth As It Is, the box will be released as a 3xCD/1xDVD set and a 2xLP set. It'll be released November 4, and features the group's sole full-length record, Apple, as well as the Shine EP, in addition to rarities, demos, live tracks and a DVD of videos and live performances. Take a look at the tracklist for the box set below.
Mother Love Bone was formed in 1988 by Jeff Ament, Bruce Fairweather, Stone Gossard, Andrew Wood and Greg Gilmore. They released one album, Apple, which arrived shortly before Wood, the group's frontman, died of a heroin overdose. Ament and Gossard formed the short-lived Temple of the Dog afterward, and eventually started Pearl Jam with Eddie Vedder.
Pre-orders are available here.
Mother Love Bone On Earth As It Is box set tracklist:
Apple / Shine CD:
This Is Shangrila
Stardog Champion
Holy Roller
Bone China
Come Bite The Apple
Stargazer
Heartshine
Captain Hi Top
Man Of Golden Words
Capricorn Sister
Gentle Groove
Mr. Danny Boy
Crown Of Thorns
Thru Fade Away
Mindshaker Meltdown
Half Ass Monkey Boy
Chloe Dancer / Crown Of Thorns
B-sides / Alt Versions CD:
Holy Roller
Bone China
Hold Your Head Up
Capricorn Sister
Zanzibar
Lady Godiva Blues
Red Hot Shaft
Seasons Changing (Live at the Plant)
Stardog Champion (Live at the Plant)
B-sides / Alt Versions CD:
Lubricated Muscle Drive
Savwahfair Slide
Jumpin Jehova
Showdown
Bloodshot Ruby
Elijah
Chloe Dancer (Demo)
Have You Ever Kissed A Lady
Otherside
These R No Blues
Made Of Rainbows
Bloody Shame
One Time Fire
Stardog Champion – featuring Chris Cornell and Pearl Jam (Live from Alpine Valley)
Love Bone Earth Affair DVD:
Love Bone Earth Affair
Captain Hi Top Music Video
Half Ass Monkey Boy (Live from the Oz)
I'm In Love With My Car (Live from the Oz)
Mother Love Bone's Apple is on our list of the 30 Best Grunge Albums.