At grunge's peak, it was as much punchline as ubiquitous cultural force. The bands playing this perhaps dubiously named genre didn't always care for the term—isn't that always the case?—and its representation in the media often didn't square well with the figures at the center of it, least of all its patron saint Kurt Cobain. And it's telling that the documentary surrounding the explosion of the Seattle scene was titled, simply, Hype!
Grunge's rise in the public eye/ear wasn't necessarily overblown, though. In its wake, a lot of bands were given major label contracts, often without the guidance to maintain them. And a lot of those bands were, by definition, grunge bands. But while the vast and feverish press coverage and media hype surrounding grunge mostly focused on a handful of bands—Nirvana, Pearl Jam and Soundgarden in particular (and subsequently, Hole)—there's no denying that despite the cynicism behind it all, "grunge" as an umbrella covered a wide range of really good bands.
So, what is grunge? From a mainstream perspective, it's Nirvana's Nevermind. More accurately, it's probably Bleach. Heavy underground rock that splits a middle ground between punk and metal, more cynical and disaffected than angry, sardonic rather than earnest (unless you're Pearl Jam), intense yet accessible, and above all loud. It may or may not have killed glam metal. And it may or may not apply to Seattle bands only, though pockets of the U.S. began to show different interpretations of grunge aesthetics. In fact, some of our favorites are from cities well outside of the Pacific Northwest. So, as the nostalgia machine is in overdrive and most of grunge's landmark albums turn 25 this year (just keep going through the lists to see which ones), we have assembled a list of its best recorded documents. We present our picks for the 30 best grunge albums.
Listen to selections from these albums via our Spotify playlist.
---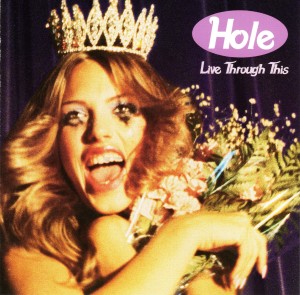 30. Hole – Live Through This
(1994; DGC)
Released just a week shy of Kurt Cobain's suicide, Hole's second studio album holds titular implications that merely scratch the surface of Courtney Love's limelight life that started in 1991. Most commonly associated with her incessantly documented relationship with the Nirvana frontman, Live Through This is more than just a rock n' roll love affair; it's a journalistic channeling of Love's most pivotal life experiences, chronicling the events that would shape her into the person at the time of the album's release. Each track recounts a specific moment or extended period in her life, whether it's recounting a traumatic stage-diving incident on "Asking For It," or addressing her less-than-perfect relationship with Billy Corgan on "Violet." A drastic stylistic shift from Hole's debut, Live Through This is a break for commerciality that still manages to cling to a grunge scruff that never betrays the genre. – Patrick Pilch
---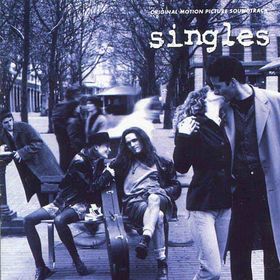 29. Various Artists – Singles
(1992; Epic)
It's debatable whether or not Singles is a good movie, but there's no denying the film's monster soundtrack. The record is packed with genre-defining tracks from Alice in Chains' "Would?" to Screaming Trees' "Nearly Lost You." Pearl Jam's "State of Love and Trust" shows off the band's punkier side, which they would continue to explore on future albums, while Mudhoney lampoons the entire scene and the hype that surrounded it with their brilliant "Overblown." Floating above it all is Mother Love Bone's epic "Chloe Dancer/Crown of Thorns," perhaps the most ambitious song the Seattle scene ever produced. For many people who didn't live in the Pacific Northwest, the Singles soundtrack was how they found out that "grunge" was more than just Nirvana and Pearl Jam. It normally feels like cheating to include a compilation on a list like this, but the Singles soundtrack is too important to leave off. – Adam Ellsworth
---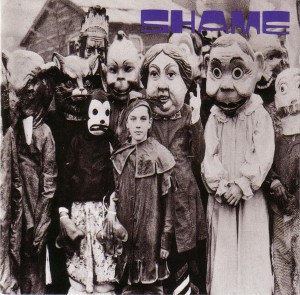 28. Brad – Shame
(1993; Epic/Loosegroove)
If anything about grunge might be considered "quirky," it's this album. The DNA of Pearl Jam stretched long and thin through the evolution of the genre, and one of the lesser-known strands led to this Seattle band featuring PJ guitarist Stone Gossard. For all of the form's flirtations with punk and metal, there was a decidedly laid-back feel to the proceedings on Brad's debut release. Shame twisted their emotive riffs and pounding drums around singer-songwriter conceits (the piano-laden "Screen" and "We") and nods to the 1990s' jam-band explosion ("20th Century," "Bad for the Soul"). But the star of the show was Shawn Smith, whose clipped yet cooing vocals softened and made inviting even their hardest cuts like "Nadine." – Adam Blyweiss
---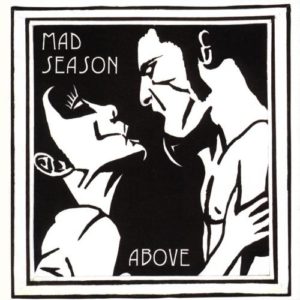 27. Mad Season – Above
(1995; Columbia)
Above may be the only studio album by Mad Season, but it remains one of grunge's most iconic records. Members from Pearl Jam, Alice in Chains and Screaming Trees joined forces to create a side project that yielded this gem. "River of Deceit" instantly blew up, evidence that spontaneous collaborations could produce hits that rivaled long established bands. Unfortunately Layne Staley of Alice in Chains declined to take part in a second album, and bassist John Barker Saunders passed away in 1999. Mad Season may be thought of as a second tier grunge supergroup below Temple of the Dog, but Above will remain a classic collaboration. – Brad Johnson
---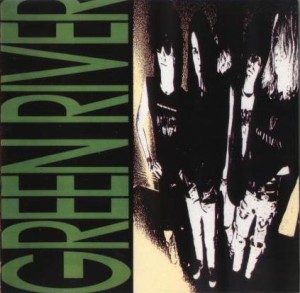 26. Green River – Dry as a Bone/Rehab Doll
(1987/1990; Sub Pop)
Before "grunge" was used to categorize an entire subgenre of music, the word was employed by Sub Pop in a label catalog to describe Green River's 1987 EP Dry as a Bone. It's fitting that Green River earned the designation first, as their mix of punk attitude and classic hard rock riffs was a blueprint for the entire grunge era. Mark Arm's vocals, especially on a song like "Unwind," were pure Iggy Pop, while the music to "This Town" doesn't sound too far removed from what guitarist Stone Gossard and bassist Jeff Ament would pack arenas with just a few years later in Pearl Jam. A year after Dry as a Bone, the full-length Rehab Doll was released, though by then the group had already disbanded. Following the split, Arm founded Mudhoney, while Gossard and Ament formed Mother Love Bone (along with Green River's other guitarist Bruce Fairweather) and eventually Pearl Jam. In 1990, Sub Pop compiled Dry as a Bone and Rehab Doll to create the definitive Green River document. – Adam Ellsworth
---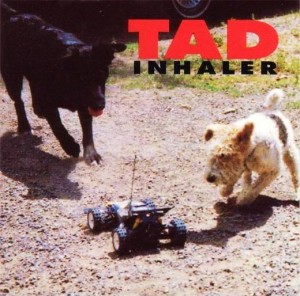 25. Tad – Inhaler
(1993; Giant)
I'm from Seattle, where the grunge is kept fresh in temperature-controlled glass cases buried miles beneath the Smith Tower because the Space Needle is too touristy. And when it comes to grunge, we Seattleites choose Tad's 1993 album Inhaler. Producer J Mascis helped Tad Doyle and company make one of the idiom's cleanest but most troubled works, ripping pitch-black images from Slayer and doom-prog. Tad weren't at odds with more conventional rock styles, which gave tracks such as "Rotor" and "Lycanthrope" a comfortable familiarity. Doyle's unaffected singing brought a sense of boiled normalcy to "Luminol" and "Gouge." It's one of grunge's most consistent works, a good crossover point for metalheads whose friends abandoned them in favor of civil service or account management. Inhaler. It's Seattle's Best Grunge. – Paul Pearson
---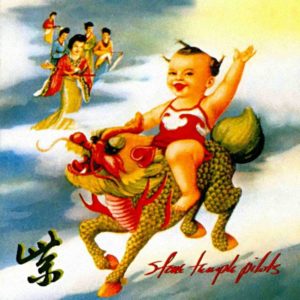 24. Stone Temple Pilots – Purple
(1994; Atlantic)
From a band that many initially regarded as grunge phonies, Purple nails all the quintessential elements of the genre. Deep vocals, dark lyrics and distorted guitar riffs make Purple the Stone Temple Pilots' best work. It aso contains some of the band's biggest hits, namely "Interstate Love Song," "Vasoline" and "Big Empty." After being criticized for sounding too much like Pearl Jam on their first album, Core, their second studio album succeeded in silencing much of the criticism. "Vasoline," the second track on the album, best captures the quintessential style of Stone Temple Pilots, serving as a statement more than just a song. Stone Temple Pilots was its own brand with a clear vision and sound. – Brad Johnson
---
23. Temple of the Dog – Temple of the Dog
(1991; A&M)
The marketing behind Temple of the Dog's sole album might have led many to believe this album is Chris Cornell jamming with Pearl Jam, but when it was released in April of 1991, no one had heard of Pearl Jam, since Ten did not come out until the August following this album's release. Cornell wrote these songs while on tour as tribute to his friend late Mother Love Bone vocalist Andrew Wood, including its two major hits, "Hunger Strike" and "Say Hello 2 Heaven." And with the assistance of Wood's former bandmates on board, along with Soundgarden drummer Matt Cameron, Cornell delivered the most passionately sung album of his career. – Wil Lewellyn
---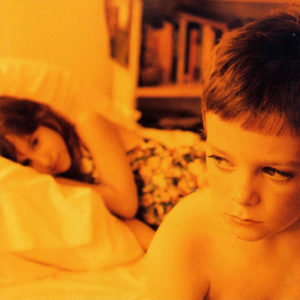 22. The Afghan Whigs – Gentlemen
(1993; Elektra)
Overall, The Afghan Whigs don't really fit in anywhere—too soul/R&B-influenced to be grunge, too corrosively heavy to be radio rock, too darkly self-absorbed in their lyrics to uphold punk polemics. But briefly in the early to mid-'90s, Greg Dulli's best-known band was everywhere, and Gentlemen is why. A nine-song cycle of a destroyed relationship (with a Tyrone Davis cover, "I Keep Coming Back," and instrumental piece as its coda), Gentlemen has fewer melodies than hit grunge albums such as Nevermind and Siamese Dream, but makes up for it with songwriting and riffs. Dulli's default emotional setting is "self-destruct." He recklessly takes lovers and friends down with him—e.g., the famous "Be Sweet" lyric, "Ladies, let me tell you about myself/I got a dick for a brain, and my brain is gonna sell my ass too." This isn't comfortable listening, but Rick McCollum's inventive, punk-drenched takes on classic R&B guitar licks and Dulli's unique snarl will, as they always have, carry an undeniable appeal for listeners who want something nastier and more emotionally complex with their distortion. The album details the baggage of a male asshole, but doesn't shy away from the cost. Dulli enlisted Scrawl frontwoman Marcy May to sing "My Curse," the slow almost-ballad where he assesses how he's damaged the woman he once loved, from her point of view, and the effect is devastating. Dulli kicked booze and drugs to help shed the worst parts of his personality, but 20 years later the reunited Whigs won't play "My Curse"—it cuts too deep. – Liam Green
---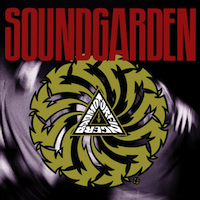 21. Soundgarden – Badmotorfinger
(1991; A&M)
Grunge is, like most genres after the 1960s or so, a hybrid. It fuses the muscular power of heavy metal with the rawness and alienation of punk rock, though depending on the band it could lean much heavier to one direction than the other. Mudhoney leaned more to the latter, for instance, while Soundgarden, for a time at least, sounded a lot more like a metal band than they did The Ramones (Kim Thayil will deny it, but we can hear the proof in the music itself). And just one look at the video for the heavy grooving "Outshined," with a wild-maned and shirtless Chris Cornell, should drive that point home. Soundgarden even opened dates of Guns 'n' Roses' Use Your Illusion tour, but ultimately Soundgarden came from a different world. Though their riffs were meaty, and their screams hearty, their fusion of more typical metal sounds with psychedelia, art rock and, indeed, punk on Badmotorfinger puts it in a curious middle ground where the heshers and the punks can coexist. I'm not necessarily saying that the hyperspeed riffs and abstract heroics of "Rusty Cage" equate to utopia, but I'm not not saying that. – Jeff Terich