Shadow of the Horns: OK, let's talk about Metallica
With December just over the horizon, all I've been thinking about recently is my favorite music of the year. That inevitably means my favorite metal of the year, which is always as fun and maddening to sort out as the best album of the year overall—and whether "best" and "favorite" mean two entirely different things. That's a conversation for another time that I'm probably never going to participate in, but what is important for me right now is what the year in metal, overall, looks like. The biggest story of the year often isn't what the best music is, which holds true for just about every genre. And the biggest story of 2016, as far as metal is concerned, is the ceremonious return of Metallica.
For a certain type of Metallica fan—most of them probably—this moment is long overdue. Now, don't misunderstand me. Metallica didn't really go anywhere. They've been filling stadiums for decades, and they can still sell out a several-thousand-seat coliseum without trying all that hard. But when it comes to releasing records, they've been a consistent disappointment for 25 years or more, depending on your stance on The Black Album.
Disappointment is relative, though, and while it might have been fair to say that fans were rightfully disappointed with Load and Re-Load, expectations for anything since then have been fairly low. St. Anger didn't help matters. Death Magnetic was a step in the right direction, but this still wasn't the band that built a cult of thrash from the ground up with four classic albums in the 1980s. (I'm admittedly a weird fan because my favorites are Kill 'em All and Ride the Lightning, but respect where it's due.) And then they released the bafflingly awful, entirely too long Lulu, a double-album collaboration with Lou Reed that Lars Ulrich once called "maybe the best album by anyone, ever" and turned out to be the worst record by either artist by a pretty safe distance. That it was the last studio release from Lou Reed before he died feels particularly tragic.
Hardwired…to Self Destruct, the band's twelfth album and first in a half-decade, has the potential to if not erase past sins at least make them much more forgivable. Based on the three songs released from the album thus far—"Hardwired," "Moth Into Flame" and "Atlas, Rise!"—that's looking increasingly likely. While the first of the three didn't necessarily win me over on James Hetfield's lyrical prowess (sample lyric: "We're so fucked! Shit outta luck" followed by a schlocky, "Fuel"-worthy "Go!") it did at least sound like Metallica were having fun again. More importantly, it sounded like thrash metal, just like they made 30 years ago. "Moth Into Flame" improved upon that first single, and "Atlas, Rise!" even more so. In fact, "Atlas, Rise!", reminiscent of recent Iron Maiden, was close to being one of my picks this month, though I'm already dedicating a lot of time and effort to writing about Metallica—plus we'll be reviewing the album later this month, so no need to go overboard.
It's significant that "Atlas, Rise!" isn't just good for present day Metallica, but actually good. That's been a hard adjective to come by for Metallica, who's record is not unlike that of another once-great band of the '80s: U2, who eventually got too big to be interesting. (It's not like Beyonce has that problem, dudes, just sayin'.) While U2 has struggled to release anything on the caliber of Achtung Baby in the last 20 years, they've soundtracked iPod commercials ("uno, dos, tres, catorce!") while Bono's won erroneous awards. Metallica, meanwhile, scores some particularly confusing commercials for Dodge hot rods starring, alternately, a Discovery Channel bro and some old-timey dapper bros. Either way, the result is something like McG: The Suburban Years.
The thing that's probably going to cause a bit of head scratching among listeners is the question of whether these songs are satisfying because they're really that good, or because after so many years of being let down, any positive ends up being huge. The truth is that it's a little bit of both. "Hardwired" isn't really that good. "Atlas, Rise!" is. And there's a lot more from the album that we haven't heard, so perhaps they're saving some of their strongest material until release day. It's unlikely that Hardwired…to Self Destruct will make my top 10 metal albums of the year, which has more to do with how good the field has been this year than anything Metallica's doing (although that cover art, woof). But I can say without hesitation that they're making music worth listening to again. They've dropped the pretense, put aside any misguided attempt at conceptual grandeur, and are simply having a good time being a metal band again. Sure, they could have saved fans a lot of grief if they had done that all along (the late '90s were terrible for every metal band, so I'm willing to give them a pass on that), but better late than never.
The best metal tracks of November 2016
Martyrdöd – "Harmagedon"
Martyrdöd first caught my attention back in 2012 with Paranoia, a crusty release heavily inspired by their Swedish death metal forefathers. It arrived during a particularly fertile year for Southern Lord that comprised a number of crusty, deathy hardcore records with some connection to Converge's Kurt Ballou (Burning Love, Black Breath, The Secret). With "Harmagedon," though, it seems they've stepped up their game considerably. Immediately, the melody stands out as perhaps the catchiest and most direct they've ever written, still steeped in malevolent death metal riffs but veering closer to the Thin Lizzy-influenced party metal of Kvelertak. That's my kinda hardcore.
[from List, out November 25;
Southern Lord
]
Anagnorisis – "Peripeteia"
When you Google "Anagnorisis Peripeteia," it takes a while before you get a result for the epic 11-minute track by the Louisville, Kentucky band. They're both Greek terms, the former meaning "discovery" and the latter meaning "reversal of fortune," and they're conceptually tied, notably in the writings of Aristotle. So that should give you some idea of the level of highbrow ideas going on in the band's music. That being said, "Peripeteia" isn't a high-minded thesis but rather a real expression of grief and anguish, inspired by frontman Zachary Kerr's fraught relationship with his father. Lines like "To know thyself and trust no one/In blackest sin, the shedding's done" sure sound like black metal lyrics, but in context they take on new meaning, and with a powerful, beautiful musical backing at that. This is some of the most emotionally challenging metal you'll hear all year, or most years, for that matter.
[from
Peripeteia
, out now;
Vendetta
]
Take Over and Destroy – "Let Me Grieve"
Take Over and Destroy's new album has been out for almost a month, which makes this entry feel a little bit behind, but not enough people have discovered this very cool band just yet. That's reason enough for me to sing the band's praises a month before we get into Best of 2016 mode. "Let Me Grieve" is a perfect encapsulation of everything that's compelling about the Phoenix-based band: post-punk darkness, classic metal melodies, with just the right touch of black metal intensity. They're the rare black metal band that seems to understand the roots of the genre—Mercyful Fate, Venom and Celtic Frost—without losing their forward gaze. It's catchy, fun, yet feels innovative in a way that bands with mashed-up genres and retro leanings rarely accomplish. I, for one, can't get enough of it.
[from
Take Over and Destroy
, out now;
Prosthetic
]
Madder Mortem – "Blood on the Sand"
Norway's Madder Mortem has been making progressive metal for more than 20 years. That's an impressive streak, though they're far from household names on this side of the Atlantic. Granted, prog metal is an acquired taste—I'm a casual listener at best—but Madder Mortem has a pretty fun take on a progressive sound. The melodies on "Blood on the Sand" are legit, for starters, with dizzying arpeggios blasting into explosive moments of heaviness. Plus vocalist Magnete Kirkevaag has the kind of fire-breathing delivery that pushes an already strong set of music into becoming something massive and jaw-dropping. So, no, they probably haven't gotten their proper due in 20 years, but that doesn't mean they don't have the chops.
[from
Red In Tooth and Claw
, out now;
Dark Essence
]
Goes Cube – "Strawmen"
Sludgy Brooklyn post-hardcore outfit Goes Cube has always flown a bit under the radar, and unjustly so. Their brawny, crunchy sound is big on melody and short on bullshit, which makes them particularly vital in heavy music. Their new album, Shadows Swallowed the Flood, is unfortunately going to be their final one. That it's possibly their best yet seems especially bittersweet. If you're going to go out, however, do it with a bang. "Strawmen" is a highlight from the album, a massive, artful slice of hardcore that layers on shoegaze textures and haunting female vocals. It's glorious.
[from
Shadows Swallowed the Flood
, out now;
Old Flame
]
Piece by piece
The best metal albums of the past month.
Alcest's Kodama: Alcest is ostensibly a shoegaze band with some metal elements, but regardless of how you choose to classify the Paris group, they make some beautifully heavy music. Kodama is an excellent return to form after some diversions into more straightforward dream-pop, so it's nice to hear Winterhalter bring back some blast beats while Neige offers up a nice scream now and then. It's everything you'd want in an Alcest album. (Prophecy)
The Dillinger Escape Plan's Dissociation: It's almost time for Dillinger Escape Plan to gracefully bow out and call it a day. And that's a shame, because they've consistently been one of metal's most innovative bands. But if they're going out, they're going out with a strong one. Dissociation is the combination of technical prowess, melody and experimental intrigue that's served them well over the years. We'll remember their breakneck riffs fondly. (Party Smasher Inc.)
Khemmis' Hunted: Just because I said last month was doom metal season doesn't mean it can't continue into November. Khemmis has released arguably one of the best—maybe the best—doom metal albums of the year with Hunted. It's classic without being pointlessly nostalgic, and colossally heavy without sacrificing songwriting. The title track, which closes out the album in epic fashion, is reason enough to return to this beast. They've come a long way in just a very short time, and prove to be one of the year's MVPs in metal. (20 Buck Spin)
Oozing Wound's Whatever Forever: Golly this is a fun album. Now, Oozing Wound were pretty great to begin with, but in the past couple years over three albums they've gone from being an intense and highly enjoyable band into one that's not only heavy as fuck, but actually writing some spectacular songs with stunning dynamics. Just don't compare them to other thrash bands. They're not into that. (Thrill Jockey)
Red Fang's Only Ghosts: Red Fang is as much a grunge band as a metal band, really (stoner rock, whatever) but they're heavy enough and fun enough that I'm giving them the nod this month. Only Ghosts is an improvement from their last batch of songs, if only because it feels a bit more immediate, yet ironically less rushed. My kinda riffin'. (Relapse)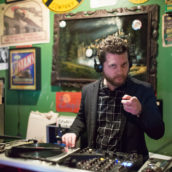 Jeff Terich
Jeff Terich is the founder and editor of Treble. He's been writing about music for 20 years and has been published at American Songwriter, Bandcamp Daily, Reverb, Spin, Stereogum, uDiscoverMusic, VinylMePlease and some others that he's forgetting right now. He's still not tired of it.