Endless Playlist: Aphex Twin – "minipops 67 [120.2][source field mix]"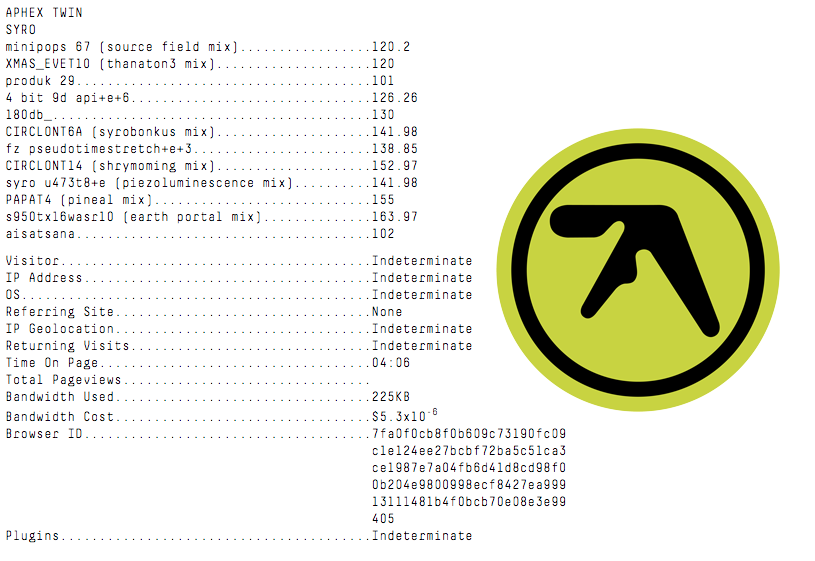 To me, Richard D. James has always been like a loving but distant father. I've learned a lot from his whip-crack drill 'n' bass beats, and I've gotten comfort from his tender digital melodies and rich synth harmonics. I've heard whimsical stories about him living in a converted bank, and of course I'm familiar with his freaky smile. But I'm too young to have ever known him  when he was around during his '90s heyday. And by the time I heard his most recent album as Aphex Twin, 2001's Drukqs, I figured he'd gone out to get that proverbial pack of cigarettes and never intended to release another full-length.
Well, it's been 13 years now, and he's back, dropping a long-awaited new album, SYRO, via Warp Records on Sept. 22. I'm excited, but I'm also skeptical—what can this guy possibly give me in 2014 that so many other producers can't? I don't get the full answer from the album's newly released lead single, "minipops 67 [120.2][source field mix]," but it does make for an intriguing taste of what's to come. In characteristic Aphex form, the track plays on contrasts: between an intricate clipped beat and a delay-filtered chord sequence; between heady piano and weird robot murmurs; between squirming textures and a sudden, straight-ahead cymbal ride. James doesn't go completely scatterbrained like he did on Drukqs, but there's an underlying sense of anxiousness going on. It sounds as though a larva is struggling to break free from a cocoon, eager to spread its cybernetic wings.
I wasn't too impressed by this track at first. It seemed chill—too chill. But after numerous listens, I've come to embrace its peculiar textures and beguiling hooks. Welcome back, daddy. We missed you.
[from
SYRO
, out Sept. 23;
Warp
]