Ariana Grande : My Everything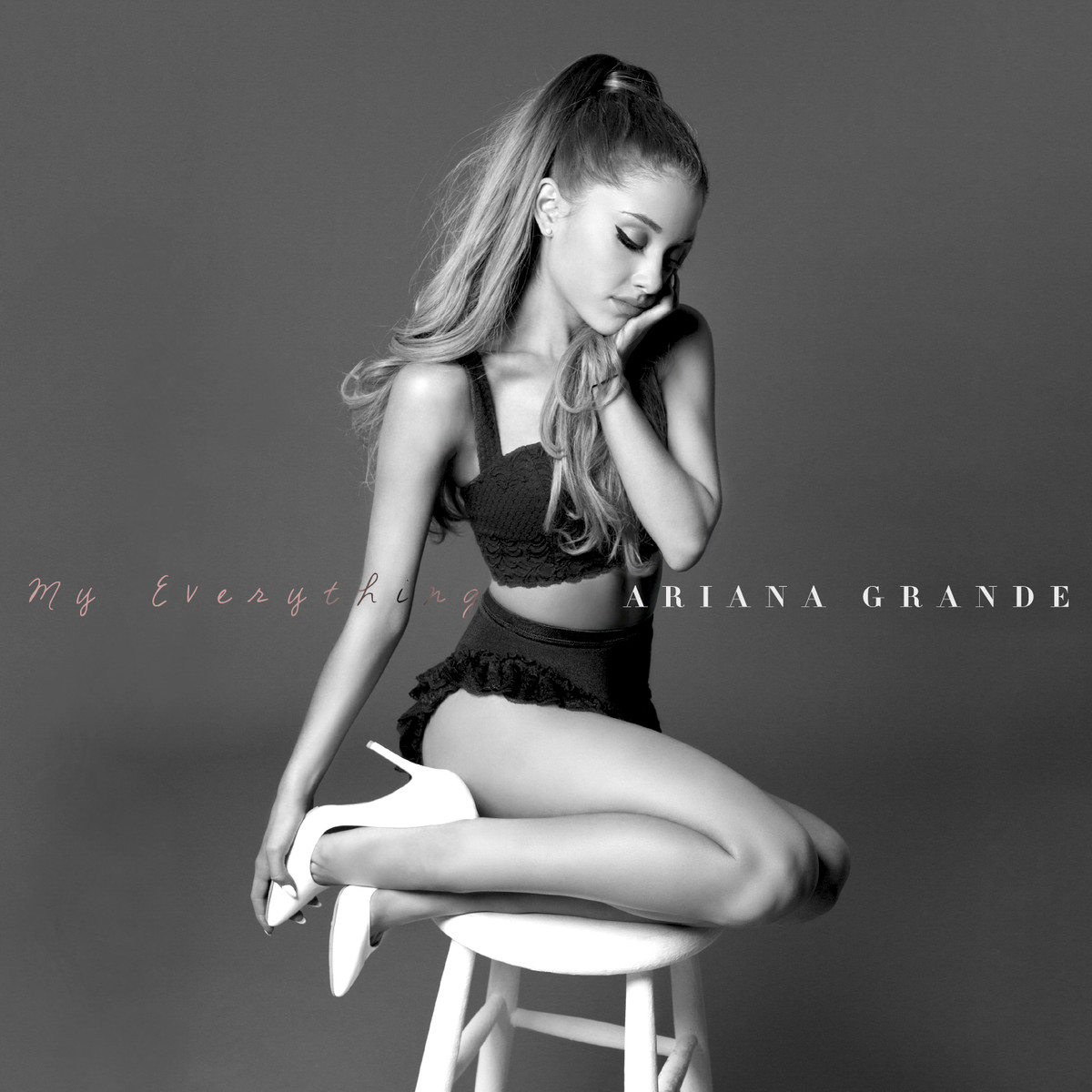 This year has been a new kind of coming out for Ariana Grande. Last year's Yours Truly was largely forgettable (with the exception of the Big Punisher sampling "The Way"), a saccharine and wholesome affair — a too-calculated opposition to Miley Cyrus' brand of watered-down rachetness. It wasn't a step too far from her Nickelodeon days, but Grande's latest, My Everything, looks to shed the sweetness of Yours Truly and go straight for the pop bangers.
Whereas Yours Truly was almost willfully uncool — opting for the melodramatic yet unaffecting ballads that plague most Disney movies — My Everything seems market tested for the cool kids. Hip-hop critic favorites like A$AP Ferg, The Weeknd, Childish Gambino, and Grande paramour Big Sean are enlisted to add street cred. It's a move from the Mariah Carey textbook: Combine those big pipes with a mix of pop and hip-hop known commodities. All that's missing is Jermaine Dupri. But despite getting a lot of help from the kids from the cool table (and you know, Iggy Azalea and Zedd), My Everything can't shake that feeling of calculation. It's an album that is carefully crafted with hits, both upbeat and ballads, but it fails to present a tangible sense of who Ariana Grande is.
Part of the problem is that Grande is more adept at mimicking her guest stars and her influences than standing out as an individual. Easily one of the best songs despite a sloppy Iggy Azalea verse, "Problem" mines Jennifer Lopez's most underrated songs (for instance, "Get Right") for an unrelenting jam. Grande hits all the right notes, pulling moves from Lopez, En Vogue and Christine Aguilera; she even mugs Azalea's "fuck 'em all" attitude. But a great hook really can make a track though "Problem" is ripe with them, one can't escape the feeling something is missing. Similarly, the punchy "Bang Bang" is a Pink song in everything but name, and comes with some healthy assists from Jessie J (someone whose presence I normally find too cartoonish, but works here) and the always-welcome Nicki Minaj. Harking back to the days of "Lady Marmalade" and "Ladies Night," there's a nice camaraderie in "Bang Bang" that, while not wholly original, is still nice to see in the pop landscape.
Grande's other summer jam, "Break Free" is an exacting blend of Robyn's brand of feminist pop and the kind of dance-floor ready synth pop that producer Zedd specializes in. While it's hard to really differentiate it from Zedd's other output (and that of Calvin Harris, for that matter), "Break Free" has some undeniable moments: at 2:13 the music backs off for just a moment to let Grande and her substantial vocals take center stage and she does so beautifully. Like Carey and Aguilera, Grande can sing.
Unfortunately, My Everything stalls out despite Grande's talent. After listening to the album, it became too easy to pinpoint precedents even in the songs I liked ("Hands On Me" for example was a little too similar to tracks by Pussycat Dolls and Danity Kane). And for an album that is being marketed as a bold new chapter for Grande, I was waiting for that boldness to show. Grande is far more adept at shape shifting from ballads to hip-hop to saccharine than the likes of Katy Perry, but Perry's songs are uniquely Perry's. Grande's songs don't yet stand as hers. Both the songs and Grande are too easily moldable and while often enjoyable, the flavor fades fast and I'm left wondering who Grande is.
Similar Albums:


Charli XCX – True Romance


Robyn – Body Talk Pt. 1


Usher – Looking 4 Myself