Pop Life: Dangerous Women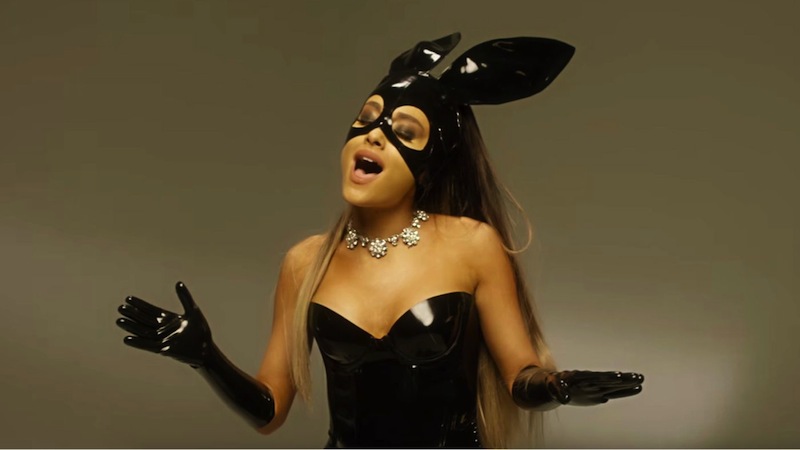 "Sex sells" has been a truism for-fucking-ever, but in popular art it often involves a double-edged sword. Using it as a principal subject of music, film and television required layered double entendres or cloaking devices (bra-on sex in R-rated movies, for example) if you didn't want serious controversy. This remains true today to a certain extent—especially in the case of women taking charge of their sexuality in artistic mediums. The Morals Police are never far off, often led by men publicly crowing about "setting examples" and then straining their hands jacking off to Mia Khalifa in private, or women who've unfortunately swallowed the patriarchy's blue pills.
And yet: In the past few years, brazen sexuality has been showcased in much of the best pop, R&B and hip-hop music by women—and it's happening on their own terms. For many listeners, this development is not only welcome but also essential for the music's continued relevance. (To be clear before we proceed: It'd be just as important if any of the artists below sang about saving it for marriage or being asexual or whatever; the on-their-own-terms part is what matters.)
Beyoncé has become the standard-bearer of this phenomenon even though she can't be called its progenitor. (I'd say that Lady Gaga and Nicki Minaj are responsible for kicking off the latest wave of it with The Fame Monster and Pink Friday, respectively.) With her 2013 self-titled album and even more so on LEMONADE, her status as an independent sexual being has been refreshingly front and center. Whether fucking her man's brains out when she wants to ("Partition," "Rocket") or owning her sexual presence in defiance of his infidelities ("Don't Hurt Yourself," "Sorry"), 'Yonce decides how her sexuality best serves her desires and acts accordingly. It's done wonders for her music, which has become deeper and more creative commensurate with her confidence.
This trend is even more present in R&B with less broad crossover appeal. Consider K. Michelle. Never a timid soul, her latest album More Issues Than Vogue is more explicit and unapologetic than ever. On "Nightstand," she professes that she "just ditched this n—a for my vibrator," asks "Please excuse my behavior, but can I give back all the fucks that I gave ya?" and professes to screw dudes breathless. She proudly shows off in the club on "Got Em Like" because she wants to, not to please any man. The racy shit has the added effect of making her more emotionally raw songs—such as "Sleep Like a Baby" or (from 2014's Anybody Wanna Buy a Heart?) "Drake Would Love Me"—that much more effective. (Don't be fooled by the latter's title. It's one of this decade's most earnest ballads.)
Starting with the stoned-R&B excellence of 2014's Aquarius, Tinashe has been similarly open in her portrayal of her own sexuality. Few songs convey the dopamine overdrive of sex's actual feeling the way "Feels Like Vegas" does, and if it's detail you want, listen to her match Future's guest verse tit for tat on "How Many Times?" And make no mistake, she's in charge, as with "Thug Cry":  "Bet you ain't never felt 3 a.m. feel like this?" she asks her latest conquest. Recent singles "Player" and "Ride Of Your Life," from her forthcoming record Joyride, maintain this trend to great success.
Even a more distinctly mainstream star like Ariana Grande has improved her sound through greater sexual boldness. The coquettishness of her first two albums (the second of which, My Everything, is a pretty solid record minus a few treacly ballads) is gone, and although the stiletto-sharp R&B of "Dangerous Woman" may not be the primary blueprint for the album sharing its name, it's her best song to date, bringing out her voice's full, formidable range. "Somethin' bout you, makes me wanna do things that I shouldn't," she proudly sings. (Read a certain way, this might seem like lacking control, but the choice is ultimately Grande's.) Additional lead-up singles "Into You" and "Let Me Love You" help round out a persona that not long ago was perceived by some as G-rated diva lite. TL;DR: I'M EXCITED FOR Dangerous Woman.
In spite of everything I just described and how positively affirming I believe it is for those musicians to do this shit for themselves rather than (one sincerely hopes) their record labels, it's clear that certain retrograde attitudes remain in effect. Consider The Bedroom Tour Playlist by Niykee Heaton, one of my most-loved 2016 releases. It showcases Heaton's fiery vocals and canny songwriting that conveys deep longing ("Infinity," my favorite song of hers) as well as unabashed lust ("Bad Intentions") and fuck-everyone bravado ("Lullaby," "Nexus").
Yet she's received less notice for her musical quality than the content of her Instagram. Numerous pop stars have done photoshoots just as or more racy than anything Heaton's posted without catching the same flak. (If curious as to her thoughts on these matters, consult the following tweets.) Heaton can wear whatever the fuck she wants, be it ass-hugging pants or Annie Hall pantsuits, as far as anyone should be concerned. Much more importantly, anyone with ears should pay attention long as she keeps writing songs as addictive as "Infinity" and "Bad Intentions."
I suppose we've come a long way since the heyday of Madonna and Janet Jackson, the original pop pioneers in my childhood and young adulthood to present themselves as confident sexual beings in a direct, unobscured manner. But whether it was hullabaloo over albums such as Erotica and The Velvet Rope or non-musical controversies like the Sex book and Super-Bowl-Nipplegate, they were invariably put through wringers of criticism and haughty moralizing. (Madonna didn't care and used it to her advantage, but she shouldn't have had to. The art should've been praised or derided solely on its merits.)
These days, Beyonce can shake everything Tina Knowles gave her by birth in LEMONADE and have it be lauded as empowering self-expression—which it is—and Nicki Minaj can rap things on her "Down in the DM" remix every bit as filthy as any bleating The Weeknd come-on. Thank fuck for that. As one of pop music's central subjects, sex should never have been the predominant province of male artists, and it was for far too long.
Considering that one of the high search results for Niykee Heaton's name is an execrable piece I won't link to calling her "music's new queen of thirst," we still have a good deal of work to do. In the meantime, though, we have her music—and Ariana's, and Nicki's, and K. Michelle's, and Tinashe's, and Queen Bey's. These women all made it according to their own strong wills, presenting their respective sexual identities exactly as they wanted to, and pop fans' listening lives are improved by having it to kick back, dance or, y'know, fuck to.