The Revenge of Degrading the Charts, with extra Drake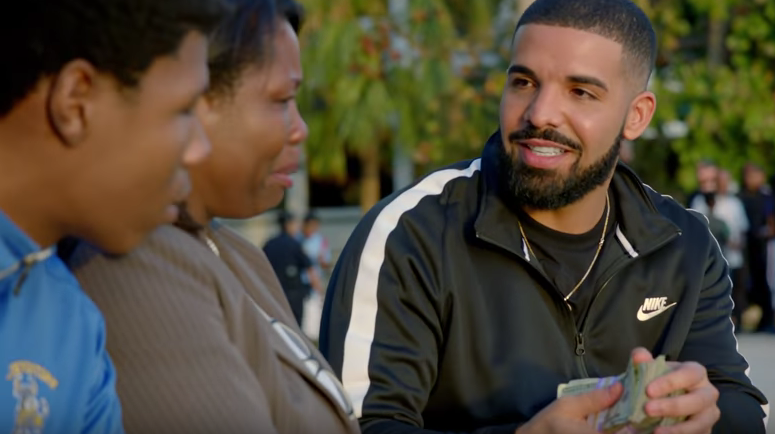 Note: This column was written shortly before Drake was subjected to a merciless verbal takedown in "The Story of Adidon." The last 24 hours have been a wild ride.
While Drake recently took a public L due to a sort-of beef with Kendrick Perkins while the Cleveland Cavaliers were massacring his beloved Toronto Raptors in the NBA's Eastern Conference Semifinals, it wasn't going to affect his musical dominance. Not with the recent release of three songs that could easily be considered career-bests of his (one, "Diplomatic Immunity," isn't represented here but is some of his best straight-up rapping since the immortal "0 to 100"). Side note: Do not ever, ever, ever seriously attempt to start beef with Kendrick Perkins.
There's no two ways about it: Drake is one of hip-hop and pop's most intriguing presences. So him being all over the latest iteration of the top 10 tracks on the Billboard Hot 100 is comforting, like food you know ain't that good for you but still tastes fucking great. Like New York style pizza, or carnitas tacos with guac and sour cream. I see his presence jump out at me and know the list of tunes I'm about to encounter it can't be that bad, right?
I was wrong: There are a couple of genuine shit sandwiches below, so there will be snark. I promise.
1.Childish Gambino, "This is America"
Donald Glover's music under the Gambino moniker has never impressed me much and on occasion has incited personal fits of rage. On the other hand, I have evangelized for the genius of his show Atlanta since its first airing. Suffice it to say I have an odd relationship with the art of the man who once tweeted as @donglover.
"This is America" certainly ain't a bad song; in some aspects it's a pretty good one. Glover is no longer using the annoying flow that characterized much of the early Gambino material, opting instead for a triplet style that's initially addictive—until you realize he's doing the same pseudo-Jamaican/Black Cockney patois people lambasted Drake for. Ultimately, is it good for the No. 1 song on the American pop charts to be one that, even obliquely, critiques police violence against Black folk? Yes, it is. The production is good and Young Thug's warbly harmonizing in the background is a welcome addition. I can't fully make heads or tails of this but I ain't mad at it either.
2. Drake, "Nice for What"
This song is fucking great. It's probably the most purely enjoyable track Aubrey D. Graham has made since…"Headlines?" "Worst Behavior?" "Make Me Proud?" "Hell Yeah Fuckin' Right?" The aforementioned "0 to 100?" It's just fun as hell, and it works as a welcome rebuttal to some of the justly criticized toxic masculinity shit on "Hotline Bling" and elsewhere in Drake's oeuvre. Sampling Lauryn Hill, the Showboys and Drake's beloved Big Tymers for a banger that'll play as well in Atlanta as it will in Marcy, this is a promising sign yet that Drizzy has perhaps put the uneven VIEWS and good but unfocused More Life behind him for a truly memorable long player in the forthcoming Scorpion.
3. Drake, "God's Plan"
Would you look at that? More Drake! On its own, this song is a decent if ultimately unremarkable humble-brag rap with strong H-Town styled production. It's impossible to separate it from its truly inspiring music video, however, in which Drake gives away nearly a million in cash to people in multiple Miami neighborhoods, peopled by every demographic of that polyglot city—Black folk young and old in the projects, white college kids, Latinx of every stripe, the dudes at a local firehouse, you name it. Drake is far from a perfect person, and there are motherfuckers who hate his guts for reasons both justified and absurd, many of whom would call this a stunt. But I'm about as cynical as they come yet find a hard time decrying a stunt that brought joy to this many people.
4. Post Malone feat. Ty Dolla $ign, "Psycho"
I fucking hate this dude. I fucking hate his calculated put-on bullshit flow, his disgusting misogyny alternated with even viler "for the girls" sensitive-dude tracks, the hip-hop game's inability to jack this dude's chain and kick his ass back to the rich Dallas suburb (Google it) where he came from…Holy fuck. This song is revolting. Where the fuck are M.O.P. when you need them?
5. Florida Georgia Line & Bebe Rexha, "Meant to Be"
I listened to all of "Ante Up" to cleanse that Post Malone song from my skull, and for all my sins, this is worse.
Christ alive, I've got receipts proving my love for good country. Ashley Monroe's album Sparrow came out not long ago and it's wonderful. Please check that shit out. Kacey Musgraves' Golden Hour is just as good and considerably more pop-oriented, so I'm not on some "realness" tip either. Also, whoever this Rexha character is, she isn't horrible, vocally speaking. She just can't overcome the abject dogshit that Florida Georgia Line have always been and always will be. "Cruise" is one of the worst songs of all time, so, at least this isn't that bad.
To be mystified as to this song's objective effectiveness as a piece of sleek pop craft would involve denying demographic truths about the U.S. and also shit like, um, how melody works. But that doesn't mean this song doesn't suck. Because it really, really sucks. I understand how capitalism works and that doesn't mean I gotta fuckin' like it.
6. Zedd feat. Maren Morris & Grey, "The Middle"
This is too utterly ordinary to hate or love. It's totally whatever. The music is solid because Zedd is good at making EDM confections powered by fat synth riffs. The worst I can say about this is it's a rote melody, which is honestly more damning than any long chain of profanity I could conjure.
7. Ariana Grande, "No Tears Left to Cry"
Ms. Grande and my ears generally get along. She's an outstanding vocalist with a real gift for adding appealing characterizations to songs that would be rote in the hands of lesser performers. "No Tears Left to Cry" is pretty all right. It most certainly lacks the punch of "Dangerous Woman" (a pop masterpiece and the subject of this column's first-ever piece), "Break Free" or even the Iggy Ebolea-afflicted "Problem." But those are truly great pop songs. This is a champagne-light enjoyable "Fuck you, I'm not heartbroken anymore" anthem, and there's nothing wrong with that.
8. BlocBoy JB feat. Drake, "Look Alive"
Until writing this I was ignorant of BlocBoy JB's existence. As it happens, he hails from Drake's other hometown (Memphis, Tennessee, where his sometimes-estranged/sometimes-adored father lives). Memphis doesn't have nearly as big a hip-hop profile as it ought to given that it's the home of Three 6 Mafia, but JB could change that in the near future. He's got a lot to learn—on "Look Alive," Drake completely dominates a track principally credited to his supposed protege—but his voice has an endearingly cocky and laconic flow that makes him worth keeping an eye on in the future, IMO.
9. Camila Cabello, "Never Be the Same"
Fifth Harmony escaped my monitoring of the pop music landscape. I knew they existed but didn't really pay attention to what they were doing. Not sure I missed anything or not. Regardless, Cabello is a solo act now, and already quite the successful one.
"Never Be the Same" is a quality modern-pop torch song. There's an appealing 80s reverb to the synth-driven production, and Cabello's voice has some real hurt to it that sells the chorus far more than its ho-hum lyrics. "Havana" is a much better track from Cabello, but she shows real potential to gain ground in the pantheon of late 2010s pop divas.
10. Ed Sheeran, "Perfect"
Why is Ed Sheeran? Perhaps after we're all dead the aliens surveying the ruins of Earth will find a copy of his album ≑ and have an answer. Because I do not.
But (somewhat) seriously: Why can a dude with an exceptional voice capable of great phrasing be yet another complete fucking dud in terms of what his songs actually do or say? I'm not kidding about his vocal chops; they're truly outstanding by any objective measure. His lyrics are among the worst I've ever heard even grading on the Top 40 curve. If you took John Legend's "All of Me" (a mildly sappy song but Shakespearean by comparison to this horseshit) or, say, "We Can't Be Beat" by The Walkmen, and made it 90 gazillion times more treacly, stripping it of all nuance, character or beauty, you'd have "Perfect."
Coda: I'm a straight cis American male who stans for Carly Rae Jepsen; I adore pop music at its best. But shit like this makes me wonder why I don't just eschew all of it and fully embrace the adult gothness I'm leaning into more often than not.
Here's some shit I've been listening to outside the pop realm, new and otherwise, with great joy:
Nine Inch Nails, "God Break Down the Door"
Pusha T, DAYTONA
Gas, Rausch
Johnny Jewel, Themes for Television
CHVRCHES, Love is Dead
Igor Stravinsky, The Rite of Spring (by the Royal Liverpool Philharmonic Orchestra, conducted by Vasily Petrenko)
Zaytoven, Trapholizay
Beastie Boys, Ill Communication and Paul's Boutique (remastered versions)