Treble's Top 100 Punk Albums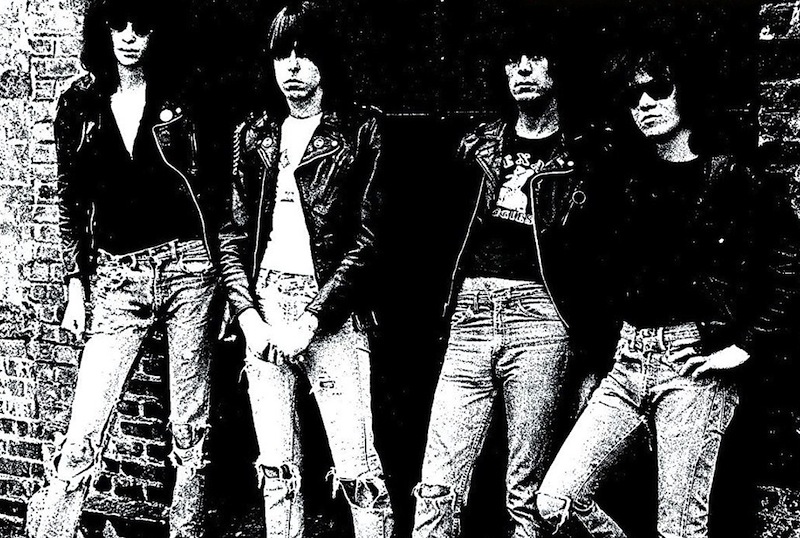 Punk rock has a tendency to lie about its age. There's endless debate over what the first punk recording is: The Ramones' self-titled debut? The Damned's debut single, "New Rose"? Or perhaps something even older, by The Stooges or MC5. Maybe it existed with the first blown-out riff by an early garage rock band. It's been around at least 40 years, however, that much we can be sure of. And 2017 marks 40 years since punk's most iconic and influential year, 1977.
Punk, for the most part, is fairly easy to define. It's played fast and loud, it's anti-authority and anti-status-quo, and it doesn't give a shit what you think. But it's also changed a lot in the 40-plus years since it rose to prominence. It's changed into something more complex and intellectual. It's also become lighter and more accessible. It's an attitude as much as a genre of music, and punk doesn't always sound like The Ramones or The Clash. But it's also co-opted by assholes every now and then; conservatism isn't the new punk rock, for the record, and I'd take Ivanka Trump's punk phase with a grain of salt. It's supposedly died many deaths but somehow keeps on rising back up again. With so much history, influence and evolution, not to mention this notable anniversary, it felt like the right time to put together our own official (and very personal) list of the Top 100 Punk Albums.
When we put together our votes for this poll, it became clear pretty quickly that everyone had a different definition of what punk was. For many it represented the old school three-chord rave-ups of The Ramones, but from there it diverged into the muscular sounds of post-hardcore, the technical fury of metalcore, the punky reggae of ska and the abrasive squall of noise rock. There were a handful of left-field nominations as well: N.W.A., Death Grips and John Coltrane, to name a handful. So our consensus is maybe just a technicality. Punk's definition is in the eyes of the beholder, and our end result is the a mish-mash of safety pinned logos that I might not have expected to see on the same tattered vest. As a collection of albums, however, they all represent punk in its various eras, evolutionary stages, styles, approaches and attitudes. It may or may not be the definitive list of punk albums—any such suggestion would seemingly go against punk itself—but it features our 100 favorite albums that we could call punk. There's not a platter here that isn't badass, and that's good enough for us. Enjoy our list of the top 100 punk albums, and turn it up.
---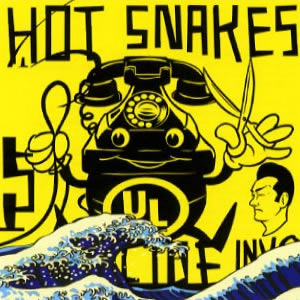 100. Hot Snakes – Suicide Invoice
(2002; Swami)
With half the lineup from the short-lived but intense post-hardcore heroes Drive Like Jehu, San Diego's Hot Snakes harnessed that band's intensity but packaged it into smaller, easy-to-digest capsules. Their second album is their most potent statement, a punchy garage-punk half-hour that nods to old-schoolers like The Wipers while injecting their own sense of ironic humor into snarling screeds like "I Hate the Kids." If punk is a teenager's game, nobody bothered to tell these bruisers. – Jeff Terich
---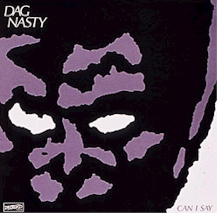 99. Dag Nasty – Can I Say
(1986; Dischord)
Dag Nasty's debut album has a lot going on, from sweeping harmonies to voluminous choruses, revelatory instrumentation to shredding guitar progressions. Dag Nasty's melancholic inward-bound themes, combined with their still defiantly punk attitude, made for a revelatory work within the spectrum of '80s punk. A brilliant first album from a band whose storied career that would impact far more than just punk as a genre and help to give rise to emocore. – Brian Roesler
---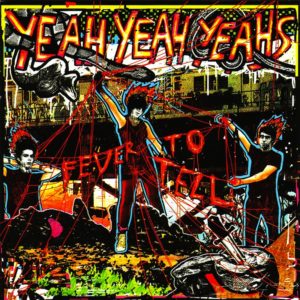 98. Yeah Yeah Yeahs – Fever to Tell
(2003; Interscope)
The Yeah Yeah Yeahs injected a dose of primal ferocity into an already explosive New York City scene riding the waves of early 2000s rock revival. The trio's debut album, Fever To Tell, coupling the unbridled showmanship and charisma of lead singer Karen O with the cutting guitar work of Nick Zinner and drummer Brian Chase's jazz-educated chops, stands as one of the most important works of the era and, with songs such as "Date With the Night" and "Pin," easily the most punk of the bunch. – Andy Barton
---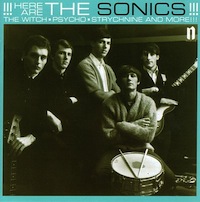 97. The Sonics – Here Are the Sonics!!!
(1965; Etiquette)
No other album deserves three exclamation marks at the end of its name. The Sonics bridged the gap between rock n roll and punk, and did so with an energy few bands ever were able to capture in a studio. Without this record, there is no Iggy Pop, no Modern Lovers, no Ramones. This is raw hedonism at its most melodic and addicting, a punk rock artifact. – Wesley Whitacre
---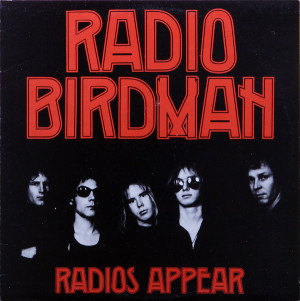 96. Radio Birdman – Radios Appear
(1977; Trafalgar)
Radio Birdman and The Saints were the first Australian bands to bear the punk banner. For a group that proclaimed a debt to The Stooges, Radio Birdman were much less discordant and more compositionally mannered. The rushed singalong anthems of Radios Appear ("Murder City Nights," "Descent into the Maelstrom") carry a primal power, and when they stretch out on the Horses-esque "Man With Golden Helmet" they show a range that catches the listener off-guard. – Paul Pearson
---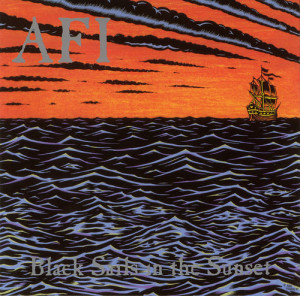 95. AFI – Black Sails in the Sunset
(1999; Nitro)
In 1999, AFI were way ahead of their time. Fourth album Black Sails in the Sunset was a pivotal release for the band, with its darker vision of hardcore-tinged punk. Davey Havok's howl could have fit on an LA Guns album just as easily, giving the album a feel of rock 'n' roll abandon that wasn't as prevalent in the pop-punk friendly '90s. It's important to remember, too, that this was well before the days of MySpace, when other hardcore bands were starting to experiment with mixtures of death- and cock-rock. – Wil Lewellyn
---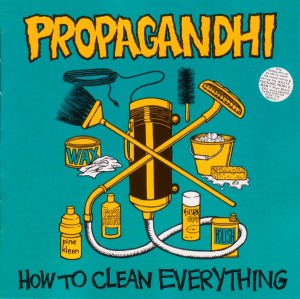 94. Propagandhi – How to Clean Everything
(1993; Fat Wreck Chords)
The first sonic middle finger from Propoghandi, How To Clean Everything proudly boasts tracks such as "Fuck Machine," "Stick The Fucking Flag Up Your Goddamn Ass, You Sonofabitch" and, aptly, "This Might Be Satire." Once you get past the rough exterior and inflammatory bent, the album is highly self aware, privileging an honest lyricism over bland sloganeering. Plus, the lineup features notable Manitoban John K. Samson of Weakerthans fame (who is also a college professor—you have to wonder if he tries to hide this from his students). – Matt Perloff
---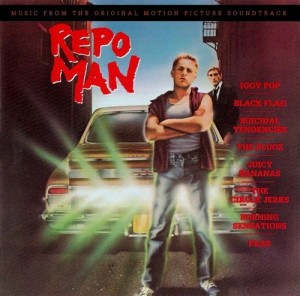 93. Various Artists – Repo Man OST
(1984; MCA)
The soundtrack to Alex Cox's 1984 directorial debut both celebrated and moved the goalposts for SoCal punk. Repo Man ensured the longevity of Suicidal Tendencies' "Institutionalized" and Black Flag's "TV Party." It also played with punk's limits via The Plugz' Spanish-language cover of "Secret Agent Man," Burning Sensations' cover of Jonathan Richman's "Pablo Picasso," Iggy Pop's title track and Circle Jerks' lounge parody of their own "When the Shit Hits the Fan." Put it on a plate, you'll enjoy it more. – Paul Pearson
---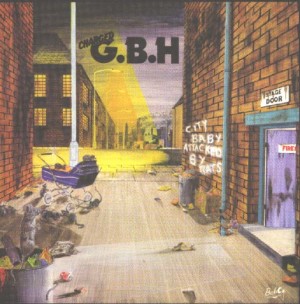 92. G.B.H. – City Baby Attacked by Rats
(1982; Roadrunner)
A pivotal album in the heavier, more aggressive UK82 movement, City Baby Attacked by Rats (credited to Charged G.B.H.) album finds buzzsaw guitars churning against a percussive blur. The combination of sounds creates an angry whirlwind for the Colin Abrahall's husky vocal bellows, while its guitar solos are like a swarm of meth-crazed bees. Filled with rowdy gang vocals and an unstoppable pace, the songs on City Baby still manage to be earworms amid the intensity. – Wil Lewellyn
---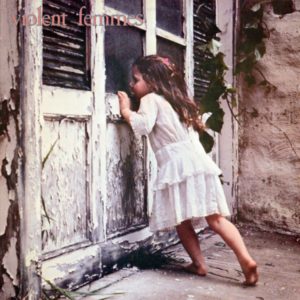 91. Violent Femmes – Violent Femmes
(1983; Slash)
With one of the most recognizable riffs in rock music ("Blister in the Sun"), Milwaukee's Violent Femmes kicked off their self-titled debut, a 12-song folk-punk foray, with heavy appeals to the emotional and sexual angst of teenagers and outsiders alike. Singer/guitarist Gordon Gano's Midwestern yawp floats over mostly acoustic instrumentation and drummer Victor DeLorenzo's shuffled drums like few punk bands before them, casting aside traditional, aggressive electric playing on "Kiss Off" and "Prove My Love" while still maintaining a grieved sneer. – Andy Barton