A film isn't really complete until it includes that one perfect song. The one you seek out the soundtrack for, the one you where you queue up the film over and over again, and the one that becomes a pop culture staple, elevating both the music and its cinematic vessel alike. With the Academy Awards looming just over the horizon, we took it upon ourselves to compile what we'd consider the best songs from movies. (Or, at the very least, our favorites.) In choosing them, we weighed the strength of the song itself, its significance in the movie it came from, and whether or not its inclusion made the movie better. In these 50 cases all three items are checked off, and then some. But instead of delay the proceedings, we suggest you get a big tub of popcorn (artificial butter optional), get comfortable and enjoy our Top 50 Songs from Movies list. Roll film!
---
50. Nancy Sinatra – "You Only Live Twice"
from You Only Live Twice [1967]
A James Bond film isn't really complete without a few key elements: A diabolical villain, a femme fatale, some nifty spy gadgets, four or five exotic backdrops and, perhaps most importantly, a great Bond anthem. You Only Live Twice, from 1967, had all of these, and perhaps a few too many of the gadgets for its own good. But its title song is not just one of the best to emerge from the James Bond canon, but in cinematic history. Nancy Sinatra, fresh from the success of "These Boots Are Made For Walkin'" and on the cusp of her mind-bending Lee Hazlewood collaboration, "Some Velvet Morning," is the artist behind the bewitching, enchanting slice of lush, orchestral pop, produced and orchestrated by veteran Bond composer John Barry himself. It's a gorgeously intoxicating piece of music (even more so in the version with the dated orientalist themes removed), so much that its reputation precedes the movie from which it was spawned. Neither as joyfully bombastic as "Goldfinger" nor as of-the-moment as the Jack White/Alicia Keys tag-team of recent years, "You Only Live Twice" is mysterious, romantic, almost impossibly cool. – JT
---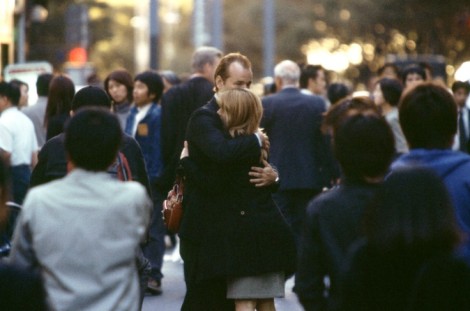 49. The Jesus and Mary Chain – "Just Like Honey"
from Lost In Translation [2003]
There's an understated, poetic beauty to Lost In Translation that is just awe-inspiring. Having re-watched the film recently, I can't say it holds up quite as well as it did when I saw it in the heights of my indie-drama phase two years ago and fell in love. However, its melancholic undertones are still just as present, as the themes of ennui, restlessness, and vulnerability come through in co-stars Bill Murray and Scarlett Johansen's performances. Considering the film's emotional underbelly, the reverb-drenched melodicism of My Bloody Valentine's "Sometimes" may seem like the obvious pick, but ending on "Just Like Honey" signifies this particular sense of hope that director Sofia Coppola tried to lend throughout the film. Life is not inherently meaningless—or it doesn't have to be, anyway. Such ephemeral moments of human connection bring meaning to banality, and may even give us purpose, if we let them. – BB
---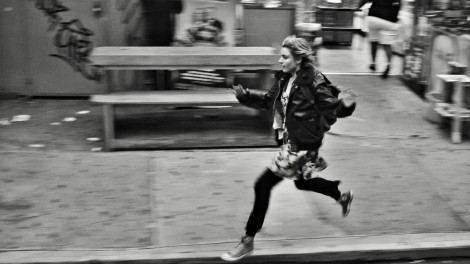 48. David Bowie – "Modern Love"
from Frances Ha [2012]
Just about everything David Bowie ever touched was graced with an instant cool, and so it goes with his musical contribution to Noah Baumbach's 2012 film, Frances Ha. Bowie's ever-catchy "Modern Love" instantly uplifts the viewer, bringing them along for Frances' free spirited dance-run through Manhattan. The song soundtracks all of Frances' (Greta Gerwig) frustrations simultaneously leaving her as she breaks out in a moment of pure ecstasy, throwing her cares by the wayside. Bowie's "Modern Love" adds the necessary amount of punch to Baumbach's black and white masterpiece. – VC
---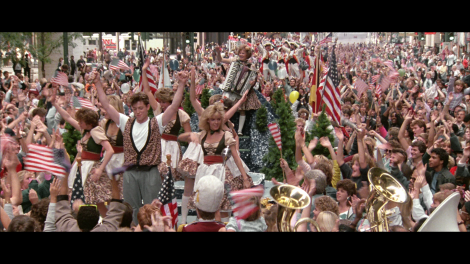 47. The Beatles – "Twist and Shout"
from Ferris Bueller's Day Off [1986]
Being a teenager in the '80s was the coolest thing on earth. At least that's what it seems like if you only had the films of John Hughes as evidence. Those crazy '80s kids threw mind-blowing ragers in midwestern mini mansions where teens danced in their underwear and created a hottie with a heart of gold on their computer. It really makes my teen years in the late '90s and early '00s, with all the Limp Bizkit and butterfly clips, look like garbage. The '80s teen FOMO is never so strong than when you watch Ferris Bueller's Day Off. A major part of that FOMO is the parade scene where that lovable and mischievous Ferris has taken over a float and goes into Wayne Newton's "Danke Shoen" followed by a crowd rousing lip sync of The Beatles' version of "Twist and Shout" that gets the entire city of Chicago raging and singing along. It's one of the seminal moments of movie history. Your teenage ditch party will never be this cool. – AZ
---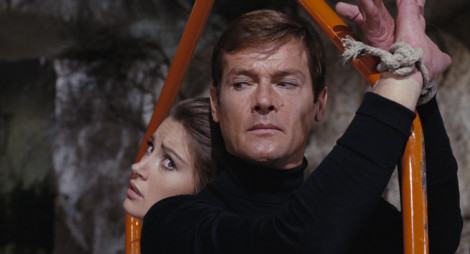 46. Paul McCartney and Wings – "Live and Let Die"
from Live and Let Die [1973]
News of the opening theme songs of the James Bond film series has often carried as much cachet as the star, the female foil, the bad guy, and the stunts. The first appearance of Roger Moore as 007 also featured the first theme performed by anyone outside of the worlds of jazz and pop. Longtime Bond producers Harry Saltzman and Albert R. Broccoli approached Paul McCartney to have his new band do the theme even before the screenplay was finished, a make-good on Broccoli's part after passing up on producing the Beatles film A Hard Day's Night. McCartney read the original Ian Fleming novel, wrote the song in an afternoon, and recorded it a week later. The return on investment was, in a word, stirring: It was the first Bond theme to hit the top 10 in both the US and UK, it earned a Grammy nomination (as did the Guns 'n' Roses cover in 1993), and it was even slated for the rare honor of parody by Weird Al Yankovic. – AB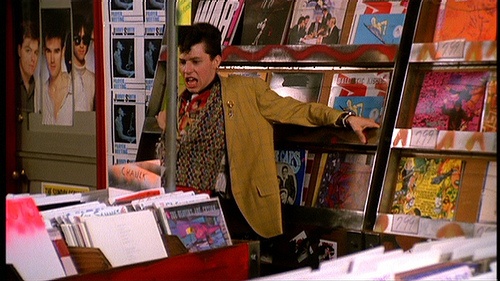 45. Otis Redding – "Try a Little Tenderness"
from Pretty In Pink [1986]
A bit ago I saw the Most Disgusting Thing Ever: an advertisement for Pretty In Pink's 30th anniversary, in which a voiceover asked were we Team Duckie or Team Blaine? To have the rare good sense to be a white teenager in the '80s who appreciates Otis Redding is the same sort of man who tells truth with every joke, willing to stay every day and take a punch as well — a man so beloved by the audience they had to throw in a four second cutaway of Buffy the Vampire Slayer 1.0 in its closing scene to mollify we that chose our side. A man so in love but continually thwarted that the only way to even try to get over it is to let it explode outward, to use other fine works of art to illustrate the depth you feel for the only art that matters in your life, that singular heartbeat someone else holds in their hands even if they don't value it. Three decades of staring a hero in the face and they're still trying to get us to root for a fucking appliance. Disgusting. – BR
---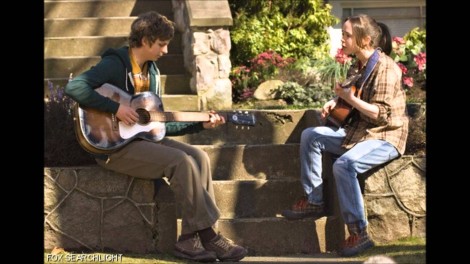 44. Moldy Peaches – "Anyone Else But You"
from Juno [2007]
The whole quirky/folksy moment of the mid-to-late 2000s was solidified with the inclusion of The Moldy Peaches' awkwardly romantic "Anyone Else But You" in 2007's teenage pregnancy dramedy Juno. The song fit the entire essence and voice of the film. Just as Clueless introduced hip, new vernacular to the teens of the '90s, Juno made it cool to be whip smart and fast talking, and "Anyone Else But You" made offbeat, gawky sincerity the hottest craze in music, in addition to changing pop culture, at least for a little while. It's a sweet, simple song made up of a basic guitar strum by Adam Green and sung earnestly and inelegantly by Kimya Dawson, who walks you through the lyrics like a tour guide at the Museum of Awkward Teenage Feelings. The film spoke to young people struggling to understand the sensations in their heart and their pants in a way that didn't talk down to them or pander or lecture them, and this song perfectly captured that same struggle of being young, in love and not exactly sure what to do with your arms. – AZ
---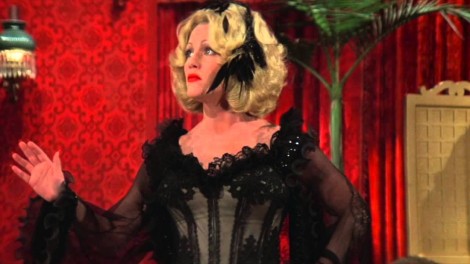 43. Madeline Kahn – "I'm Tired"
from Blazing Saddles [1974]
Lost in the acclaim of Mel Brooks' broad but heavily sub-referenced humor is his standing as one of our most brilliant musical parodists. From The Producers' "Springtime for Hitler" through History of the World Part 1's "It's Good To Be the King Rap" (which came only two years after "Rapper's Delight," for crying out loud) Brooks and his arrangers nailed every nuance of 20th century music with as much affection and care as Spike Jones. He also found ways for his parodies to actually further the plot. Blazing Saddles featured Madeline Khan as Lili von Schtüpp, a husky, adenoidal copy of Marlene Dietrich's saloon singer from Destry Rides Again, sent to seduce and destroy Rock Ridge's newly appointed Sheriff Bart. "I'm Tired" is Lili's barroom cabaret showstopper, a lament about having way too much of a certain very specific good thing. Kahn's mimicry of Dietrich's unique set of vocal limitations makes the sexual exhaustion that much funnier, as does the sudden appearance of very precise and sympathetic Prussian soldiers. Even if the Dietrich allusions went over the heads of younger audience members, Kahn's performance was hilarious on its own. – PP
---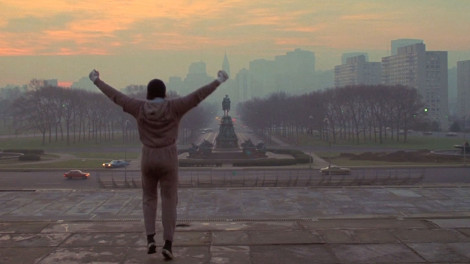 42. Bill Conti – "Gonna Fly Now"
from Rocky [1976]
It must be absolutely bizarre to know for a fact that you've changed the culture on an almost molecular level and still be able to live in obscurity. But Bill Conti has for decades. Here is the only release on the countdown that could be a mere 30 seconds and not lose any of its impact. Yet not only is his name not imprinted on the larger national consciousness, nor is the title of this song. For the million ears that perk up every time it plays for longer than two seconds and the quadrillion parodies of the source material's scene it spawned, it will forever be "the Rocky song." Even 40 years ago when Sly was losing, he still managed to win, you know? – BR
---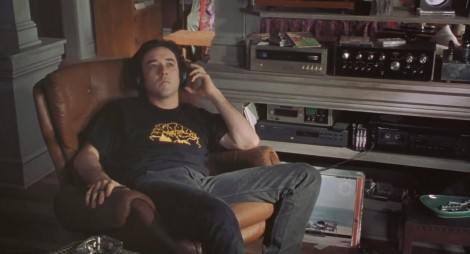 41. The Beta Band – "Dry the Rain"
from High Fidelity [2000]
Any self-respecting indie music snob's heart will flutter at the nervous smugness on John Cusack's face as he cues up the "I will be your light" refrain from "Dry the Rain" over the Championship Vinyl speakers, and the assorted crate-diggers' ears simultaneously perk up and heads begin to nod. It is a sadistically manipulated moment in a movie full of them, laser-designed to tap into the strange tangle of arrogance and insecurities that define all music obsessives. The song originally emerged on The Beta Band's 1997 debut EP Champion Versions, and had briefly flashed into the lower reaches of the UK charts as part of The Three EPs, giving it the exact level of obscurity and availability required to make such a self-absorbed moment work. Anybody who has worked in an independent record store understands that the main perk is the opportunity to inflict your selections on a captive audience, and High Fidelity has captured that giddy delight for posterity. – MP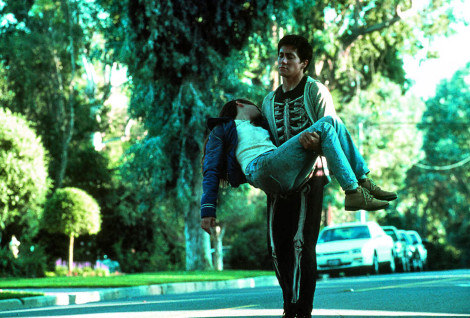 40. Gary Jules – "Mad World"
from Donnie Darko [2001]
Donnie Darko director Richard Kelly's 2001 dreamscape of a violent bunny and a dark teen become enveloped in Gary Jules' haunting rendition of this classic Tears for Fears track. Gary Jules essentially turns down all the intensity of the original, thinning it down to raw vocals and a melancholic piano line. Used in the closing scene of the film, the song accompanies our final peeks into the town Donnie once inhabited—showing his classmates, his family's heart-wrenching reactions, and even the face behind Frank. Jules' ability to portray the true roots of agony pulls together the closing scene in a beautiful, memorable manner. – VC
---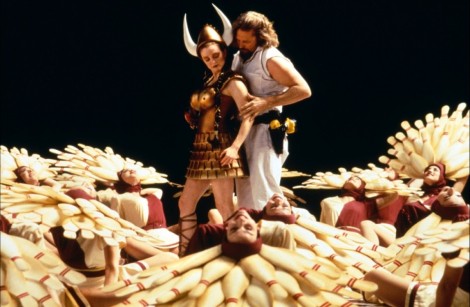 39. Kenny Rogers & The First Edition – "Just Dropped In (To See What Condition My Condition Was In)"
from The Big Lebowski [1998]
The Coen Brothers' 1998 love letter to the early part of that decade could have done without a roofie-induced dream-sequence-slash-porn-trailer to the tune of "Just Dropped In…" We didn't need to see Saddam Hussein as the warden of an infinitely tall wall of bowling shoes. We didn't need to see the Dude float down a bowling lane through several pairs of legs on his way to a perfect strike. The Brothers Coen could have done any number of things to get us from the drugging to the Dude's aimless escape, but none would have been more fun. And you have to admit—it really ties the scene together. – CG
---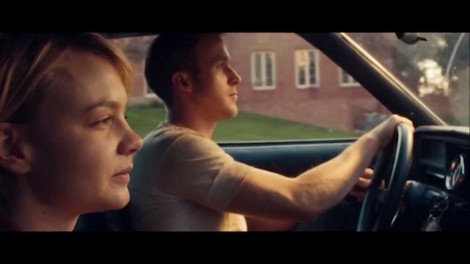 38. College – "A Real Hero"
from Drive [2011]
Drive's strong suit (and focus) isn't in the dialogue but how audio and visual dynamics are used to create a sense of atmosphere through the film's emotional and action sequences alike. And there's a bit of a bittersweet story to how that happened as well. Originally envisioned by director Nicolas Winding Refn as boasting a full soundtrack created by Chromatics' Johnny Jewel, the film's producers pushed towards a more traditional approach. But Jewel's music still remained a significant influence on both composer Cliff Martinez and the non-orchestral pieces chosen for the film, giving the entire ride a sleek, Italo-disco feel. This pairing of groovy electro tunes and stunning sequences hits its mark the strongest in a pivotal scene that sets up why Ryan Gosling's nameless character is willing to go to bold lengths to protect Irene and Benicio. It's a sweet, heartfelt scene in an otherwise dark and fortune-less cinema scape, which makes it all the more affecting. – ATB
---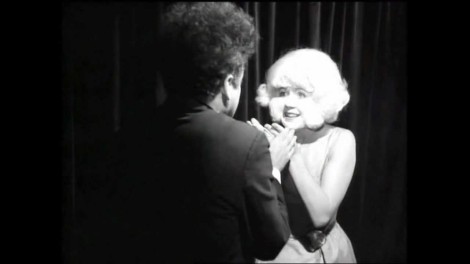 37. Lady in the Radiator – "In Heaven"
from Eraserhead [1977]
David Lynch's debut feature Eraserhead is a film whose soundtrack is very literally just the sounds of what happens in the movie, which incidentally turns out to be a great, 40-minute proto-industrial soundscape (later released on vinyl by nü-goth powerhouse Sacred Bones). The one actual song in the movie, not counting the surreal drift of Fats Waller throughout various moments, is a stark, under-two-minute torch song performed by a woman in lead character Henry Spencer's dream sequence. "In heaven, everything is fine," sings the lady that lives inside the hissing radiator, her face grotesquely swollen despite her dulcet singing voice. It's a serene break from the dystopian horrors of the film and the psychological shock of some pretty disturbing scenes involving a goo-covered cow-puppet baby, offering Spencer relief from a life that seems to be slowly spiraling out of control. But as comforting as the tone of this eerie dirge may be, its message is one of the bleakest you'll find in a pop song: Death is the only release. – JT
---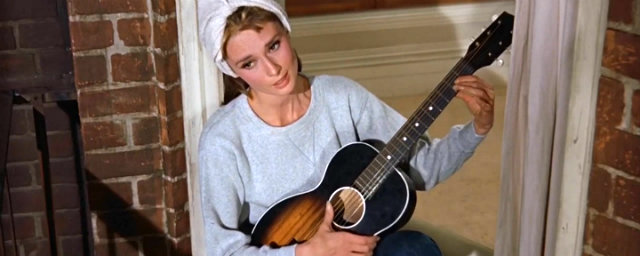 36. Audrey Hepburn/Henry Mancini – "Moon River"
from Breakfast at Tiffany's [1961]
"There was once a very lovely, very frightened girl. She lived all alone, except for a nameless cat." The handsome young man types this on his typewriter as he hears a dreamy voice and guitar float through his window. He has to see where this sweet sounds comes from, and so he walks over and looks out to see his beautiful downstairs neighbor on her windowsill, strumming a little guitar and singing out to New York City with a wistful look on her face.
It's every twee girl's fantasy to be Audrey Hepburn in Breakfast at Tiffany's, stepping out of a cab in New York City dressed to kill in a black Givenchy gown and huge shades, sipping coffee and biting into a donut like a mysterious princess as the instrumental to "Moon River" plays. And when Hepburn's iconic Holly Golightly plays the sweet, melancholy song that catches the cute neighbor's attention, a collective swoon came over the world. It's a moment that girls recreate in their fantasies. "Moon River" is the twee girl's "Wonderwall." They pick up their ukulele, adjust their polka dot dress, and sing the dreamy Henry Mancini and Johnny Mercer classic to a room of sensitive boys and girls, all projecting their romantic sensibilities upon each other. This song almost didn't make it into the film. Years after its release, Manicini said that the then president of Paramount Pictures wanted the song cut. Hepburn said it would only be done over her dead body. And it's a good thing she did. The song is a classic that lived beyond the film it was part of, which is arguably the true test of the cultural importance of a song from a film. – AZ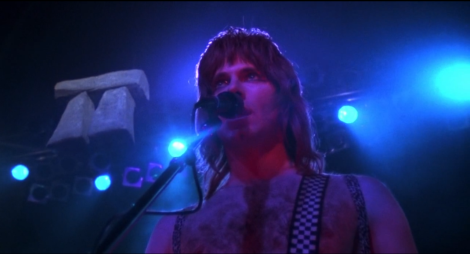 35. Spinal Tap – "Stonehenge"
from This is Spinal Tap [1984]
I'd put virtually any song from the 1984 metal mockumentary—"Sex Farm," "Big Bottom," "Tonight I'm Gonna Rock You Tonight"—on this list. But the position of "Stonehenge" in the Spinal Tap legend is pivotal and ultimately heartbreaking. No other song so fully captures the unchecked ambition, mystical fascination and dismal failure of Spinal Tap, and ergo all other hard rock bands of its generation. Nigel Tufnel opens the song as a seeker of the essence of the Druids ("No one knows who they were, or what they were doing"). David St. Hubbins then kicks it into high gear, shaking Tufnel out of his bewildered fantasy, speaking of Stonehenge as a place where a suspiciously wide range of humans, superhuman and deities get along mysteriously well. Just as the multi-part suite seems just about ready to stake its claim as a multi-faceted masterpiece, an incorrectly miniature replica of Stonehenge descends from the rafters onto the stage, where it becomes "in danger of being crushed by a dwarf." In that moment Spinal Tap's dreams are crushed as well. Could ours have been far behind? – PP
---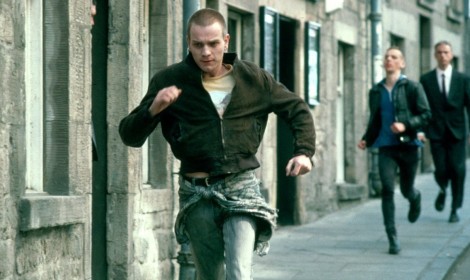 34. Iggy Pop – "Lust for Life"
from Trainspotting [1996]
You might not ordinarily think that an opening scene in a film depicting heroin addicts being chased by the police would be such a fun, thrilling moment, but that tends to happen when you score the scene with Iggy Pop's most infectious anthem. The irony isn't subtle; Renton, Begby, Sick Boy and Spud aren't so much living as chasing a fleeting, diminishing and destructive illusion in Danny Boyle's adaptation of the best-selling Irvine Welsh novel. Yet that opening scene, complete with Ewan McGregor's monologue describing and mocking what one might call a normal life—"Choose life, choose a job, choose a career, choose a family," which segues into "choose a fucking big television…choose fixed-interest mortgage repayments"—illustrates the romance of that self-destructive thrill. It's a movie that begins with the high, brought upon in a big way by Iggy Pop's rumbling-beat proto-punk melody, and rapidly spirals out into one crushing comedown after another. – JT
---
33. Three 6 Mafia – "It's Hard Out Here for a Pimp"
from Hustle and Flow [2005]
Hustle & Flow followed an aspirant rapper script similar to 8 Mile, though this time around it was Terence Howard's DJay, a Memphis pimp and drug dealer, spitting the verses. The character's hit single, "It's Hard Out Here for a Pimp," written by hip-hop group Three 6 Mafia and Cedric Coleman, took the 2006 Academy Award for Best Original Song after the group performed the song live with actress Taraji P. Henson, who played Shug, one of DJay's prostitutes. In the movie, Howard and Henson lay down their lines, which detail the hardships of hustling, with a ragtag group of musical collaborators in their steamy Tennessee studio. – ASB
---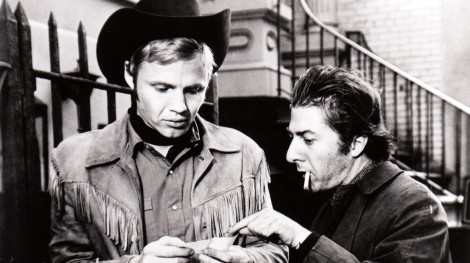 32. Harry Nilsson – "Everybody's Talkin'"
from Midnight Cowboy [1969]
One of Harry Nilsson's greatest strengths is his ability to make whimsy somehow carry a crushing bleakness alongside it. There's an obvious desperation in the fingerpicked ditty "Everybody's Talkin'" even when we first hear it at the beginning of Midnight Cowboy—the film with which it's most famously associated—when Jon Voight seems merely like a colorful sexpot ready for the strangeness of late-60s New York City. By the time we hear it again at the end, when we've seen Voight and Dustin Hoffman as the unforgettable Ratso Rizzo encounter violence, poverty, misery and death, that desperation is multiplied by a thousand and it just seems like a hard, repeated boot to the face when you're already down. – LG
---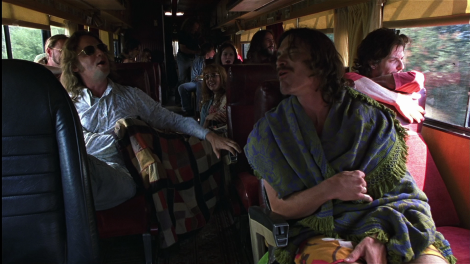 31. Elton John – "Tiny Dancer"
from Almost Famous [2000]
Few songs gets integrated into a film quite the way Cameron Crowe does with "Tiny Dancer" in Almost Famous. The band Stillwater is on the ropes as a wasted and wounded Russell Hammond is escorted to the tour bus, his bandmates silent and resigned. Fifteen-year-old writer, William Miller, just wants to go home already, but his priority is not shared by anyone else. No one is happy and no one is talking. "Tiny Dancer" plays over this scene, starting outside of the bus. As the drums come in on the song, Stillwater's drummer plays along, as if it's playing on the vehicle's stereo. Someone else starts singing and soon enough the entire bus has joined in. By the end of the scene, all is forgiven, and young William is on his way to accepting his destiny—he is home. Such is the power of music; it binds, it heals and it elucidates. – CG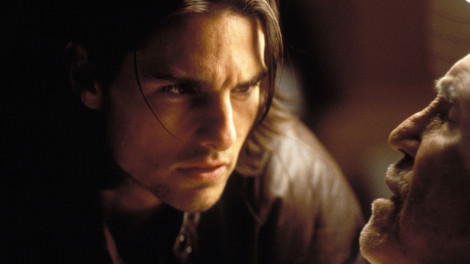 30. Aimee Mann – "Wise Up"
from Magnolia [1999]
"Wise Up" is one of those soundtrack tunes that manages to have its cake and eat it too. It does work when heard outside of PTA's California magnum opus Magnolia, but is also so closely woven into the tapestry of that film that you can't imagine it not being there. While it isn't Magnolia's first (or last) diversion from realism, it is the most powerful. The sight of each of that film's main characters singing these words, all stretched to their breaking points and beyond, is devastating. The musical ingredients are simple—just Mann's unadorned voice, a steady piano riff, a touch of Jon Brion orchestration and some reverb-soaked drums. It's the words their and effects that are complex—my favorite line is, "You're sure, there's a cure/And you have finally found it?" I always viewed it as a sardonic question. The song's overall message is clear: Only you decide whether to do good things for yourself or wallow in misery. – LG
---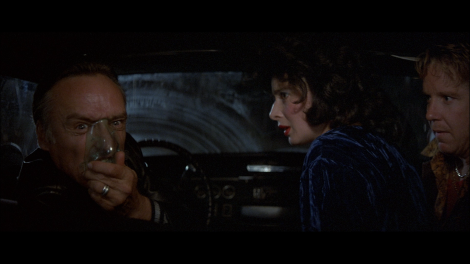 29. Roy Orbison – "In Dreams"
from Blue Velvet [1986]
The song that plays a pivotal role in David Lynch's dark masterpiece Blue Velvet was written in 20 minutes after the idea came to the legendary crooner in his dreams. This tale of the candy-colored clown they call the sandman set the stage for Dennis Hopper's greatest moments, the trembling vibrato of his voice inducing the kind of chills needed to bring the insanity of Frank Booth to life. In the song's seven movements, Orbison covers two whole octaves, which surpasses what most rock singers can do (hi, Elvis). It is the perfect song for taking the neighbor on a nitrous-high joyride. – WL
---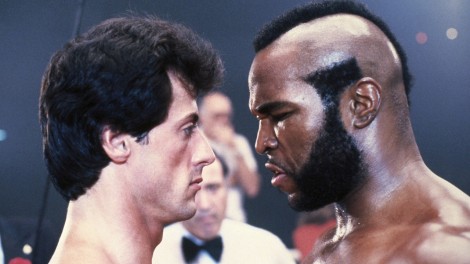 28. Survivor – "Eye of the Tiger"
from Rocky III [1982]
This mullet-rock classic came about when Sylvester Stallone asked Survivor to write him a song like their first top 40 single "Poor Man's Son" for Rocky III. They agreed, and thus band's biggest hit was born. More people know the chorus to the song than they know who actually sings it, though it was number one on the Billboard charts for six weeks in 1982. You can't listen to it with dropping down to do some push-ups or imagining yourself in a slow motion training montage. While it drips with '80s cheese, their singer Dave Bickler—one of the decade's more powerful voices—is also known for more recently singing in Bud Light's "Real Men of Genius" commercials. Sure, it's campy, but you try singing this song at Karaoke without cracking a falsetto. – WL
---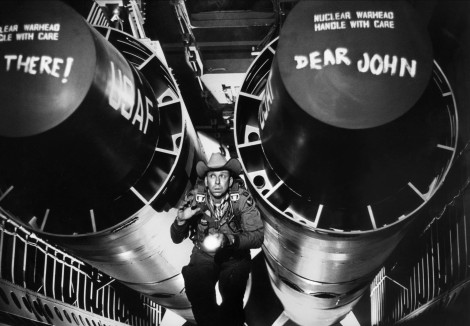 27. Vera Lynn – "We'll Meet Again"
from Dr. Strangelove: Or How I Learned to Stop Worrying and Love the Bomb [1964]
To say that Stanley Kubrick's 1964 satirical masterpiece ends on a bold note would be an understatement. After Slim Pickens' Major "King" Kong has, howling, ridden the nuclear bomb and triggered the doomsday machine, all that remains is a collage of atomic explosions, set to the maudlin strains of Vera Lynn's wartime paean to faraway love. The track is a 1939 recording tailor-made to wring out every drop of patriotism, nostalgia, optimism and fear from conscripted British World War II soldiers, and more pointedly their lovers back home. Kubrick's fatalistic vision brings out the futility of hope in a time where mutually assured destruction was the order of the day, and makes literal the latent darkness in the lyrics that suggests the only real hope we all have of meeting again will be in another place entirely—don't know where, don't know when. – MP
---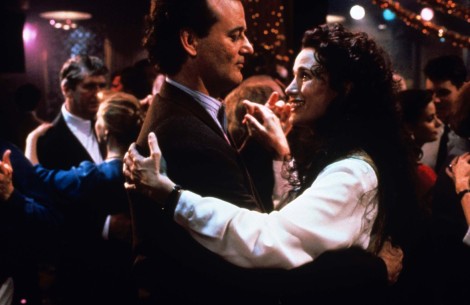 26. Sonny and Cher – "I Got You Babe"
from Groundhog Day [1993]
In what becomes the most grating use of music in a comedy, Groundhog Day opens with a short snippet of "I Got You Babe" as used by a morning radio goofball duo blasting through a clock radio in Punxsutawney, Pennsylvania, where TV weatherman Phil Conners is on the worst job assignment of his life. It's an iconic opening scene all by itself, but when Conners gets stuck in a time loop, it becomes symbolic as the first moment of the day he's trapped in. The moment brings a different emotion for Conners with each day—sometime grief, sometimes anger, sometimes relief. He develops a daily ritual of smashing the alarm clock every time he hears the song but, eventually, gives in to the moment as a kind of surrender. It's a clever film trick that perfectly demonstrates how Groundhog Day straddles the line between comedy and drama, with the filmmakers even opting to bring the song around full circle as part of the film's resolution. – ATB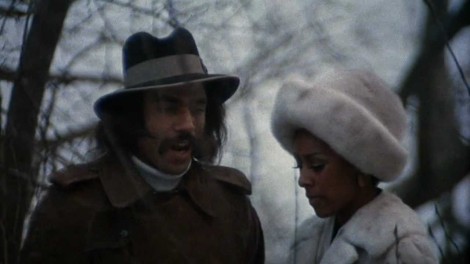 25. Curtis Mayfield – "Superfly"
from Superfly [1972]
The title track on the quintessential '70s Blaxploitation soundtrack is just one of nine outstanding songs in an iconic suite. Really, any of Curtis Mayfield's compositions for the Superfly soundtrack would belong here, whether it's the opening sequence set to "Freddie's Dead," or Mayfield's own appearance in the film, performing "Pusherman." "Superfly" itself shows up during the closing credits, an epilogue to the gritty and triumphant story of Youngblood Priest, who rises up in the drug game before cleverly finding his way out of it. The story is one full of action and social critique, positioning Priest as a hero of morally ambiguous means, while his own saga parallels the lack of economic opportunities in post-civil-rights America. He overcomes, however, and Mayfield's theme song for the titular Superfly recounts the legend via big horns, funky grooves and the compelling narrative of a man "tryin' to get over." Jay Z may have coined the term "black superhero music" on 2007's American Gangster, but Mayfield invented it. – JT
---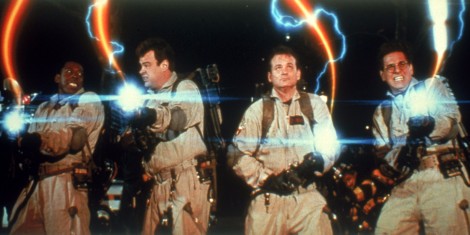 24. Ray Parker Jr. – "Ghostbusters"
from Ghostbusters [1984]
There are plenty of songs that exist as cultural phenomena before sliding down into the realm of overplayed, annoying earworms. The theme to 1984's supernatural comedy Ghostbusters is one such song, the brightest light in the career of an otherwise workaday R&B session player, songwriter, and bandleader. This could easily have been the work of a more prominent artist, but Fleetwood Mac's Lindsey Buckingham—approached after performing "Holiday Road" for National Lampoon's Vacation—didn't want to become a soundtrack specialist. Given a short schedule to construct a theme with the movie's clunky title, Parker fortunately stumbled on a random company's shoestring-budget late-night TV commercial. The results, especially driven home by a neon-lit, cameo-filled music video, are equal parts advertising jingle and cheesy, hammy party track. It's hopelessly stuck in the '80s, but also relentlessly proud to be so. – AB
---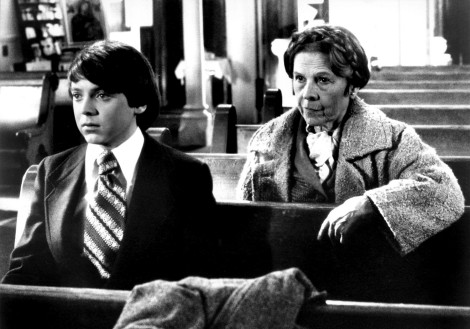 23. Cat Stevens – "If You Want to Sing Out, Sing Out"
from Harold and Maude [1971]
On my first watch of Harold and Maude, I was so turned off by the Cat Stevens soundtrack that I couldn't see myself giving the film another try. Both music and film were drab and glum, but with a sense of effervescence that I couldn't shake—they were obnoxious. But after finding myself belting "If You Want To Sing Out, Sing Out" several times a day for the next two weeks or so, I finally gave in and sat down for another watch—and I got it. Harold and Maude, like "If You Want To Sing Out, Sing Out," is defined by its contradictions, with its dreary mise-en-scene and somewhat depressing plot (eccentric and privileged boy goes to strangers' funerals and fakes his own death for fun), contrasted with its sweet, though somewhat questionable, romance. Just as the film earned a place in my heart with time, so has Cat Stevens. Such is the beauty of the cult classic, I suppose. – BB
---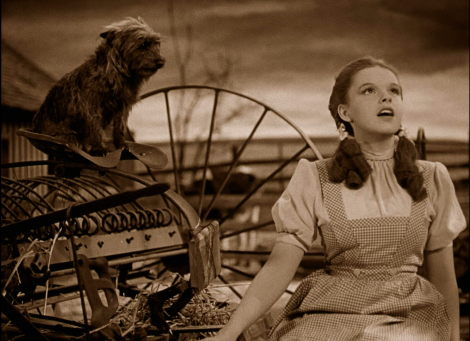 22. Judy Garland – "Somewhere Over the Rainbow"
from The Wizard of Oz [1939]
Harold Arlen and E.Y. Harburg's timeless ballad, sung by Judy Garland's Dorothy in The Wizard of Oz, lives on as one of the most popular and enduring songs of film, taking the number one spot on the Recording Industry Association of America's "Songs of the Century" list and the American Film Institute's "100 Years…100 Songs" list. Performed within the first 10 minutes of the movie, the song allows Dorothy to reflect on a life without trouble—or at least one in which spinsters don't heckle you about your dog. The tune also won an Academy Award for Best Original Song, and has inspired countless covers and renditions, from the cast of Glee to Glenn Miller and Pink to Israel Kamakawiwo'ole. – ASB
---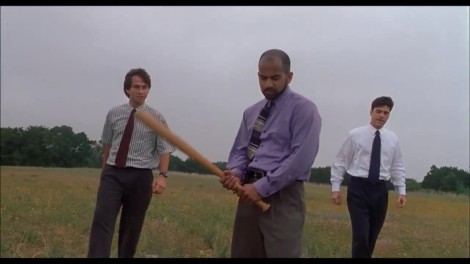 21. Geto Boys – "Damn It Feels Good to Be a Gangsta"
from Office Space (1999)
This is just one of those songs—one of those songs you can just put on and forget about all of the trivialities of the world. So when Peter Gibbons, an unappreciated employee working a dead-end office job at Initech, strolls into his cubicle with in flip-flops and cargo pants, you can relate to his newfound zen. After all, there are just somedays when you really do feel like a gangster, even when you're just watching kung-fu movies on a date night. The Geto Boys never reached the critical zenith that a few early 90's rap groups did—A Tribe Called Quest, De La Soul and others—but they'll always be remembered for creating a song that managed to resonate with those who felt the least empowered. – JM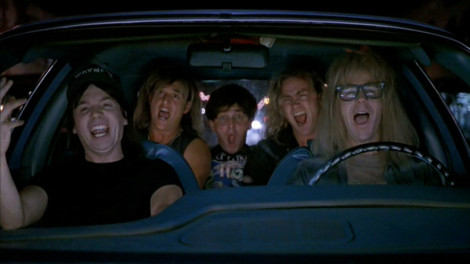 20. Queen – "Bohemian Rhapsody"
from Wayne's World [1992]
That Penelope Spheeris' big-screen adaptation of SNL sketch Wayne's World is full of iconic musical moments is just one of the reasons why it stands so much taller than the countless other offshoots of the sketch-comedy incubator. That it's still incredibly funny after nearly 25 years is arguably an even bigger success, though the combination of music and comedy is where it hits the highest notes, its most legendary scene taking place in Wayne's "Mirthmobile," a Ford Pinto hatchback that seems to miraculously fit five people (as long as none of them have to hurl, and if so, bring a paper Dixie cup). As Wayne, Garth and three of their buds hit the town to see Crucial Taunt and The Shitty Beatles at Gasworks, Wayne slides Queen's A Night at the Opera into the cassette player, and movie-making magic ensues, all five dudes lip-syncing the entirety of Freddie Mercury's art-rock operetta ("Scaramouche! Scaramouche! Will you do the fandango?!") before climaxing in a group headbang to Brian May's immortal riffs. It's good-natured young male bonding captured in five minutes of joyriding, rock 'n' roll fun. Do these guys know how to party or what? – JT
---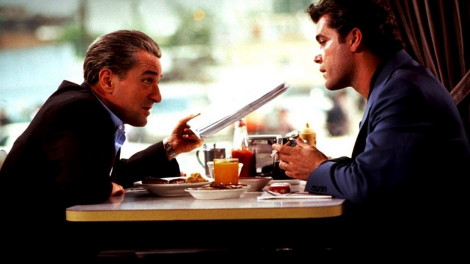 19. Derek and the Dominos – "Layla"
from Goodfellas [1990]
As a teenager, it bugged me that the justly renowned filmic use of "Layla," in Goodfellas, didn't involve my favorite part of the song. The mournful second half of the title track on THE ONLY FRONT-TO-BACK GREAT ALBUM ERIC CLAPTON EVER MADE IN ANY CONTEXT FIGHT ME IF YOU DOUBT is such a jolting departure from the screeching blues of the first, which was what I initially responded to. But that said, there's nothing fun about the slow, inevitable discovery of the bodies from several utterly pointless murders near the end of Goodfellas' second act, and the sadly plaintive repetition of that piano riff reinforces the ugliness on screen. "Layla" knows it'll all end badly, in general, as Goodfellas does, and now that sequences resonates with me more deeply than ever. (But those riffs at the beginning though? Still priceless.) – LG
---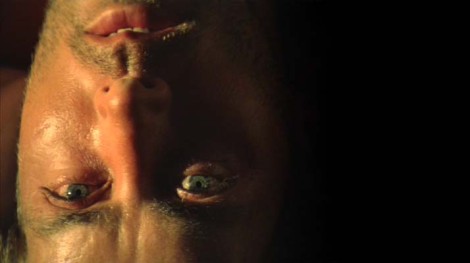 18. The Doors – "The End"
from Apocalypse Now [1979]
Just as Apocalypse Now transcends the idea of a war film (the thing's directed by Francis Ford Coppola, for chrissakes), "The End" transcends the idea of rock­­—or, whatever the hell The Doors thought they were doing at the time. It's a slow-moving, 12-minute epic punctuated by sitar-like chords. There are several interpretations of the song's meaning—a relationship ending? suicidal ideations?—but the common theme in all of them is pain. Pain is, in many ways, integral to our very existence, and Apocalypse Now explores this to great effect. Loosely based on Joseph Conrad's brilliant novel Heart of Darkness, Coppola makes the case that there's a particular wickedness and absence of light within us all—and "The End" embodies all of that, plus more. Like a madman drunk with vanity, Morrison detonates with frustration, envy, anxiety, fury, and lust. This could very well be the end, indeed. – BB
---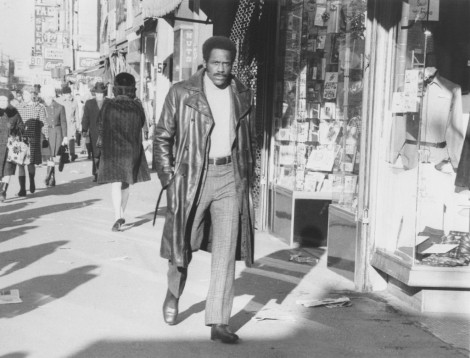 17. Isaac Hayes – "Theme from Shaft"
from Shaft [1971]
The story of a black private dick who's a sex machine with all the chicks is an important piece of the '70s movie canon, but if you were to only watch the first five minutes—scored by Isaac Hayes' Oscar-winning theme song—then you'd still catch the best part. Hayes' ode to the title character, a detective portrayed by Richard Rountree, is half orchestral score and half badass funk anthem, built up from a bed of scratchy wah-wah guitar, horns and strings into a narrative about a dude on the right side of justice—on the side of the people, no less—who just happens to be irresistible to women. It's a perfect example of the old men want to be him/women want to be with him cliché, but if there's one single reason that just about anyone would want to be in the shoes of this bad mother(shut your mouth!), it's having the coolest theme song ever written. Damn right. – JT
---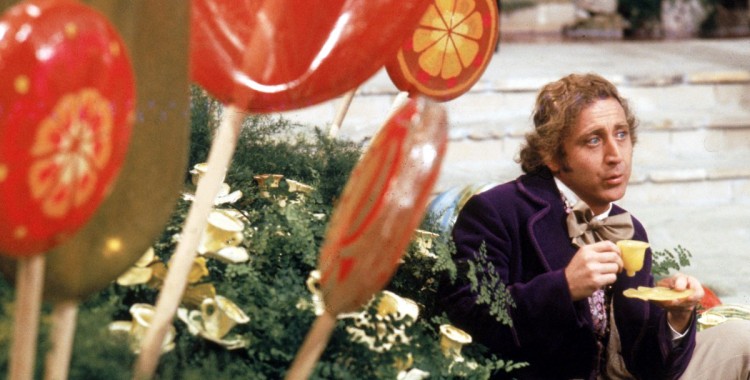 16. Gene Wilder – "Pure Imagination
from Willy Wonka and the Chocolate Factory [1971]"
Behind Gene Wilder's mischievous eyes lies all the knowledge of Willy Wonka's mythical chocolate factory. And what better way to cleverly convey this than through a mesmerizing ballad, written by Leslie Bricusse and Anthony Newley specifically for the film. Between dreamy verses and an explosive orchestral accompaniment, the song is a true exemplar of the pleasures that await the lucky recipients of the elusive Golden Tickets. Complete with his majestic purple coat, George M. Cohen-esque choreography, and chocolate umbrellas, the whole scene feels like a dream that only Gene Wilder could properly execute. – VC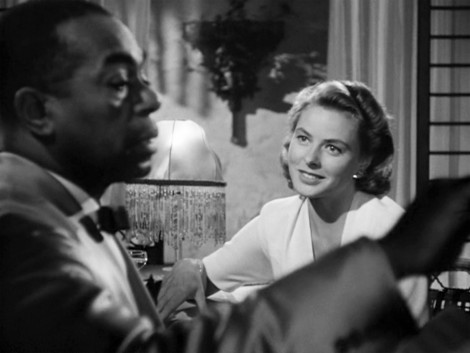 15. Dooley Wilson – "As Time Goes By"
from Casablanca [1942]
A song so enshrined in movie folklore that Warner Bros. has been using it as a fanfare for nearly 20 years. The song itself, the magnum opus of songwriter Herman Hupfeld, dates back to 1931, but it was not until 1942 that it captured the public's imagination. Even the cue for the song's first use in Casablanca is iconic, and although of course Ingrid Bergman never speaks the words "Play it again, Sam," why let facts get in the way of history. At the time, the actor Dooley Wilson was involved in a musician's strike, forbidding him from cashing in on his brush with international fame. Wilson was a bandleader in his own right in the 1920s, although not a pianist, and so the part had to be played off-screen by Elliot Carpenter, with Wilson merely imitating his hand movements. The song permeates throughout the film, frequently emerging as a motif in Max Steiner's timelessly romantic score, and, like so many aspects of Casablanca, it's difficult to imagine that it could ever entirely disappear from our culture. – MP
---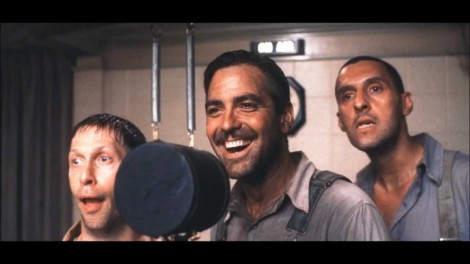 14. Soggy Bottom Boys – "Man of Constant Sorrow"
from O Brother Where Art Thou [2000]
In the Coen Brothers' Depression-era retelling of Homer's Odyssey, it is not just wile and guile that helps get Ulysses Everett McGill (George Clooney) and his gang home to Mississippi. It is music, both accompanying their travels and directing their fate. The O Brother, Where Art Thou? soundtrack highlighted bluegrass and backwoods spirituals from performers both old (The Stanley Brothers) and new (Alison Krauss, Gillian Welch), but turned to a group constructed specifically for the film for its most pivotal moments. Dan Tyminski, Harley Allen and Pat Enright provide the rustic harmonies for Clooney's Soggy Bottom Boys to lip-sync over on film—first in a scene recording the Dick Burnett song that unknowingly wins them fame, then in a scene performing it to win their freedom. – AB
---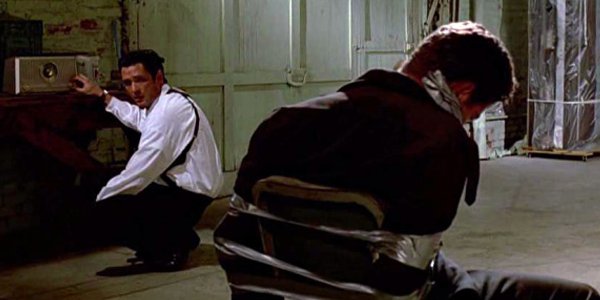 13. Stealer's Wheel – "Stuck in the Middle With You"
from Reservoir Dogs [1992]
Quentin Tarantino's films are probably best known for three things: violence, retro vibes and a particularly absurd sense of humor. And there's one scene from early on in the director's career that probably embodies all of those elements more than any other single scene. If you've seen Reservoir Dogs, you know we're talking about the moment in the warehouse when Mr. Blonde tortures police officer Marvin Nash after carefully turning the dial to K. Billy's Super Sounds of the 70s. As the Dylan-esque charms of "Stuck in the Middle With You" resonate loudly through the building, we see Mr. Blonde half-ass a little dance as he pulls out a straight razor, the camera pans to a spray painted warning of "Watch Your Head" as Blonde hacks off Nash's right ear. Blonde playfully mocks Nash then throws the ear aside before walking out to a his car, grabbing a canister, and dousing Nash with gasoline. All of this takes place, within the story and on screen, within the song's short run and is perhaps the most twisted use of '70s pop you'll ever see on screen. (But don't worry, Mr. Blonde gets his just desserts.) – ATB
---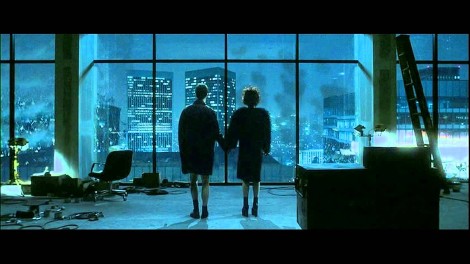 12. Pixies – "Where Is My Mind?"
from Fight Club [1999]
"Where is my Mind" is such a strange fit for a film about insomnia, the futility of consumer culture, and anarchism—at least on paper. But something about the way those buildings fall in perfect harmony at the end, in almost rhythmic sync with Joey Santiago's dissonant lead, suggests the ineffable sense of an unknown future. Jack and Marla's hands join in almost perfect symmetry before a desolate corporate window, and Frank Black's strangled yelp claws its way into the scene. Lyrically, the concept of accepting one's own insanity seems to play a large role in director David Fincher's song choice, but there's something far more indescribable at play here. Whether it was just good taste, or otherwise, we'll never really know. Either way, The Pixies will forever be associated with human bars of soap. – JM
---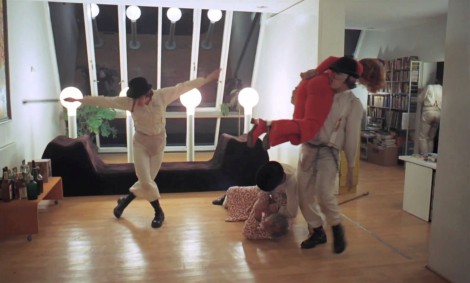 11. Malcolm McDowell – "Singing in the Rain"
from A Clockwork Orange [1971]
What's more creepy about Alex Delarge's rendition of this 1929 classic is that it comes from a genuine impetus of joy. In a dystopian society as rundown as the one painted in A Clockwork Orange, one of the few ways for a young man to find any sense of pleasure is through a little bit of the ol' ultraviolence. Perhaps that speaks more about a setting not so far from our own, rather than Alex Delarge himself. Not only do Kubrick and McDowell use the song as a juxtaposition between the stale repression of the 1950s and the sexual gratuitousness of the future, but they manage to work the song into a major plot point. As it stands, the song is so integral to the film, it would be hard to imagine it without the latter. Or as Alex would say, it still is "Gorgeousness and gorgeousity made flesh." – JM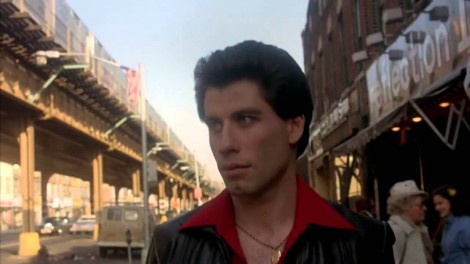 10. Bee Gees – "Stayin' Alive"
from Saturday Night Fever [1977]
Both the apex of the disco culture and the lightning rod for its backlash, Saturday Night Fever has reaped the benefits of nearly 40 years' distance. It's perhaps the most quintessential movie about being 19 years old in America. As Tony Manero, John Travolta caught the oversized physical confidence and emotional inarticulation of that chronological purgatory. Though Manero's machismo was mockable, Travolta revealed the complicated narrative behind it. So does the Bee Gees' "Stayin' Alive" in exactly the same way. The beat and Barry Gibb's falsetto vocal sets you up for a salvation that never comes; survival is its own reward. Dancing with "the wings of heaven on my shoes" is just an equalizer. Plenty of listeners, myself included, still overlook Gibb's giveaway payoff line: "Life goin' nowhere, somebody help me." No question this is the most Shakespearean disco song ever made, and that includes Alec R. Costandinos' "Romeo and Juliet." Certainly, as one of the handful most representative songs in the history of its genre, "Stayin' Alive" beat the odds and outlasted the test of time. Who knows if Tony Manero did, though? – PP
---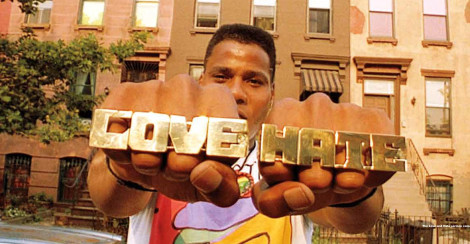 9. Public Enemy – "Fight the Power"
from Do the Right Thing [1989]
Spike Lee's study of the racial relationships on one block in Bed-Stuy stands as one of his masterworks, and the game-changing political rap of Public Enemy—still on a critical high from It Takes a Nation of Millions to Hold Us Back—swirled around and through it. The chaos of a hot summer's day is embodied in the frenetic scratching and production from Terminator X and The Bomb Squad, lyrics that besmirch the good names of Elvis and John Wayne and Bobby McFerrin, and a weaponized saxophone line from Branford Marsalis—"a Wall of Sound to accompany a Wall of Sound," in his words. It is the soundtrack of rising anger and lost innocence: Rosie Perez's Tina character punching her way through the opening credits, the block's residents insulting each other, and Radio Raheem's street struggle presaging Eric Garner in real life more than a quarter-century later. – AB
---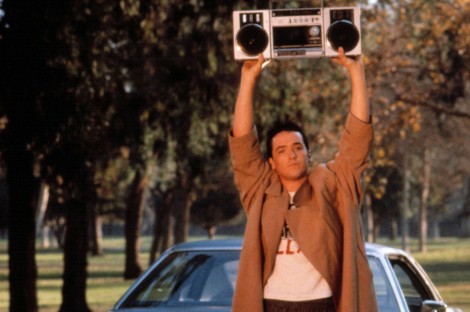 8. Peter Gabriel – "In Your Eyes"
from Say Anything [1989]
The thing that makes the Dobler moment immortal in Say Anything isn't the fact that Peter Gabriel gave up one of his best songs for it, or that boombox held as high as gravity will allow. It's entirely possible in the history of 20th century cinema nobody ever played out the intersection of helplessness and fury with only their eyes better than John Cusack did in that moment, absolutely enraged at the fact Lloyd's doing this to get Diane back and knowing as much as he's miserable doing it he'll be more miserable without her, so he goes back to their shared moment when things between them were best. And if anyone's not finding their tear ducts overwhelmed in that moment, it's etched in stone right in his eyes; the rest of his body may stand erect, but his face slopes down as if even it doesn't want to see what heights love can throw a human being down to at times. – BR
---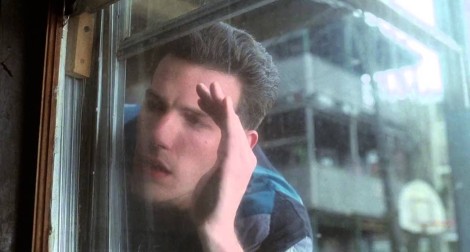 7. Elliott Smith – "Miss Misery"
from Good Will Hunting [1997]
Gus Van Sant's 1997 film Good Will Hunting blended heartwarming and soul-crushing elements to tell the story of tormented delinquent/genius prodigy Will Hunting, so it's no surprise that the filmmakers chose to use five Elliott Smith songs as part of its dramatic score. After all, can you think of a single musician who better fused beauty, delicacy and devastation? The most touching use of Smith's work within the film came in the form of the final scene and ending credits—in which Matt Damon's Hunting takes the advice of Robin Williams' Sean Maguire and abandons others' expectations in favor of his own hopes and dreams. As Hunting jumps in his newly acquired (and shoddily rebuilt) Chevrolet Nova and drives off into the sunset onto a cross country search for Skylar (Minnie Driver), almost anyone would be forced to shed a tear, regardless of soundtrack choice. But with one of Smith's most haunting and heartbreaking pieces at play, it becomes a devastatingly emotional affair. It's hard to imagine things working out picture perfect for Hunting (or else why would director Gus Van Sant have chosen such a emotional-laden soundtrack?) but it's hard to beat the insane catharsis that this pairing creates. – ATB (Note: A variation of this blurb first appeared here.)
---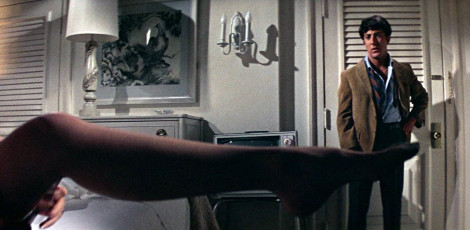 6. Simon and Garfunkel – "Mrs. Robinson"
from The Graduate [1967]
There's no way to empirically prove this, but I'm fairly positive that "Mrs. Robinson" would have been just as iconic as it is if Paul Simon and Art Garfunkel had just written it for Bookends and The Graduate never existed. You just plain cannot resist that chorus—it's one of the catchiest and richest of the 1960s, and I say that without being a Simon & Garfunkel fan—or the freewheeling momentum of its riffs. The context is bolstered by understanding the story of Anne Bancroft's adulterous suburban anomie, but it's far from necessary. On its own, it's a fantastic ode to a complicated woman in the midst of a changing culture. – LG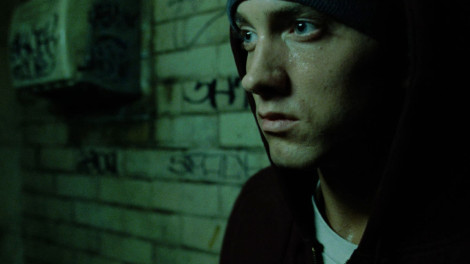 5. Eminem – "Lose Yourself"
from 8 Mile [2002]
The critically-acclaimed 2002 drama 8 Mile, starring Eminem as an aspiring Detroit rapper who toils away at an auto factory to fund his dreams, is arguably one of the best rap movies of all time. B-Rabbit navigates the seedy underbelly of warehouse rap battling in hopes of one day rising to the top of the crop, uncannily mirroring the rapper's own personal history. Just as successful as the movie itself, though, was its iconic song "Lose Yourself," which earned Eminem an Academy Award for Best Original Song. Appearing at the tail end of the movie, "Lose Yourself" was a gritty hit, with Em focusing on the events of 8 Mile in the first verse before focusing on his personal life in the remaining two. – ASB
---
4. Prince – "Purple Rain"
from Purple Rain [1984]
Based on a live recording from a benefit concert in Minneapolis that would also produce the roots of "I Would Die 4 U" and "Baby I'm a Star," the title cut from Prince's vanity-project film is an exercise in apologizing for, well, vanity. Shown as the climax of the film, Prince's character of The Kid is addressing his father, girlfriend and band in song, trying to make up for debates and conflicts with them seen throughout the story. He's ready to throw in the emotional towel after playing the song, but is beckoned back to reality by his girlfriend (Apollonia) and a newly adoring crowd. Regardless of the movie's quality (some consider it trashy formula, others a cult classic), few dispute the power and skill displayed in the soundtrack. And for a finale—embracing impassioned R&B balladry, guitar psychedelia, and the searing emotion of gospel—movie music hasn't done much better. – AB
---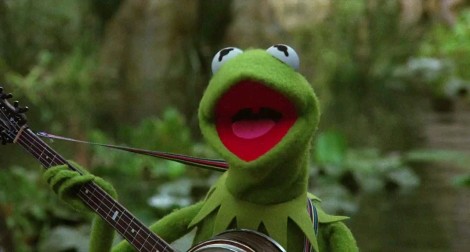 3. Kermit the Frog – "Rainbow Connection"
from The Muppet Movie [1978]
The Muppet Movie is a film about chasing a dream. It's about making a journey and facing every obstacle imaginable, and still holding fast to that ideal. It's hard not to identify with these earnest felt critters, whose trials and tribulations are very much human, no matter their puppet species. To say they're lovable losers isn't totally accurate, since they do finally get that big break in the end, but "Rainbow Connection," humbly crooned by everyfrog Kermit as he strums his banjo on a lilypad, is really a song about how unlikely those dreams are to ever come to fruition. It's part of a canon of songs, which also includes "Wouldn't It Be Nice," that's hopeful and heartwarming in spite of understanding that what you want is just out of reach. Rainbows are "only illusions," Kermit sings, acknowledging the elusiveness of dreams and their inherent impossibilities. But that doesn't mean those rainbows aren't worth grasping toward, or those dreams aren't worth chasing. "Someday we'll find it," he sings, "the lovers, the dreamers and me." It's a beautiful sentiment in a sea of melancholy—and a film full of zany puppet mischief—and a relatable human experience, just like, say, getting choked up when a frog puppet sings a song about bands of color. – JT
---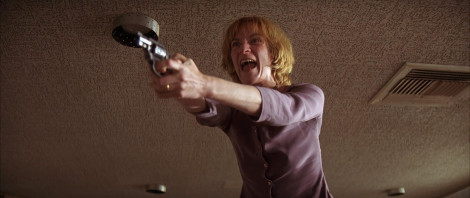 2. Dick Dale – "Misirlou"
from Pulp Fiction [1994]
In 1963, the king of the surf guitar, Dick Dale, took an old Middle Eastern melody and turned it into an incendiary rock classic. Three decades later, Quentin Tarantino elevated it to anthem status when he tagged it as the title music for Pulp Fiction. Twenty-plus years later, the two are inseparable in the pop-culture consciousness. Tarantino does not recognize a difference in the importance of film elements; everything from the font chosen for the title sequence to the music to the script to the end credits is critical to the overall movie. Pulp Fiction simply would not be the same movie without "Misirlou." And likewise, the song parallels the theme and tone of the entire film—playful, urgent, self-indulgent and erratic. The lasting effect is undeniable; the exposure helped to immortalize Dale, and the wisdom to select that song helped to make Tarantino a household name, and such a symbiosis is rare. – CG
---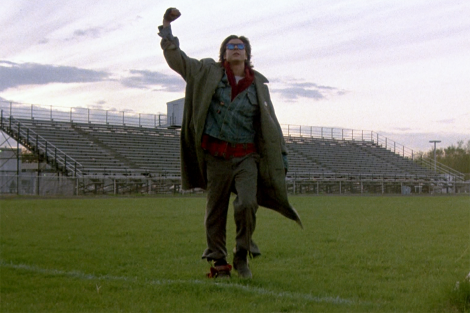 1. Simple Minds – "(Don't You) Forget About Me"
from The Breakfast Club [1985]
Seriously, is there a song and moment in a film that has been recreated or referenced more than The Breakfast Club's fist-to-the-air final scene, soundtracked to Simple Minds' "(Don't You) Forget About Me"? It is arguably the pinnacle of rock film history. Judd Nelson's loudmouth, troubled John Bender is all of us. We are all him, walking through the football field alone, defiantly raising a fist in triumph. He got the girl he never thought he could get (and probably didn't deserve to get because, let's face it, he's a real dick to her pretty much the entire time they were stuck together). He has detention for the next two months, but he doesn't care. He landed the princess even though he's the criminal. Aren't you stoked? He is! And with no one around to laugh at him, he celebrates with a single fist pump. Be honest, how many times have you recreated that moment after landing your crush's number or after a perfect date? At least once, right? With that moment in film history, John Hughes captured the feeling of being a teenager—the small victories, the isolation, the attitude. And with that song, not only did Simple Minds get their first no. 1 hit, but we got the song to soundtrack our own fist-pumpable moments. Perhaps he never meant this song to achieve this level of cultural significance, but it did. You might have never seen the movie; you might not have even been born in the '80s, but you know that the slow-mo walk and air fist to "(Don't You) Forget About Me" is a thing. That's when you know a song and a film is bigger than just being a song and a film. There is no danger of any of us forgetting about it, even beyond the lyrics remind us not to. – AZ