6 Genuinely Thrilling New Metal Albums to Hear This Month

Sometimes you need to go back to basics. Every month when I dive into the best new metal, I try to find something that connects them—perhaps they have an experimental streak, or they remind me of some of my favorite '80s-era albums, or they're go-for-broke BIG albums.
That's not what I'm doing this month. As a critic, I'm predisposed to seeing trends and finding connections between ostensibly separate things, but the connection this month is an entirely personal one: These are albums I find exciting. I recognize that should be the baseline for every month's picks, but this is a little different. Where generally I'll hear six newly released metal albums each month that compel me to return to them, that feature musical ideas I find interesting and worth returning to, and sometimes obsessing about, this is more about that visceral spark—that "holy shit!" feeling you get from hearing something for the first time and being won over in that brief moment of inspiration.
Some of them are bands I already liked, some of them are entirely new to me, and a couple of them are entirely new period. I aim to never let anyone down with my picks, and the general idea is that if one month's batch of records isn't for you, then there's another—entirely different—set of recommendations just around the corner. But my enthusiasm for this month's batch reaches a collective high for the year—I put these on and feel like sprinting and doing air kicks and saying "Fuck yeah!" as often as possible to nobody in particular. These six metal albums, on other words, are truly thrilling.
---
Bleed – Somebody's Closer
One of our go-to labels around these parts, 20 Buck Spin are consistently putting out some of the best metal releases in the underground, and though that's often meant much of the standard true-hesher territory of death metal, black metal, doom and the like, this year they've been switching up the formula in some pretty interesting ways. Following the stellar new industrial metal record from Black Magnet, they deliver a new EP from the Dallas group Bleed, featuring members of Narrow Head, whose mix of chunky, Quicksand and Helmet-style riffs, radio-friendly hooks and dense, shoegazing guitar textures fits into what we once would have called "alternative metal." In other words, the kinds of records I rocked as a teenager. So when I include this in a batch of new metal records I'm labeling genuinely thrilling, I'll admit to some sentimental triggers here. But let's be clear: Bleed rips. Essentially they're hypercharging a batch of really great rock songs, loaded with guitars that radiate as much as they crunch, occasional moments of open-string strum that feel borrowed (in the best way) from Helmet's Betty, and an urgency that drives home just how heavy these songs are, despite the emo-leaning melodies at their core. If you've ever stared for long periods of time at the cover of Meantime, trying to figure out what that is exactly, or argued that Deftones are a shoegaze band (guilty, come at us), then Bleed needs to be in your queue. (20 Buck Spin)
---
Sumerlands – Dreamkiller
Considering it's been six years since the last Sumerlands record, the arrival of Dreamkiller alone is reason enough for enthusiasm. It helps that's actually really good—a classic heavy metal album with a good dose of power metal influence, rife with the haunted glow of '80s synthesizers. On the surface it might not seem like an act of innovation, though that's can sometimes be a dubious pursuit. Rather, what Sumerlands do so well is expand the space for exploration within an ostensibly familiar territory. As I said in my review of the album: The band show great affection for a classic approach without ever getting caught up in pastiche, which is challenge enough as it is, but they build on it further by crafting great songs rich in detail and strong instrumental prowess. But more than that there's just the visceral reaction I get from it, a feeling of invigoration and excitement from hearing heavy metal at its best. (Relapse)
---
Escuela Grind – Memory Theater
Escuela Grind deliver exactly what they promise: They're taking you to grind school. I'll spare you the jokes about the School of Hard Knocks, especially since the group doesn't so much deliver blunt-force attacks but an overwhelming swirl of shrapnel. I've been immersing myself in grindcore lately, so it feels perfectly logical that one of the metal albums this month that's captured my attention is one that moves with similarly reckless speed and total abandon. Memory Theater is grindcore that's both unbelievably fun and absolutely nuts. Just a total sprint throughout the 21 minutes of this record, burning through metal and hardcore rippers like a book of matches all lit at once. There are grindcore records that satisfy because they explore artful new frontiers, or grindcore records that are great because they're stacked with ugly-face death metal riffs, but this one is just non-stop blast, the kind of cacophony that gets me grinning from ear to ear. (MNRK Heavy)
---
Vermin Womb – Retaliation
OK, how about two grindcore albums? Look, just go with it—when you're blessed with an embarrassment of aural violence, you don't question it. Denver's Vermin Womb aren't necessarily the same kind of fun that Escuela Grind are, though that's not to say that Retaliation isn't enjoyable. It's deeper, denser, more harrowing and guttural, it's music as much intended to clear the cobwebs and scrape off the barnacles as it is to temporarily remind you what pain feels like—to make you feel alive. It's why people go base jumping or skydiving or swimming with sharks. Or so I would imagine; I don't do any of that stuff because I value my own safety and well being. But I can only imagine that the rush that Retaliation gives me is something comparable to plummeting from the sky. (Closed Casket Activities)
---
Sonja – Loud Arriver
Sonja is a new band, but its personnel has been in bands that a lot of metalheads should know pretty well by now: Ben Brand played bass in Tombs for a few years, and drummer Grzesiek Czapla also plays in Woe. More infamously, Melissa Moore played guitar in Absu, and was kicked out of the band after coming out as transgender—an astonishingly shitty thing to do that ensures you'll never see the other members' projects in this column. Moore, however, has delivered the first full-length with her new band, and it's everything you'd possibly want in a gothic heavy metal hybrid. There's been no shortage of bands finding different and novel goth-to-metal ratios in the past decade or so—Tribulation, Unto Others, Devil Master and so on. Sonja's unique approach leans considerably heavier on melody, shimmering post-punk guitars underscoring Moore's melodic vocal delivery, which at times arguably pushes this to the edge of metal's borders. But there's a power that surges through these songs—harnessed from the likes of early '80s Judas Priest and NWOBHM bands, and a little old-fashioned hard rock for good measure. Loud Arriver is one of the strongest debuts I've heard all year. (Cruz del Sur)
---
KEN Mode – NULL
It's a good year to feel bad. Not that I wish anyone any truly bad feelings—we're all about love and camaraderie here at Treble—but in the realm of heavy music, fans of sludgy, grimy noise rock have gotten a one-two punch, first from the churning new Chat Pile record, and then from this absolute beast of a new KEN Mode album. I've been keeping up with the band's output for more than a decade, and I've never been disappointed, but NULL immediately feels like one of their best. It's harrowing, menacing, anxious and agitated. It also features some fantastic songwriting, whether in the form of two-minute pummelers or its extended dirge of a centerpiece, "Lost Grip." Those looking for catharsis in the form of dissonance, darkness and noise rock saxophone will find it in spades here, but they'll also find a band that, even 20 years into it, continue to get better. Not to mention the fact that they have another full album's worth of material in the bag, to be released sometime in the not too distant future—which only gives us even more to be excited about. (Artoffact)
---
Support our Site—Subscribe to Our Patreon: Become one of our monthly patrons and help support an independent media resource while gaining access to exclusive content, shirts, playlists, mixtapes and more.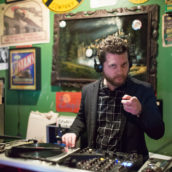 Jeff Terich
Jeff Terich is the founder and editor of Treble. He's been writing about music for 20 years and has been published at American Songwriter, Bandcamp Daily, Reverb, Spin, Stereogum, uDiscoverMusic, VinylMePlease and some others that he's forgetting right now. He's still not tired of it.