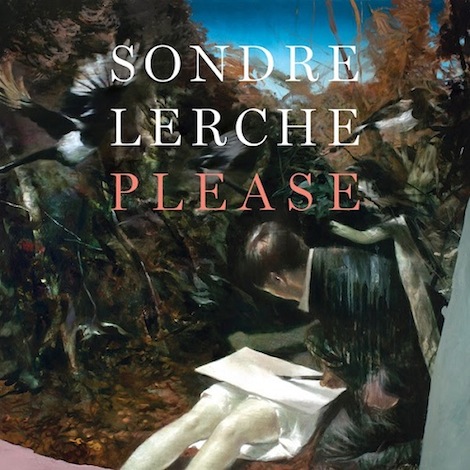 Divorce is underestimated as a traumatic event. Even if it's the outcome we desire or "the best for all involved," all but the most impenetrable or sociopathic of us get forced to realign our environment from a situation that was once comfortable, if not perfect. Its demons take time to develop over several months or years (unless it was a Vegas wedding in which doubts begin to surface around the time of the all-you-can-eat lobster dinner).
Sondre Lerche's Please is his lucky seventh studio album, and it happens to be his divorce record, made in the wake of his eight-year marriage's dissolution. While Lerche has always been a very good songwriter it's not off-base to call his first six albums relatively safe in terms of delivery and execution in their own little fishbowl. Please takes the goldfish from the bowl and lays it on the shelf for a few minutes: It convulses, it is deprived, it is faced with a shocking new chaos. You can still hear the beauty in Lerche's compositions, but they're filtered through drugged confusion, random accidents and even a certain kind of nihilism. It's the poetic longing of Prefab Sprout's Steve McQueen using the hardware of Big Star's Third/Sister Lovers.
"Bad Law" starts with Lerche playing the accused and asking the core question "When crimes are passionate can love be separate?" It's a pleasant enough outing at first with gentle guitar chords until the drums make a bombastic and disruptive entrance. It's not the last time that happens on the album, which frequently uses noise bursts and intrusions to play against Lerche's type. Sounds drop in and get mangled throughout Please, funneled through spring reverb and manic silences.
Lerche plays parallel games of indictment and self-recrimination. The heartbreaking "Legends" is a frustrated realization of broken potential, but it plays through jumpy, rolling beats and a now-mocked anthem spirit. "At Times We Live Alone" is a sparse piece taking advantage of Lerche's jazz guitar chops, but as Lerche's ambling enquiry progresses we encounter small incidents of echo, battered wind chimes and a disquieting pad of very gentle background white noise. "Sentimentalist" takes a European melody with a Bacharach stamp and releases it through a corrupted flood of distortion, as Lerche resigns himself to being muddled and distant in the backdrop ("Loved you a lot, loved you a whole lot/But I'm no sentimentalist"). It resolves in a swarm of static and stops suddenly.
The effects might call a little bit of attention to themselves, but seeing as how Please is about the awkward disassembly of a life, that's kind of the point. Lerche gives over a piece of "After The Exorcism" (strategically scheduled right after "Lucifer") to nothing but drums and low-frequency, tuneless white noise. Through this middle of the album Lerche hurls blame like a knuckleball, trying to set himself up for emotional protection you know isn't going to happen. "Everybody puts a price on you, of course they do/All I wanna do is strike a match, set fire to you" he sings in "Lucifer," scraping his vision of evil off his jacket in hopes that it will latch onto the departed's.
Even vitriol has its window for effectiveness, and on "Lucky Guy" Lerche is able to make a reconciliation, if not with his intended, then at least its place in his narrative: "We are such a lucky two, in the shape of an island/Less so, as we approach mainland/We were such a lucky two, so immune to the motion/So untouchable 'til tonight." It's an observation that cuts through to the center, and even then it's decorated with uncertain, shapeless synthesizers that are holding the next unanswerable questions in reserve.
That's a funny thing about pop music: Even the most honest kind spends more time looking for answers, usually keeping discomfort at arm's length. On Please, Sondre Lerche hasn't even finished figuring what he's going to ask yet. But even if he doesn't get answers, on record he makes a lot very good decisions — if not emotionally, then constructively. Lerche risks his pleasance of security and comfort and forces his music to face surprise twists and jolting catastrophes, like the proverbial something in the woodshed. His voice retains its even and unhurried charm, but everything around him is collapsing into a heap. The tension of Please spikes and dazes, and for all that battered melancholy Sondre Lerche has come up with one of this year's most fulfilled and dynamic singer/songwriter releases.
Similar Albums:


Jens Lekman – I Know What Love Isn't


Big Star – Third/Sister Lovers


Cass McCombs – WIT'S END
Paul Pearson
Paul Pearson is a writer, journalist, and interviewer who has written for Treble since 2013. His music writing has also appeared in The Seattle Times, The Stranger, The Olympian, and MSN Music.