King Tuff : Black Moon Spell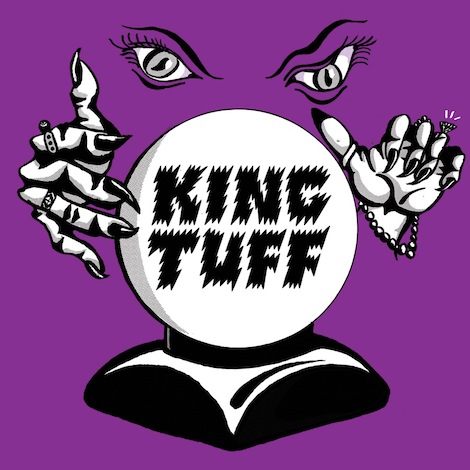 On "Black Holes In Stereo," Kyle Thomas, under the guise of King Tuff, sings that he "learned more working at the record store than (he) did in high school." You can just picture that sophomore, clock-watching during class and writing the names of his or her favorite bands in a wirebound college-ruled notebook instead of math problems. Later in the song, he sings of a 45 RPM single that "fell from a UFO." It's evident that being a teenager and hearing music that changes you is an otherworldly thing — something that falls from the sky and you found by yourself.
That's the spirit of Black Moon Spell, the Vermont garage-glam guitar rocker's second album for Sub Pop, two years on from his self-titled first full-length for the Seattle label, and eleven years since Thomas recorded the now legendary Was Dead. But spirit can only take you so far. Despite Thomas' likable joie de rock, it doesn't always translate into the most memorable songs. There's not much on Black Moon Spell that approaches the dancing in your beat-up Chuck Taylors hooks on King Tuff.
Still, it's not a complete waste of time; you'll have pick out the great EP buried within this album for yourself. The title track, which features Ty Segall on drums, starts out like a Chevette with a fucked up muffler and ends with some great T.Rex-style background vocals. Lead single "Eyes Of The Muse" has so many '70s-style album-rock flourishes, from its bright acoustic guitars to the Jimmy Page riff breaks, that you almost want to take scissors to your jeans and make 'em shorts. Apart from the winning charm of "Black Holes In Stereo," the best cut on the album is the catchy, handclapping, Thin Lizzy-boogie closer "Eddie's Song." Only there do you hear the full expression of the  warped, wounded optimism that you find in the best of Thomas' music: "Forever's not very long, so I'll keep singing Eddie's song."
Similar Albums:


Ty Segall – Manipulator


King Tuff – King Tuff


Mikal Cronin – MCII
Find it at: iTunes