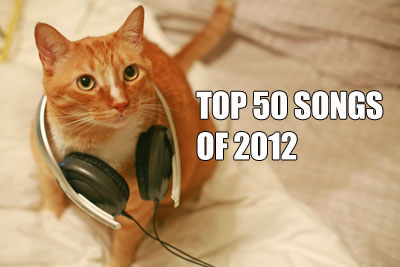 The year is mostly behind us, and the time has come to participate in the alternately revered and reviled annual tradition of the year-end list. For some, it's a source of endless debate and rancor, calling into question the very idea of why anyone would want to put art into some hierarchical system. But there's a much more innocent and simple motivation for doing so, which is simply that good music is worth celebrating as much as possible. This week, we begin by counting down our Top 50 Songs of 2012, which span from bass-inspired R&B to face-ripping hardcore. It's a pretty diverse set of songs, which, from where we're sitting, makes for a pretty spectacular playlist.
Next week, we'll run a list of our Top 50 Albums of 2012, with a handful of top ten lists in various categories running in between. Each song is linked to a video or stream, and we've assembled a Spotify playlist for you to spin these jams as well. Let's get to the list!
---
50. AlunaGeorge – "You Know You Like It" (Tri Angle)
[from You Know You Like It EP] Buy at iTunes
Hairsplitters take note: Yes, AlunaGeorge's "You Know You Like It" technically was released in 2011. But instead of looking at it as a holdover, it's best to think of it as AlunaGeorge arriving a little ahead of schedule. With bass music informing a sufficiently massive chunk of pop music in 2012, AlunaGeorge's debut single isn't just contemporary, but a window into where R&B and dance music are headed next. It's a buoyant thump of bubbling synthesizers and cool, late nite atmosphere, with Aluna Francis' soulful chirp breathing human life into its heady sputter. "You know you like it, but you're scared of the shame," she sings, as if on the other side of some romantic guilt. On a musical level, however, there's nothing shameful in the slightest. All pop music should satisfy on so many levels. – Jeff Terich
---
49. Kendrick Lamar – "Swimming Pools (Drank)"
(Top Dawg/Aftermath/Interscope)
[Single; from good kid m.A.A.d. city] Buy at iTunes
I'm almost positive the depth of "Swimming Pools (Drank)" is being virtually ignored. Yes, good kid m.A.A.d. city explains a lot of Kendrick Lamar's youth in Compton, and for someone who's close to my own age, Lamar doesn't shy away from detailing problems like excessive drinking among young people in his own backyard. Lamar offers listeners an exploration of peer pressure and self-destruction. In fact, it's not only a description of Lamar's memories and the allure of vice ("I got a swimming pool full of liquor and they dive in it/Pool full of liquor I'mma dive in it") but also dealing with the party lifestyle, which often ends with some pretty serious consequences. Lamar says a lot in this song, without getting too ham-handed, and thanks to some stellar production, it sounds great too. – Giovanni Martinez
---
48. Purity Ring – "Fineshrine" (4AD)
[Single; from Shrines] Buy at iTunes
Listen no. 0: I will not like this band. If there is a God in heaven He will smote me in flame and acid for doing otherwise.
Listen no. 1: The singer has the female version of the "girlfriend voice."
Listen no. 2: "Cut open my sternum and pull/My little ribs around you"?
Listen no. 3: Fuck God, fuck my parents, and fuck François Hollande. This is a good song. – Chris Morgan
---
47. Jens Lekman – "The World Moves On"
(Secretly Canadian)
[from I Know What Love Isn't] Buy at iTunes
Life's a mess, but it's also magnificent. Maybe: Jens Lekman gets at such a sentiment with the standout song from I Know What Love Isn't. Sometimes it's best to make a joke out of everything, at other times to make profundities out of idiocies and whatever mundane materials are offered up. When to choose one tack as opposed to the other, that's the art of it, in this song, certainly, in love, most assuredly, in life, if you're lucky. Framed in the flame and smoke given off by Victoria's Black Friday Bushfires of 2009, Lekman charts out sufferings both amorous and arbitrary, along the way considering the possibility of man-possum friendship, and negotiating some potential pitfalls of being born under the sign of sarcasm. It would almost be heavy if the easy gait of the music didn't manage to make brooding such a fanciful charade of living in which life may actually happen – Tyler Parks
---
46. King Tuff – "Anthem" (Sub Pop)
[from King Tuff] Buy at iTunes
Kyle Thomas, aka King Tuff, gives voice to the weirdos, outcasts, freaks and loners of the world. He's a leader to those upon whom society casts aspersion and disgust. In other words, he does what any good rock star should, only more explicitly so. The whole of his Sub Pop debut seems to say, "I'm on your side!" And "Anthem," the roaring, riff-driven leadoff track, is true to its name, a unifying hymn to the social pariahs. "Sing the love song/for the ugly girls," he cries, "Pray you'll always/be a fucked up kid." Follow his advice, kids, and you could end up just like him, carried out on a chorus of badass glam rock guitar licks and stoner glory. – Jeff Terich
---
45. Jessie Ware – "Wildest Moments" (Island-Universal)
[Single; from Devotion] Buy at iTunes
Jessie Ware's strength is in understated, sultry grooves. It's not a coincidence that the UK R&B singer has drawn so many comparisons to Sade; Ware's sophisti-soul jams seem to be expressly written for nightcaps and intimate trysts. But then there's "Wildest Moments." It kicks off with a booming smack of drums, and Ware's voice immediately seems to soar just a little bit higher than anywhere else on Devotion. It's a subtle difference, perhaps, but a little heroism goes a long way. Yet the irony of Ware reaching for such heights is that she seems to be raising a glass to romantically crashing and burning in spectacular fashion. "Maybe in our wildest moments, we could be the greatest, we could be the greatest," she sings, "Maybe in our wildest moments, we could be the worst of all." It could end badly, sure, but stability and security rarely make for the stuff of legend. – Jeff Terich
---
44. Major Lazer – "Get Free [feat. Amber Coffman]" (Mad Decent-Downtown)
[Single] Buy at iTunes
Whatever genre "Get Free" may or may not belong to, it is first and foremost a great pop song. It's also a mutant, without a doubt, relative to "Stillness Is the Move," a connection that the presence of Dirty Projector Amber Coffmann makes explicit. The downbeat but political tone, which conveys a feeling of being trapped that nevertheless cannot extinguish the hope for change altogether, links it up to music of all stripes and colors. More than anything though, it resonates with countless recordings cut in the last century in Africa and its diasporas, a blues number then, but blues as a feeling, difficult to define, cutting across borders, movements, scales, and instruments. – Tyler Parks
---
43. David Byrne and St. Vincent – "Who" (4AD)
[Single; from Love This Giant] Buy at iTunes
A growing list of art-rock performers from the latter half of the 20th century now embrace the apparent privilege of doing pretty much anything they want. David Bowie's chosen to disappear, while Lou Reed probably should have. Brian Eno's made more music right in his wheelhouse, while Peter Gabriel's remodeled his in more reserved tones. And then there's David Byrne, evangelist for creativity. Over the last six years he's quietly zigzagged among media, labels and genres, and in hooking up with indie songstress St. Vincent on Love This Giant he may have perfected his own brand of collaboration. "Who," the album's opening track, has well-worn Byrne tropes softened and enhanced by Annie Clark's cooing presence. With its theme of identity, its odd time signatures, and its geeky horn parts — at Clark's suggestion, not Byrne's! — it crossbreeds the cleaned-up studio efforts of late Talking Heads with the worldly funk often found on Byrne's Luaka Bop label. – Adam Blyweiss
---
42. Passion Pit – "Take a Walk" (Columbia)
[Single; from Gossamer] Buy at iTunes
Passion Pit's sophomore release displayed a rather distinct split personality. While Gossamer's aesthetic focuses on bouncy and sugary synths and upbeat melodies, the tone of singer Michael Angelakos' lyrics are a pretty severe bummer, dealing with topics like anxiety, depression and disappointment. So, it's no surprise that single `Take a Walk' embodies all three topics. Crooning along to a foot-stomping, synth-heavy anthem, Angelakos introduces the listener to several members of his family, during times of stress and personal hardship ("You'll see I am no criminal/ I'm down on both bad knees/ I'm just too much a coward/ to admit when I'm in need"). While a fantastical dance-pop single on the surface, `Take a Walk' is much more — a deeply affecting, yet savory and satisfying tale of insecurity and loss. – A.T. Bossenger
---
41. Grimes – "Genesis" (4AD)
[from Visions] Buy at iTunes
If I had to pick my single favorite moment of music from 2012 — as in my favorite 1 to 2 second span from all the albums, the 1:02 to 1:04 snippet from Grimes' "Genesis" would definitely take the honor. It's the moment when the ethereal, harmonized vocals of the track's prelude rush to the foreground, perfectly synchronized with a thick drum machine break that keeps up the momentum throughout the jam. The rest of the track is hardly a let down as well; Grimes holds it down with some of her catchiest lyrics and a stylish piano melody and synth bassline that recalls some of The Knife's best work. Overall, her performance could benefit from a bit of focus, but a deft ear for both the subtle and ornate bodes well for the young, spunky Canadian. – Donny Giovannini