Live Review: An Evening with Eels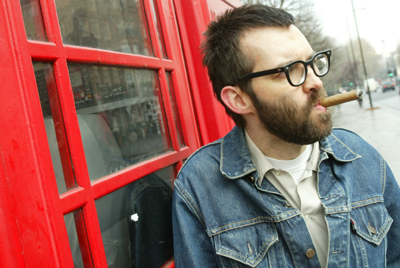 Apparently when your father is an underappreciated genius in the field of quantum mechanics, your best option is to pick up a guitar and become an underappreciated (and criminally underrated) musician. At least that's what Mark Oliver Everett, the man known as E, did.
The Showbox on this particular Friday pulled double duty, its usual concert venue role, and, before the performance, an impromptu theater. Showing was a new documentary "Parallel Worlds, Parallel Lives," a moving chronicle of Eels frontman Everett and his search to unearth the increasingly important work of his late father, Hugh, who, get this, came up with the idea of parallel universes back in 1957.
While I can't say I expected the main floor to be covered with folding chairs and a vast smattering of grey hair, it was a welcome change to the shoulder squished standing room and talkative teens the venue usually boasts. I sure didn't miss having to endure a slew of underwhelming openers.
The film set the somber tone for what would transpire as, perhaps, the most civil(ized) show I've seen, well, ever. After a brief intermission, the white curtain that served as backdrop fell to the ground to the grateful relief of the sold-out crowd. E emerged alone, clothed in full beard and conductor outfit, his solemn appearance on stage a perfect reflection of the lonesome themes his music explores.
An unaccompanied strum through "From Which I Came/A Magic World" seemed to settle the audience, as did the first third of the set in which E hopped back and forth nimbly between guitar and piano.
"I guess you could say that my Dad was the rock star of physics," he joked at one point, "and I'm just the rock star." With effortless aplomb he introduced his band, which consisted of exactly one member, "The Chet." The set predictably picked up from there, culling from songs across the entire Eels catalogue. Stand-outs included the peppy bounce of "I Like Birds" and a particularly emotional rendering of "In The Yard, Behind The Church," as E smashed the keys with the chilling zeal of an organist possessed.
A mid-song instrument swap on "Flyswatter," where E guilelessly grabbed Chet's drum sticks (without dropping the beat), garnered a standing ovation from several fans up front. E also manned the kit for a straight-rock incarnation of "Novocaine For The Soul" and a cover of the Zep's "Good Times Bad Times."
Most surprising even (gasp) was a reading from E's unpublished (in the U.S. anyway) autobiography, Things The Grandchildren Should Know. "I can't think of anything more pretentious than reading to you," he explained, "So I'm going to have Chet do it." Which Chet then did with surprising poise.
As promised, 'An Evening With Eels' was just that, with an illuminating documentary, humorous readings, and of course, no shortage of great music from a man who deserves a whole lot more praise for his work than he's ever received.