Animal Collective : Strawberry Jam
Few artists this decade have evolved in a manner as fun to witness in the way globally divided, Baltimore-bred Animal Collective has. Their early records, from Spirit They've Gone Spirit They've Vanished to Here Comes The Indian, created a bewildering sonic trip akin to a mash-up of pagan folk music and Black Dice's early noise terror, with more than a touch of psych-rock surging through its veins. Then with songwriters Avey Tare and Panda Bear carrying on the name as a duo with Sung Tongs, opted for a playful acoustic bliss, its childlike nature even making the brief "Sweet Road" a choice selection for a Crayola commercial. A year later, bandmates Geologist and Deacon (or Deaken, as it is sometimes spelled) reconvened with Avey and Panda to record Feels, the closest the band had ever come to a rock album, though still swathed in their bizarre eccentric antics and occasionally veering toward experimental ambience. Yet with each of these albums, an almost infinite level of new sounds emanated, as if the group had re-created a new genre with each album.
Animal Collective's new album Strawberry Jam, their seventh(-ish) overall, not only continues in the band's pattern of perpetual inventiveness, but even goes to suggest that they get better as time goes on. Whereas before, Animal Collective had been curiously lumped in with the `freak-folk' of Devendra Banhart and Joanna Newsom, this album will put an end to the notion of the band being either `freaks' or `folk.' This isn't to say that there's anything conventional or straightforward about it, because it's certainly like no existing rock record out there. Yet it's by far the band's most melodic, most accessible release, and in many ways, the most layered and complex. While the manic screams and dense ambient waves have all but vanished, in their place are sounds sublime and transcendent.
As there has always been an element of youthful innocence and energy, it is exactly this feeling that propels the opening track and first single "Peacebone." Its melody is bouncy and soaring at once, while Avey Tare's lyrics toe the line between sweetly sentimental ("the taste of your cooking could make me bow on the ground") and surreal ("peacebone got found in the dinosaur wing"). By the song's bridge, the familiar sound of intense screaming emerges as a sonic contrast to the track's light-hearted melody. "Unsolved Mysteries" is a bit less immediate, its insistently jabbed guitar chords having an almost percussive effect beneath the atmospheric samples bubbling overhead. Panda Bear's vocal on the trippy, intense "Chores" have the ring of a misunderstood teenager, as he sings "now I've got these chores, I'm never gonna hurt no one…I want to get so stoned/ and take a walk out in the light drizzle/ at the end of the day, when there's no one watching." There's something beautiful in its isolated tone, yet contrary to popular opinion, requires absolutely no mind-altering substances to enjoy.
At the center of the album are two of the best songs the group has ever written, being the dense, distorted "For Reverend Green" and the epic masterpiece "Fireworks." "Green" buzzes and vibrates like a My Bloody Valentine dub, slowly building and swirling harmoniously, Avey Tare sounding weird and intense as ever, but with heavenly harmonies and a heady atmosphere backing him. "Fireworks," the album's centerpiece, is the album's peak, a brilliantly descending gallop with Beach Boys-worthy harmonies and one of Tare's most soulful performances, with a stream-of-consciousness quality in its cut-and-paste phrasing. Impenetrable or not, its melody is powerful and beautifully executed.
The bottom third of the album is the shortest, but contains a few of the most direct and catchiest songs. "Winter Wonder Land" is just plain amazing, its light and airy verses surging into a forceful chorus, in which Tare, rather Zen-like, sings "if you don't believe in happiness/ it doesn't get you down" before breaking into the best use of falsetto `oohs' I've ever heard. Ending with "Derek," Panda Bear takes over vocals again for a simpler, folkier tune that soon becomes a hypnotic psychedelic cyclone, much like many of the tracks on his standout Person Pitch from earlier this year.
With each Animal Collective record comes a new element to this restless band. While each one will seem `different' from the outset, it's how that album is different that may take more than a few listens to fully grasp. What remains the same is the band's own sense of discovery and growth, and the pure joy of creating music without the rigid constraints in which music is often conceived. Strawberry Jam may, more or less, be a psychedelic pop album; it's just one that's been scrambled, stirred, painted over and made one-hundred times better.
Similar Albums:
Panda Bear – Person Pitch
Mercury Rev – Deserter's Songs
Grizzly Bear – Yellow House
Video: "Peacebone"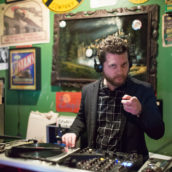 Jeff Terich
Jeff Terich is the founder and editor of Treble. He's been writing about music for 20 years and has been published at American Songwriter, Bandcamp Daily, Reverb, Spin, Stereogum, uDiscoverMusic, VinylMePlease and some others that he's forgetting right now. He's still not tired of it.