Archers of Loaf : All the Nations Airports (Remastered)
Indie rockers with major label contracts became extinct somewhere between the respective commercial success of The White Stripes and Jet, but for a time, big five A&R entered into a race to scoop up every Chicago and Chapel Hill four-piece slinging dirty Jazzmaster chords and stoned, surrealist anti-poetry. Conventional wisdom on the matter suggests this was all a result of Nirvana going from niche underground sensation to MTV success story, but few of their peers had hits in them that so blatantly nicked from "More Than A Feeling" or embraced a polished, mainstream sound so readily. Suffice it to say, bands such as The Dambuilders, Grifters, Shudder to Think, Jawbreaker and The Lilys probably never had much of a chance to reach anywhere near Nirvana levels of success, but you can't blame a suit with an expense account for giving it the old college try.
In 1996, Archers of Loaf entered into this short-lived but vast fraternity of indies gone major, their third album All The Nations Airports finding the band making the leap from Alias to the much more gargantuan Elektra. Yet while this might have garnered some mostly psychological implications, as well as a backer with deeper pockets and better distribution, it didn't change the band that much in the long run. Where the group's aggressively shambolic sound had resulted in an instant classic of a debut — 1993's Icky Mettle — not to mention one with a song that has since come to be regarded as an underground hit, "Web In Front," almost everything that came after found the band increasingly shying away from easy hooks while beefing up on more messily complex arrangements.
All The Nations Airports only sounds like a standard '90s alt-rock album in that it's loaded with loud, distorted guitars. Otherwise, it's far too idiosyncratic a beast to have ever really been considered mainstream. And that might have never been the point all along. What stands out strongest among one of the band's greatest strengths is not so much their accessibility as their ability to create tight, even sometimes pretty sounds out of chaotic elements, though the band dialed back a bit on the harshest elements on Airports, more carefully corralling the noise they harnessed (in slums) on the previous year's Vee Vee and delivering a more nuanced approach that took to Sonic Youth's art punk more so than Pavement's Dadaist pop.
The closest thing to a big single on Airports is "Scenic Pastures," admittedly a strong indie pop tune that's tightly written and teeming with earworms. But this is also one of the few albums by The Loaf that makes more sense as a whole than as individual parts. The noisy jangle of "Strangled by Stereo Wire" bleeds into the furious slidework of the title track. "Attack of the Killer Bees" and "Rental Sting" comprise a suite of sorts, the former being the chaotic yang to the latter's subdued yin. And when a standout track like "Assassination on X-Mas Eve" rises up from the many layers of melodic noise-pop strewn about the album's 15 tracks, it still makes more sense in the context of the album. Unsurprisingly, it was the only album of the band's on Elektra, though by 1996, indie rock success stories had mostly waned in light of a newfound obsession with pop-punk and ska. Boy, you sure could hear a lot of Sublime in those days.
Accompanying the Merge reissue of All The Nations Airports is an entire disc's worth of demos, which make neat artifacts, though don't quite satisfy in the way soaking in repeat listens to the proper album does. However, outtakes "Density" and "Little Jets" are stellar additions. Only another two years and Archers of Loaf would end their legacy (the first installment of it anyhow) with one final, unusually subdued release. With Airports they were already starting to show some signs of wear, though that shouldn't be confused with a band losing their way. Ragged, exhausted perhaps, the Archers of Loaf still had great music in them, artful and abstract as ever, bigger budget or not.
Similar Albums:
Sonic Youth – Rather Ripped
Modest Mouse – The Lonesome Crowded West
Dinosaur Jr. – Bug
Video: Archers of Loaf – "Scenic Pastures"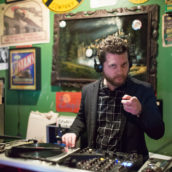 Jeff Terich
Jeff Terich is the founder and editor of Treble. He's been writing about music for 20 years and has been published at American Songwriter, Bandcamp Daily, Reverb, Spin, Stereogum, uDiscoverMusic, VinylMePlease and some others that he's forgetting right now. He's still not tired of it.