Art Brut : It's A Bit Complicated
When Eddie Argos sang "we're just talking to the kids" in Art Brut's debut single "Formed A Band," there was more than a grain of truth to his statement. Not content to perform behind a deceptively manufactured rock star image, Argos is more like a drinking buddy, the down-on-his-luck chap who spills his girl troubles over a few pints before gushing endlessly about his favorite records. It's no wonder why I, or anyone here at Treble, have such fondness for this band; he's just like one of us. With It's A Bit Complicated, Argos buys another round, confessing his courtship woes, returning to the records that bring much greater happiness, and picking up where Bang Bang left off while backed by an even tighter and brighter sounding Art Brut.
As much of Bang Bang Rock & Roll was inspired by teenage years (see: "Emily Kane," "Good Weekend"), It's A Bit Complicated is a record inspired by the twentysomething age, a little wiser, a little older, but no less fixated on girls and music. In most cases, the two coincide, as Argos points out on "Sound of Summer," "all the best pop songs are girl meets boy." In the heavy-riffing leadoff track "Pump Up the Volume," girls and music even come in conflict, as Argos questions "is it so wrong to break from your kiss to turn up a pop song?" In the end, the amorous subject of the song is seen as fleeting—"we just kissed, and that's about it/ it may as well have been radio static."
Switching from first to third person, Argos narrates another awkward boy-girl interaction in the propulsive, hard-rocking highlight "Direct Hit." During the chorus of "move around like your shoes don't fit/ get on the dancefloor, it's a direct hit," the song seems to fulfill its own prophecy of being just that. If ever there was a summer rock anthem in the making, it's this. "People In Love" finds Argos returning to his relationship troubles in the album's big power ballad. A bit like Weezer in parts, even a little like Dinosaur Jr. in others, "People in Love" is another classic, and one that reveals our hero's Achilles heel. When Argos sings "people in love lie around and get fat/ I didn't want us to end up like that," he makes it clear that he's not really in it for the long term.
Still, breaking up is no less difficult for the earnest lout, as he clumsily spills his emotions all over "Post Soothing Out," the most touching break-up track to grace these ears in some time, not to mention a stellar track overall. "Every day, it's just like starting over/ we try so hard but keep on falling over," he sings, only to set up the even sadder conclusion, "I've met your parents and I know it sounds rough/ but I'm going to be out when they come for your stuff." Ah, but Argos sings it with a smile, and the anthemic, climactic quality of the song lends it to better listening in good times than in bad.
More than an actual album for one's twenties, It's A Bit Complicated is an album of making the transition toward adulthood. The squalor described in "I Will Survive" ("I've bread, it's stale, you can't tell it's not toast/ you're always welcome to crash on my floor/ there's no key or lock for the door") will hit a bit close to home to anyone who's lived in a cheap, dirty apartment during his college years. "Nag Nag Nag Nag" addresses these growing pains directly, as Argos admits to connecting with his peers only via jealousy and animosity. He admits "I'm grown up now but refuse to learn/ that these are just adolescent concerns," yet makes his escape through a mixtape to soundtrack his jaunt into adulthood. He may not be ready for it, but gosh darn it, he's determined to make it on his own.
As someone in his mid-twenties, it's hard not to relate to Eddie Argos's charismatic narratives. At the same time, I can't begin to compare my own follies to those on It's A Bit Complicated—these hard luck tales have a mythical sensibility about them that merely adds to their enjoyment. All of a sudden I recall seeing Art Brut last spring and Eddie Argos explaining that "Post Soothing Out" was inspired by his brother (the same sib of "My Little Brother"). So, maybe not everything here is autobiographical, but it sure does rock. And like that storytelling friend of yours at the bar, the songs here may have a level of disbelief to them, but that's precisely what makes them worthy of repeating.
Similar Albums:
Weezer – Weezer (Blue Album)
Modern Lovers – Modern Lovers
The Rakes – Capture/Release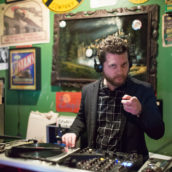 Jeff Terich
Jeff Terich is the founder and editor of Treble. He's been writing about music for 20 years and has been published at American Songwriter, Bandcamp Daily, Reverb, Spin, Stereogum, uDiscoverMusic, VinylMePlease and some others that he's forgetting right now. He's still not tired of it.