Art Brut : Bang Bang Rock And Roll
There's nothing worse than a band that takes itself too seriously. While earnestness and sincerity are one thing, they can be a little overwhelming and off-putting when displayed in excess. Really, when a band wants to save the world, that's great. More power to `em. But even the outspoken `bleedin 'art' anti-war activist/Blur singer Damon Albarn co-wrote "Feel Good Inc." I mean, really, even such dire circumstances as today's climate requires a bit of fun now and then. So while many bands still aspire to be U2, primarily Coldplay, there are some bands content at just having a good time. And Art Brut is just that band.
While Art Brut have their share of sincerity and earnestness on display on their debut, Bang Bang Rock And Roll, they also have a good sense of humor, a lighthearted sensibility and an unabashed desire to rock out, which singer Eddie Argos shamelessly confesses on single "Modern Art." As their press release states, many people think that it's all some sort of big joke, but even with the smart-assed lyrics, there are 12 great songs on here, each with a truckload of hooks.
Argos covers many lyrically amusing and absurd bases on Bang, starting with the first single, "Formed a Band." Originally released last year, it's the band's tribute to their own origin: "Look at us/we formed a band." As Argos admits he wants to write a song as universal as "Happy Birthday," one can't help but wish him and his mates the best in their endeavor. In "Emily Kane," however, Argos sings nostalgically about the title lass, apparently a real girl who happened to be Argos's steady when they were both 15. It's an unusually touching song from a band so steeped in English punk, but it's a damn fine single, as Argos counts down to the second the last time he saw his Emily over jangly guitar chords.
"Rusted Guns" is a slower, chugging rock tune that breaks up the otherwise endless run of high energy numbers, which continues with "Modern Art." Also released prior to the release of the album, this song almost sounds like a Pixies outtake, as Argos shouts over a melodic, but manic musical backing that sounds as if it's about to burst into flames. "Good Weekend," the first of two "weekend" tracks, is yet another catchy-as-all-get-out song with even more single potential. Much to the contrary of "Emily Kane," Argos sings about having a new girlfriend with such unrestrained enthusiasm, it's actually quite amusing. And it all comes to a climax with his smile-inducing shouts of "I've seen her naked/twice!"
The line that's sure to turn the most heads on this set is the opening verse of "Once is Enough" : "I can't stand the sound of the Velvet Underground." Argos then adds, "No more songs about sex and drugs and rock `n' roll/it's boooring." And damn if he doesn't have a good point. Songs about getting yourself deported to California, like on the campfire pop of "Moving to L.A.," are much more interesting. And if anything, when the band is singing about rock `n' roll, it's from an outsider's perspective. On "Bad Weekend," the band bursts into a riff-blazing raveup accompanying Argos' laments like "Don't know what genre we belong," which culminates in a chorus of "popular culture/no longer/applies to me" as the band slows into a series of ringing jazz chords.
The thing about Art Brut is that they have the right combination of humor, sincerity, tenderness and testosterone. They rock when they need to rock, they slow down when they need to slow down. Let's not forget about how perfect their two-and-a-half minute pop songs are, either. And, most importantly, they take themselves just seriously enough.
Similar Albums:
Ikara Colt – Chat & Business
The Fall – This Nation's Saving Grace
Television Personalities – And Don't the Kids Just Love It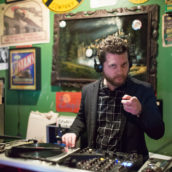 Jeff Terich
Jeff Terich is the founder and editor of Treble. He's been writing about music for 20 years and has been published at American Songwriter, Bandcamp Daily, Reverb, Spin, Stereogum, uDiscoverMusic, VinylMePlease and some others that he's forgetting right now. He's still not tired of it.