Baroness announce new album, STONE
Baroness have announced a new album. On September 15, they'll release STONE via Abraxan Hymns. It's the band's first self-produced album, and the first song they've shared is "Last Word." Check it out below. The band is also heading out on tour in support of the album, with U.S. dates featuring support on select dates from Jesus Piece, Escuela Grind, Vile Creature, Cloud Rat, Portrayal of Guilt, Agriculture, Primitive Man, KEN Mode, Sheer Mag, Imperial Triumphant and Uniform.
"An important through line in Baroness is we don't like to repeat ourselves," said John Baizley in a statement. "It's all about the willingness to take risks. When I was younger, the whole point of music was to be different, not to do the same thing, and not to listen to parents or play by the rules. That's kind of goofy, but in practice, it works. It's really sort of terrifying to be at the sixth record in your career and think that you'll have to keep up with your history rather than continually invent. So, we doubled down on continuously inventing to see where it takes us. I think this record is a good reflection of that. STONE is a lot more alive, more direct."
STONE follows 2019's Gold and Grey. Read our Treble 100 essay on Baroness' Blue Record.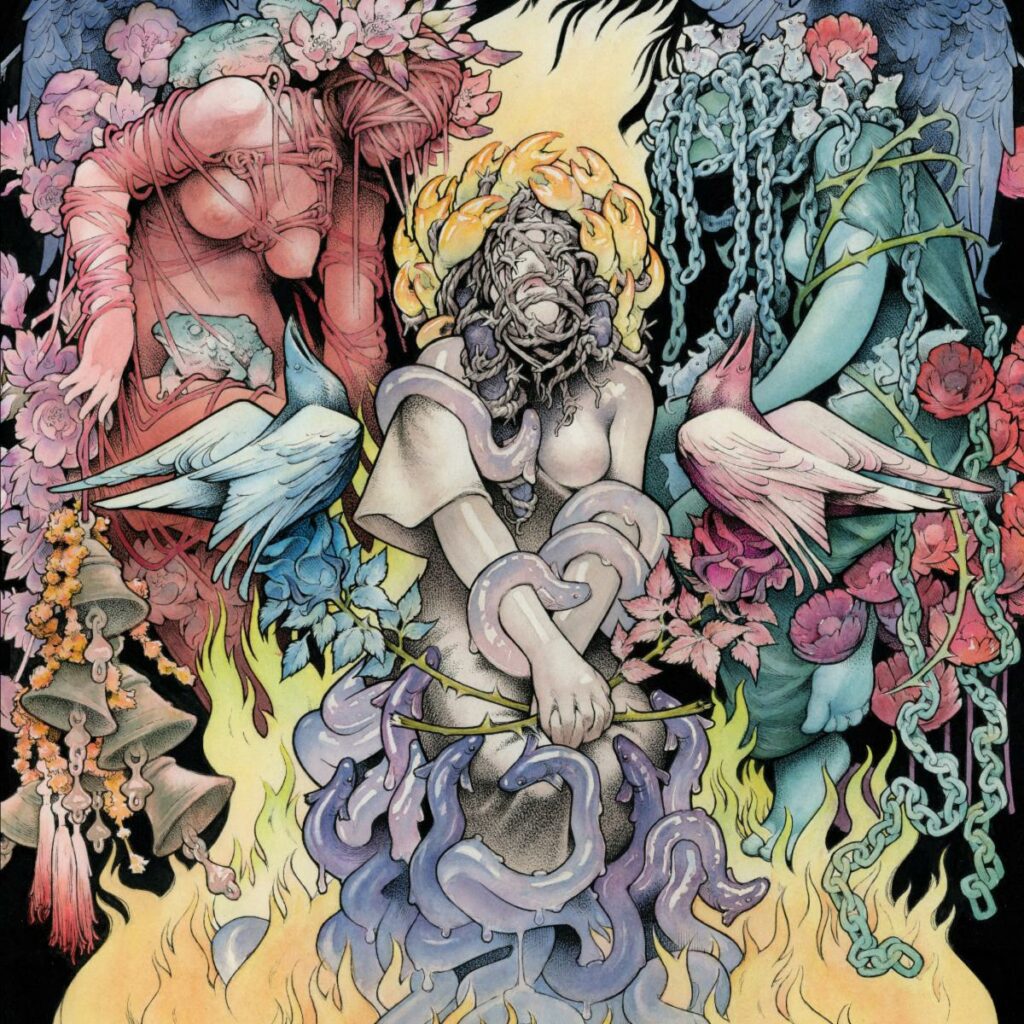 Baroness STONE tracklist:
1. Embers
2. Last Word
3. Beneath the Rose
4. Choir
5. The Dirge
6. Anodyne
7. Shine
8. Magnolia
9. Under the Wheel
10. Bloom
Baroness tour dates:
October 13 – Baltimore, MD – Baltimore Sound Stage
-With special guests Jesus Piece and Escuela Grind
October 14 – Richmond, VA – Canal Club
-With special guests Jesus Piece and Escuela Grind
October 15 – Asheville, NC – The Orange Peel
–With special guests Jesus Piece and Escuela Grind
October 17 – Tampa, FL – The Ritz Ybor
–With special guests Jesus Piece and Escuela Grind
October 18 – Atlanta, GA – The Masquerade
-With special guests Jesus Piece and Escuela Grind
October 20 – Dallas, TX – The Echo Lounge & Music Hall
-With special guests Portrayal of Guilt and Escuela Grind
October 21 – Houston, TX – House of Blues
-With special guests Portrayal of Guilt and Escuela Grind
October 22 – Austin, TX – Empire Control Room & Garage
-With special guests Portrayal of Guilt and Escuela Grind
October 24 – Albuquerque, NM – Sunshine Theater
-With special guests Primitive Man and Midwife
October 25 – Mesa, AZ – Nile Theater
-With special guests Primitive Man and Midwife
October 27 – Santa Ana, CA – The Observatory
-With special guests Primitive Man, Midwife and Agriculture
October 28 – Los Angeles, CA – The Bellwether
-With special guests Primitive Man, Midwife and Agriculture
October 29 – Berkeley, CA – UC Theater Taube Family Music Hall
-With special guests Primitive Man, Midwife and Agriculture
October 31 – Portland, OR – Hawthorne Theatre
-With special guests KEN Mode and Hoaxed
November 3 – Seattle, WA – The Crocodile
-With special guests KEN Mode and Empire State Bastard
November 4 – Vancouver, BC – Rickshaw Theatre
-With special guests KEN Mode and Empire State Bastard
November 6 – Edmonton, AB – Union Hall
-With special guests KEN Mode and Empire State Bastard
November 7 – Calgary, AB – The Palace Theater
-With special guests KEN Mode and Empire State Bastard
November 9 – Salt Lake City, UT – The Depot
-With special guests Wayfarer and Empire State Bastard
November 11 – Denver, CO – Summit
-With special guests Wayfarer and Empire State Bastard
November 12 – Omaha, NE – The Waiting Room Lounge
-With special guests Wayfarer and Empire State Bastard
November 14 – Minneapolis, MN – First Avenue
-With special guests Chat Pile and Empire State Bastard
November 15 – Chicago, IL – The Vic Theatre
-With special guests Chat Pile and Empire State Bastard
November 17 – Columbus, OH – The King of Club
-With special guests Vile Creature
November 18 – Detroit, MI – St. Andrews Hall
-With special guests Vile Creature and Cloud Rat
November 19 – Toronto, ON – The Danforth Music Hall
-With special guests Vile Creature
November 20 – Montreal, QC – Théâtre Beanfield
-With special guests Vile Creature
November 22 – Albany, NY – Empire Live
-With special guests Soul Glo
November 24 – Cleveland, OH – Agora Theater & Ballroom
-With special guests Soul Glo and Cloud Rat
November 25 – Pittsburgh, PA – Roxian Theatre
-With special guests Soul Glo
November 26 – Buffalo, NY – Town Ballroom
-With special guests Soul Glo
November 28 – Boston, MA – Royale
-With special guests Sheer Mag and Imperial Triumphant
November 29 – New York, NY – Webster Hall
-With special guests Sheer Mag and Imperial Triumphant
December 1 – Philadelphia, PA – Union Transfer
-With special guests Sheer Mag and Uniform