Bat For Lashes : The Haunted Man
It wasn't that long ago when Bat For Lashes' Natasha Khan would rarely be seen without an arsenal of fashion accessories — feathers, headdresses, glitter, warpaint — the Brighton-based singer/songwriter often viewed as being notable for her style as much as her music. The cover of Bat For Lashes' third album, The Haunted Man, tells a markedly different story: with a nude adult male slung around her shoulders, Khan stands naked as the day she was born. No glitter. No paint. No feathers. Just the bare skin of a theatrical performer leaving herself fearlessly, unapologetically exposed.
Shedding one's clothes for an album cover isn't particularly novel, in itself, but for Khan it marks an endpoint of a long and winding path of personal discovery. After her celebrated 2009 album Two Suns, an album that inevitably would have proven difficult to follow, Khan became afflicted with an intense writer's block, a remedy for which would find her enrolling in any number of extracurricular activities. She attended a Native American hallucinatory ritual. Thom Yorke suggested she draw pictures. She took dance classes and researched family history, which is how a story about her grandfather, ill equipped to handle the trauma of war, gave her the title of the album. And on the other end of this string of creative exercises is The Haunted Man, an album as emotional and majestic as Khan has ever created, yet with an affecting directness that sheds some of the mystic drama that once blanketed her songs.
The Haunted Man's songs, themselves, are far from naked. Rich tapestries of strings and electronics adorn the bulk of the album, building up an atmosphere similar in aesthetic to Khan's previous two albums, but with a much brighter, expansive feel. And more than a few notable names — Beck, Portishead's Adrian Utley, TV on the Radio's Dave Sitek — appear in the album's list of credits, making an already full guestlist punctuated with underlines and exclamations. That being said, it's Khan who stands in firm command of these songs, her gentle coo providing a weightless foil to the booming bass in opening track "Lilies," and her eerie cries howling in the distance of the darkly atmospheric "Horses of the Sun." Yet in the one song that truly is naked, the stark piano ballad "Laura," any frivolous bric-a-brac would only ruin an otherwise heartbreaking moment of grace and beauty that finds Khan likewise emotionally laid bare, addressing a possibly self-destructive friend with the reassurance, "You're more than a superstar."
In a curious but maybe necessary pivot from Two Suns, there are no singles on The Haunted Man with the massive presence of that album's "Daniel," one of the best art-pop singles of at least the past decade, and realistically even the past two. In its place are a number of subtler, haunting tracks that come with plenty of hooks in their quiver, the likes of which grow stronger with repeat listens. "All Your Gold" has been likened to Gotye's "Somebody That I Used To Know," and Khan's phrasing "there was someone that I knew before" only adds to the comparison, though it's much more pulsing and danceable than that omnipresent hit. "Laura" is devastatingly gorgeous, if not the catchiest number here, though catchiness certainly isn't everything. On the contrary, the soaring ballad "Marilyn," rises to a magnificent chorus of dense synthesizers and a rising vocal from Khan. And with the strongest of the material here, it's driven by a heart-on-sleeve directness, in this case holding onto a fleeting feeling of immortality: "Holding on to you, I'm touching a star/ Turning into a Marilyn, leaning out of your big car." And "Rest Your Head" isn't a single, but it should be — its mixture of cavernous, echoing effects and sputtering beats is enchanting and characteristically beguiling.
Ending in a way similar to how the album begins, closing track "Deep Sea Diver" blooms from a simple juxtaposition of Khan's voice against a misty keyboard track, but its long, slow progression takes on a more understated rise. Yet where Khan's approach is less overtly showy here, her lyrics are at their most tender, offering to comfort and console in a situation divided by barriers: "What's grown up around you is a different skin/ you thought I wouldn't know your face/ Baby if you can't see out, know that I can hear you shout." It's one of the stronger pieces of evidence that, more than just the Bat For Lashes album with the biggest sound, The Haunted Man is also the Bat For Lashes album with the biggest heart. For Natasha Khan, laying it all out for everyone to see and hear might have been a big risk. It's to her credit that the reward is even bigger.
Similar Albums:
Niki and the Dove – Instinct
Glasser – Ring
M83 – Hurry Up, We're Dreaming
Video: Bat For Lashes – "Laura"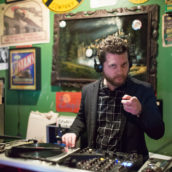 Jeff Terich
Jeff Terich is the founder and editor of Treble. He's been writing about music for 20 years and has been published at American Songwriter, Bandcamp Daily, Reverb, Spin, Stereogum, uDiscoverMusic, VinylMePlease and some others that he's forgetting right now. He's still not tired of it.