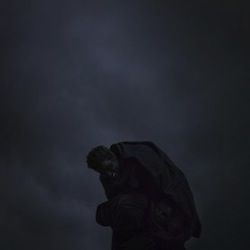 Will Wiesenfeld, the 24-year-old singer and songwriter behind Baths, described Obsidian as his "weird version of a pop record." Like almost all iconic pop records, Obsidian is nothing if not indulgent, but Will isn't interested in the standard summertime sports; he spends most of his time swimming in pools of death, ugliness, and isolation. While these emotions could easily be plucked from high school hashtags, labeling Baths' music as emo or even nihilistic would be an insult. He takes on each topic from a mature perspective, one that's been recently shaped by a near-death bout with E. coli that left him bedridden and psychologically immobilized for weeks. In the wake of the trauma, slowly sinking below the surface is Obsidian, a sprawling, gloomy, gorgeous and weird version of a pop record.
The album hits some intensely personal levels as Will's lyrics consistently toe the line between vulgarity and vulnerability. In the span of a single song he goes from deep-seeded emotional detachment — "scared of how little I care" — to the superficiality of "sharing a toilet seat" with his first boyfriend. It's refreshing to hear Will openly embrace homoerotica, but some moments feel as though they're solely supported by shock value: "Lodged in the rectal wall of agony, hell is our only home." The line could be a reference to the aforementioned E. coli infection but I'm not sure I feel the need for clarification.
Regardless of the lyrics themselves, Will makes a much more concerted effort to showcase organic vocals this time around. His previous LP, Cerulean, focused on a wide range of electronic and glitch sounds, of which Will managed to pick a handful of the most interesting, distill them, and then splatter them throughout Obsidian. "Worsening" and "Miasma Sky" each creek and crack beneath themselves — the percussion and synth sounds are tightly packed together creating an interesting contrast with the string and piano melodies that float by every so often. "Ossuary" continues with the stellar percussion and pulls out a synth bassline that feels like it's straight from Gary Numan's top tracks. "Earth Death" is another clear highlight and in some ways a spiritual successor to the depressingly peerless TV On The Radio classic, "DLZ."
All of the artistic decisions on Obsidian contribute to what feels like a unique and current album. Between the crumbling, layered percussion, the revealing lyrics, and the synth-driven R&B elements, Wiesenfeld is on the downslope of a few different distinct trends of today. Various tracks on Obsidian could easily fit onto a playlist alongside artists as diverse as Rhye, Youth Lagoon, Mount Kimbie, Majical Cloudz and some select Animal Collective.
In many ways Obsidian is the fruit of a dark, soul-selling compromise on Wiesenfeld's behalf. At his lowest moments, in the face of despair, transforming into the cold, black stone is the only way to weather the storm. The finished statue is undoubtedly out of character for the jovial, mutton-chopped Angeleno, but if it weren't, there'd be no reason for the conflict in the first place. Wiesenfeld is at peace with his skin sagging, his body breaking, and his soul dying — the exact reasons he crafted Obsidian to stand the test of time.
Similar Albums:


Majical Cloudz – Impersonator


Xiu Xiu – The Air Force


Why? – Alopecia