Belle and Sebastian : Push Barman to Open Old Wounds
Oh, the mistakes we make in our youth. And for me, most of these mistakes happened in college, as on too many I occasion, I sold really good albums for emergency cash. You see, being jobless and in need of money for dates and other necessities means having to part with chunks in your music collection, and for me, that frequently resulted in really bad decisions. I never sold OK Computer or The White Album or anything like that. But some of the less obvious classics were sacrificed due to poor judgment. It was only recently that I re-acquired Chavez's Ride the Fader and Jonathan Fire Eater's Wolf Songs For Lambs, and there are still plenty records that have yet to return to my jewel-case lined shelves.
Certain recent compilations have taken care of some of these gaps, however, most notably that of Belle and Sebastian's singles singles. I had, at one point, all of the singles released on Matador/Jeepster (including the original box set), save for "Legal Man," and ended up selling every last one of them. I must have been mad. Surely there's no other explanation for trading these classics in for what probably amounted to a buck or two apiece. Ack! So foolish was I! Regardless, Matador Records has saved me with Push Barman to Open Old Wounds, a collection of every single from "Dog on Wheels" to "I'm Waking Up to Us."
Now, my own Belle and Sebastian exile had come during a period in which I believed I didn't really like the band anymore. I didn't like Fold Your Hands Child very much (though I warmed up to it later) and thought the band to have reached their peak, tumbling rapidly on the way down. I was wrong, as it turns out, and the band just had a bad couple of batches (Storytelling anyone?). That coupled with the bitter taste left by some Belle and Sebastian fans I knew and didn't much care for seemed to dictate whether or not I liked their music. Again, foolish! To actually let personal quibbles get in the way of my musical listening experience just seems childish.
Revisiting these songs is a trip through memory lane for me, as well as a fine two hours of listening pleasures. The Calexico-like trumpets on "Dog on Wheels" are a confection whose flavor I quickly developed a palate for once again. The surfy guitar rock of "String Bean Jean" and "La Pastie de La Bourgeoisie" reminded me of how kick ass Belle and Sebastian could be, on a more kick back level, of course. And who couldn't fall in love with the lo-fi gems "Belle and Sebastian" and "A Century of Fakers" (as well as its spoken word counterpart "A Century of Elvis")?
But what's interesting about this collection, as opposed to recent singles comps from Yo La Tengo and Stereolab, is that everything goes in chronological order, as the tracks were originally sequenced on the EPs on which they were released. The collection shows a progression from the humble beginnings of "Dog on Wheels" to the powerful pop majesty of "I'm Waking Up to Us," one of the band's finest songs. Still, to suggest that the last set is the most accomplished, while the first is the least, would be misleading. There are gems throughout the two discs, with B-sides trumping some of the A's.
The jangle pop of "Photo Jenny" and the quiet, piano ballad "You Made Me Forget My Dreams" outshine their A-side, "Lazy Line Painter Jane," And the Hammond happy "I Know Where the Summer Goes" does the same against its lengthy predecessor, "This is Just a Modern Rock Song." But as far as the A-sides go, none of the songs hold a candle to the psychedelic dance party in "Legal Man" or the aforementioned "I'm Waking Up to Us."
Any Belle & Sebastian fan will tell you that their singles material is every bit as good, or better, than what's on the albums. It's up for debate, of course, but I can't help but remember the 2001 radio poll I did that saw "Take Your Carriage Clock and Shove It" (included here), a b-side to "Jonathan David," landing in the top 50. If a Belle & Sebastian b-side can find more fans than hundreds of other bands' singles, they must be doing something right.
Similar albums:
Jens Lekman – Oh You're So Silent Jens
Yo La Tengo – Prisoners of Love
The Smiths – Louder Than Bombs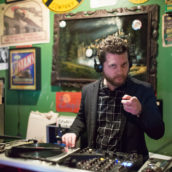 Jeff Terich
Jeff Terich is the founder and editor of Treble. He's been writing about music for 20 years and has been published at American Songwriter, Bandcamp Daily, Reverb, Spin, Stereogum, uDiscoverMusic, VinylMePlease and some others that he's forgetting right now. He's still not tired of it.