New Order "1963"
(1987; Qwest-Factory)
New Order's "1963″ was never released on a proper album if you don't count anthologies. New Order being the most literal singles band of all time, that's not shocking. Steve Morris called it a waste of a song and that's totally true of the neutered remix, wisping along on the wateriest of drum patterns, that appears on the aforementioned anthologies. But the b-side of "True Faith" in its original incarnation is vintage New Order at its sweetest, strobe-lit by synths and Bernard Sumner comfortably located in his svelte medium-gear vocal range. Thematically it's familiar as well, with whispered homoerotica and atmospherics like acid rain. It could be Sumner wooing his darker half or more literally about sexual avatars and their impatience with reality or even, as a couple crackpots have suggested, Sumner's twisted valentine to Johnny Marr (that's funny, but no thanks). In any case it's a thrilling study in murder-ballad mechanics and more than that, the slight but towering skill of repackaging black art as shiny pop escapism. – Anthony Strain
The Clash "Wrong 'Em Boyo"
from London Calling (1979; Epic)
One of the most well-known and widely recorded murder ballads of all time is "Stagger Lee," of which hundreds of versions exist. Mississippi John Hurt's version is considered the definitive version, while Woody Guthrie, Ike and Tina Turner, The Grateful Dead, Wilson Pickett, Neil Diamond and James Brown have all done their own takes on the song. Likewise, Nick Cave and the Bad Seeds performed a particularly foul-mouthed version in 1996. The song, based on coach driver and pimp Lee Shelton, was also translated into a ska version called "Wrong `Em Boyo" by Jamaican rocksteady band The Rulers. Yet it was The Clash who widely popularized the song on their London Calling album. While the song contains many of the elements of the folk classic—an argument over gambling, the murder of William "Billy" Lyons—this version is more upbeat, and even depicts Shelton as a protagonist of sorts. Over a sprightly ska beat, Joe Strummer and Mick Jones trade lines, warning Lyons, "Don't you know it is wrong/ to cheat the trying man?" In fact, the song has such a fun rhythm and momentum, were it not for the line "Billy boy has been shot," one might not even realize the violent story behind the song. – Jeff Terich
Mountain Goats "Sept. 15, 1983"
from Heretic Pride (2008; 4AD)
Few singer-songwriters can tell a tale quite like The Mountain Goats' John Darnielle, to the point where he's created entire story arcs out of characters he's created. Yet on the group's most recent album Heretic Pride, he sprinkles his songs with real life icons such as H.P. Lovecraft and Prince Far I., whose murder is retold in the track "Sept. 15, 1983." Played with a soothing, reggae-tinged beat, the track is sedate, as it pays tribute stylistically to the dub/reggae icon. Darnielle describes the robbers in the track "bearing knives and zip-guns," and uses Far I's real name, Michael James Williams. But the most devastating part comes nearly two minutes in, as Darnielle sings "try, try your whole life/ to be righteous and be good/ wind up on your own floor/ choking on blood." It's an odd shift from a typical murder ballad in that the song is told from the victim's perspective, which makes it all the more heartbreaking in the end. – Jeff Terich
Pearl Jam "Footsteps"
from Lost Dogs (2003; Epic)
On Pearl Jam's 21st Century murder ballad "Footsteps," Eddie Vedder gets inside the mindset of the killer. He shows no remorse as Vedder sings, "I did what I had to do/ If there was a reason, it was you." In fact by the end of the song, this killer still shows no repentance or regret, as reflected in the lyrics "Oh just let me continue to blame you." He's in a cell and can hear the voices that led him to kill the faces he still can see in his head.
"Footsteps" is part of the Mamasan trilogy that Eddie Vedder wrote before joining Pearl Jam. Vedder's song cycle begins with the story of a man in "Alive," who finds out that his father had died, this causes him to go on a killing spree as heard on "Once," which leads the man's incarceration in "Footsteps." "Footsteps" is one of Eddie Vedder's most haunting and underrated lost songs. It was good enough that Pearl Jam included it on their 2003 b-side compilation, Lost Dogs. What makes this one of my favorite Vedder songs is that he tries to give a song to the voiceless, a killer with no compassion. You can imagine this murderer in his cell with those same voices calling out to him as the faces of the murder haunt him every night. – Adrian Cepeda
Bruce Springsteen "Johnny 99"
from Nebraska (1982; Columbia)
When Bruce Springsteen recorded Nebraska in 1982, one of his primary influences in creating the haunting, lo-fi collection was New York new wave duo Suicide, whose "Frankie Teardrop" seemingly spills into a handful of the album's songs. "State Trooper" is structured similarly to the song, featuring similarly harrowing screams as those in Alan Vega and Martin Rev's song (which is possibly the most frightening track in pop music). Meanwhile "Johnny 99″ has a similar background: a laid-off auto worker in Mahwah, N.J., shoots and kills a store clerk, similar to how the unemployed Frankie kills his own family. Yet that's where the similarities end. For one, the song is ironically upbeat, built on a rockabilly shuffle rather than a droning drum machine beat, making it a strangely cheerful sounding track for such a bleak backstory. In addition, the song is supposedly based on real life events involving the close of a Ford plant in Mahwah in 1980. In the song, just as Johnny is sentenced for 99 years for his crime, he makes an earnest plea to the judge, "Now judge I had debts no honest man could pay/ the bank was holdin' my mortgage and they was takin' my house away/ Now I ain't sayin' that makes me an innocent man/ But it was more'n all this that put that gun in my hand."
Springsteen presents Johnny without judgment, allowing the story to speak for itself, leaving listeners to come to their own conclusions about it. Yet in 1984, on his Born in the USA tour, Springsteen used the song as a way of responding to President Ronald Reagan, who used "Born In the U.S.A." as a reference of hope in his stump speech while campaigning for re-election. As he stated before playing "Johnny 99″ at a concert in Pittsburgh, Springsteen said "I don't think he's been listening to this one." – Jeff Terich
Neko Case "Deep Red Bells"
from Blacklisted (2002; Bloodshot)
Neko Case has never been one to shy away from the macabre in her songs, and her recent song "Star Witness" even alludes to an incident that happened near her home while she lived in Chicago. However, "Deep Red Bells" from a few years prior surrounds the events of the Green River Killer in the Pacific Northwest, and Case's own feelings of vulnerability during the time that the murders occurred (she lived in Tacoma at the time). The song is mournful and powerful, with the `red bells' in the song signifying the wretched acts. It begins with the line "he led you to this hiding place" before Case later asks "who shook the valley of the shadow?" and "where does this mean world cast its cold eye?" And just before the final chorus, Case sings of "those like you who lost their way/ murdered on the interstate/ while the red bells rang like thunder," bleeding out into a bassy, melancholy guitar riff that weeps like a lost, mournful echo. – Jeff Terich
Jimi Hendrix Experience "Hey Joe"
from Are You Experienced? (1967; Reprise)
"Hey Joe" has quite the musical history. This is not a Jimi Hendrix original, although his version is the most famous. "Hey Joe" is credited to songsmith Billy Roberts, who based it on the lyrical formats of two others—Carl Smith's 1953 country hit single, which inspired the title of his own song "Hey Joe," and a 20th Century traditional ballad called "Little Sadie." "Little Sadie" is where Roberts was inspired by the story of a man on the run after having shot his wife.
Hendrix took Roberts' original and added a more bluesy rock rhythm to his cover of "Hey Joe." It's often mistakenly credited to Hendrix who had knack of allowing his unique style to inhabit cover versions like "All Along the Watchtower." What makes many think that Jimi wrote this song is how he inflects the outlaw nature of the jealous and murderous protagonist. There's not an ounce of remorse in Jimi's voice. It's as if Hendrix solo guitar riff is the one that mourning the act of killing and not his vocal.
To me "Hey Joe" is the original rock murder ballad, in which the husband is made into a fugitive folk hero for killing his unfaithful wife. Just like in the Wild West gunslinger, there's no remorse for the act of murdering, Joe in fact is immortalized in a song that in essence is celebrating the gunning down of his wandering beloved.
A personal side note: I myself was inspired by Hey Joe for different reasons. It was my first summer living in Chicago and my parents gave me the task of coming up with a poem in honor of my little Brother's wedding. The only song that went through my head as I attempted to write a lyrical ode to my brother Joe was this one. And this wasn't the type of song that you want as an inspiration for two people getting nuptials. So I would sit by the Lake and listen to "Hey Joe" over and over again and finally I came up with the poem. No killing and no guns but it was kind of humorous the way this song about death sparked a poem to my brother Joe and his wife Carole. So now when I hear "Hey Joe" it reminds me of their poem and not about killing. – Adrian Cepeda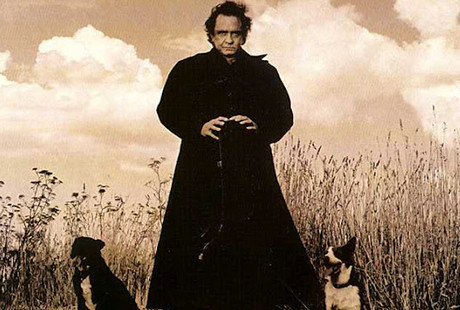 Johnny Cash "Delia's Gone"
from American Recordings (1994; American)
I recall, back in 1994, when Johnny Cash made his American Recordings comeback, complete with Rick Rubin production and a video starring Kate Moss. Though he was a musical hero, it was hard not to be skeptical about attempting to reconcile the man's music with the trends of the '90s. Funny thing about that, though, is that Rubin did no such thing. Cash was Cash, and even Kate Moss couldn't tarnish the rustic old style murder ballad "Delia's Gone." In a dark, gallows humor kind of way, "Delia's Gone" is actually sort of funny. It's a reasonably upbeat folk tune, with Cash singing lines like "if I hadn't-a shot old Delia/ I would have made her my wife" and "she was lowdown and trifling, and she was cold and mean/ the kind of evil that make me want to grab my submachine." But as with many of the murder ballad archetypes, the narrator comes to be haunted by that ornery lass as he lay awake in jail. And that's the true irony—even in death, Delia isn't truly gone. – Jeff Terich
Louvin Brothers "Knoxville Girl"
from Tragic Songs of Life (1956; Capitol)
Few songs mentioned here are as widely known as the violent waltz of "Knoxville Girl," and no version of it is as iconic as that by The Louvin Brothers. It's a simple enough ballad, played with guitar, mandolin and shaker percussion, with the Brothers' duetting vocals telling of the grim story of the Knoxville girl and how she pleads for mercy from a fatal blow. It's a truly strange dichotomy of sweetly sung vocals and a narration of an act so dark and despicable, but the true twist of the close harmony classic comes when the devil himself(!) shows up at the foot of the bed of the murderous narrator, pointing his wicked finger. While most songs of its ilk do reveal some sort of retribution, it's a rare spectacle of a song that invites Satan in for a line or two. – Jeff Terich
Okkervil River "The War Criminal Rises and Speaks"
from Down the River of Golden Dreams (2003; Jagjaguwar)
Okkervil River, on their first full length studio album, Don't Fall in Love with Everyone You See, recorded a song, confessional style, of a disaffected man convicted of the murder of a high school girl, a song entitled "Westfall." This song presents evil as it is experienced by the convict, which is not some morally reprehensible value at which all shudder, but is instead something forever sought for by the media to feed its dependent public. The murder, in defiance of the photographers trying to snap a shot of evil, claims that "Evil don't look like anything," suggesting that evil cannot be likened to anything, i.e. the murderer, and that the word evil is essentially meaningless.
Okkervil River's second album, Down the River of Golden Dreams, explores evil's incommensurability and lack of meaning further on the track "The War Criminal Rises and Speaks." This time, rather than solely exploring the viewpoint of the murderer, the song explores both the points of view, that of the public and the murderer. Drawing the listener into the song with a couple solemn piano chords, the song slowly introduces the listener to the consciousness of the public, represented as a man on his drive home, and presents this man as a person who genuinely wants to be with someone or something, that he can truly feel. Failing that, the heart of this man will settle for materialistic and consumeristic attachments to household furniture, name-brand stores, and the news media, an organization whom, from "Westfall," has been portrayed as, if not disreputable, then at the very least, somewhat deceptive. The song then goes on to describe a headline seen by this representative of the public, a headline summarizing the brutal crimes of a war criminal who, presumably, has recently taken the stand at some sort of hearing. As stated, the news media summarizes these grisly acts with extreme economy, and then continues to claim no responsibility for the actions of the murderer, nor the events the headline describes, as they simply "get paid for the facts the way they got them in." As if bursting free from this officiousness and callousness, all timbres of music rise to crescendo as the war criminal rises and speaks, appealing to the listeners and readers and all witnesses not referred to that they think his inexcusable acts, inexcusable, yes, but please, he asks the witnesses to train their hearts not upon these acts, please "stop ignoring the heart inside" the war criminal himself, and, by simply recognizing his common humanity, he asks of them, desperately, to "make your heart my home!" and in his ecstasy, he cries loud in remorse, wishing to go back, restore the lives lost, including his own, and live a life ten times the size he lives now, "on a far distant road, in a far distant time, where every night I'm still crying, entirely alone."
The volume crashes at this candid admission, with only a soft voice rising from the ashes: "But the news today always fades away as you drive by." The song, in hopeful tones, goes on to narrate the burgeoning life promised to the man on his drive home, who completely ignores the strife of the war criminal and is assured that the "blood spattered criminal is inscrutable/ Don't worry, he won't rise up behind your eyes, and take wild control/ He is not of this time/ He fell out of a hole." The man is so assured of his own control over his mind, that he can't be made to think sympathetic thoughts, completely ignorant of the idea of evil that has been implanted in his mind by the news media.
This two song cycle that meditates upon the intangibility of evil redefines what we, at Treble, are calling the murder ballad, as it not only makes the listener sympathize with the criminal, but makes us reflect upon his marginalized status, his entire existence glossed over with a single word: evil.- Paul Bozzo
You might also like: