Best Song Ever: Murder Ballads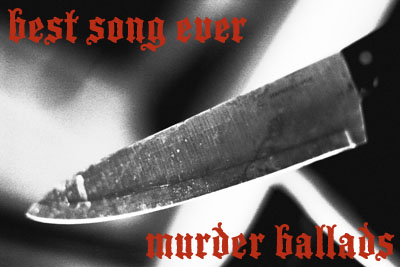 There was a time when children's tales were fraught with gruesome acts of violence, and even the youngest ones were fed stories that today's parents wouldn't dare expose the wee ones to. Similarly, there existed a time when popular music was dominated, not by love songs, but by narratives of true-life murders. For a century (and likely even longer than that), the murder ballad has been a classic American songwriting tradition. It's a dark one to be sure, but it also tells a tale. Sometimes these tales create a legend, like the subject of "Stagger Lee," and in others they reveal the regret in the killer's deeds. No matter the performer's perspective, the murder ballad is frequently a source of powerful lyricism, and the songwriting tradition has since carried into the 21st Century, with acts like Sufjan Stevens and The Decemberists lending their own takes to the much celebrated, heebie jeebie-inducing genre. So, in our own effort to celebrate this macabre tradition, here are some of the best murder ballads ever.
Happy Halloween!
Bruce Springsteen "Nebraska"
from Nebraska (1982; Columbia)
Bruce Springsteen's album Nebraska is, in some ways, a collection of murder ballads. While not every song depicts a killing or death (though many do), there is darkness throughout, and very little in the way of redemption to overcome the bleak portrayals throughout. The title track, which eerily begins the stark and haunting album, is a folk retelling of the spree killings of Charles Starkweather and Caril Ann Fugate. Though Springsteen was often known for his rousing rock songs with the E Street Band, Nebraska is an entirely different animal, a cold and sparse affair, with this song setting the tone for the rest of the album. Springsteen's voice, however, remains rich and deep, as he recalls the events: "From the town of Lincoln, Nebraska/ with a sawed-off .410 in my lap/ through the badlands of Wyoming/ I killed everything in my path." Though it's Springsteen's own creation, it's a primary example of the tradition of the classic murder ballad being carried into later generations. Though the song is simple, it features numerous details, and even ends with Starkweather's execution. Though before the song transitions into "Atlantic City," Springsteen (speaking through Starkweather) offers the chilling observation, "well, sir, I guess there's just a meanness in this world." – Jeff Terich
The Doors "Riders on the Storm"
from L.A. Woman (1971; Elektra)
The Doors were an L.A. band born on the Dionysian ethos of excess, sin and celebration of the dark side of life. Jim Morrison was someone seemingly possessed by his obsession about death. Whether it was on "The End," "The Crystal Ship" or the essential rarity "Someday Soon," death seemed like something that he craved. Jim Morrison was seen as a Southern Gentleman with a penchant for darkness. He was a huge fan of the blues and to me, the lyrical content of "Riders" is Morrison-inspired take on the classic murder ballad. Just listen to the lyrics, "There's a killer on a road… if you give this man a ride/ sweet memory will die…" "Riders on the Storm" is an anomaly because Jim is not just singing about his fixation with death. In reality it's a song about serial killer Billy Cook. This is the same killer who posed as a hitchhiker and murdered a whole family.
The sound effect of the rain in the background of "Riders on the Storm" has an aura of death surrounding it. Ray Manzarek's eerie piano and Robby Krieger's guitar riffs are the soundtrack to the killer on the road. I imagine him on the side of the road, getting wet, waiting for his next victim, and Morrison's spoken word whispered vocal underneath his singing is the murderer's deranged voice. With every explosion of thunder you get this tense feeling like someone is going to die. It's not a traditional murder ballad, but you can hear a 1970s modern interpretation of the genre with The Doors creating the chilling sounds of fear and death on the road that's unsettling and irresistible. – Adrian Cepeda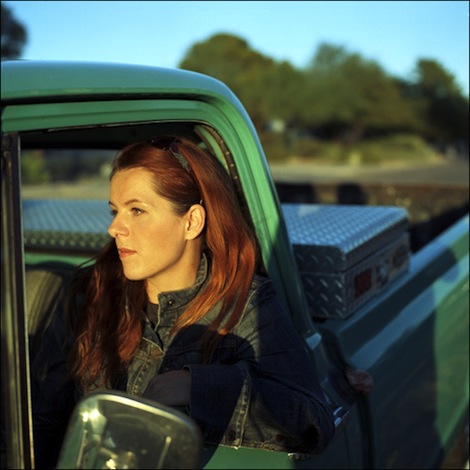 Neko Case "Dirty Knife"
from Fox Confessor Brings the Flood (2006; Anti)
Neko Case's Fox Confessor Brings The Flood was the finest album of 2006, best heard while musing on mythic Hollywood or knocking around in antique shops not populated by Borat. It's filled with hoarse recrimination and lurid tall tales, all within range of symphonic banjos–yeah, there's such a thing. Case always sounds like a case herself, like she spends most of her time in a flannel nightgown next to a guttering candle, flaming-red tresses aflight; that delirious mystique should not distract from the absolute clear-eyed logic of her songs. "Dirty Knife," one of the choicer cuts–sorry!–from Fox Confessor puts forward a familiar construct, wolf-as-predator. But it's more about the interior of insanity, describing the heat in the subject's skull and blood that "runs crazy with giant strides." The titular object gets play as both a literal murder weapon and the cutting edge of guilt working "deep into his spine." It's a song that works largely in the abstract but the black mood oozes as if from a gaping wound. – Anthony Strain
Sufjan Stevens "John Wayne Gacy, Jr."
from Illinois (2005; Asthmatic Kitty)
Sufjan Stevens, in some ways, seems like the last songwriter you'd imagine to pen a murder ballad. After all, he writes songs about Adlai Stevenson and road trips between New York and Chicago. Yet in compiling notable people and places in Illinois for his album of the same name, Stevens chose to pen a song about the notorious serial killer, John Wayne Gacy, Jr., who, himself, was from Chicago. Though the song is a gentle, yet dramatic ballad, in the fashion of many of Stevens' other tracks, there's a palpable sense of horror lurking beneath the surface. From the details of his swingset injury and clown persona, to his abusive parents and charming reputation, many notable elements of Gacy's history are covered within Stevens' song. Yet as Stevens sings "oh my God," there's a true element of terror in his sweet tones. The song closes on a peculiar note, perhaps reserving judgment, as Stevens even finds a human connection, noting "in my best behavior, I am really just like him." – Jeff Terich
The Birthday Party "6-inch Gold Blade"
from Junkyard (1982; 4AD)
Nick Cave had mastered the art of the murder ballad long before he eventually released his album celebrating the macabre tales in 1996. Why, way back when he was the howling frontman for post-punk rabble-rousers The Birthday Party, he was screeching about grisly happenings like the possessed voice of the undead. One of his most harrowing performances is on "6-inch Gold Blade," a murder ballad that comes packaged with an extra helping of noise. The song begins with Tracy Pew's ominous bassline, creeping like the murderous narrator with his shiny dagger. Cave's narration is gruesome and matter of fact ("I stuck a six inch gold blade in the head of a girl"), though soon enough the motivation is revealed: "she, lying through her teeth/ him, on his back." Though there's a touch of ambiguity, there's a hint of a jealous lover's rage, a theme that would eventually be explored again on his reading of "Henry Lee" more than a decade later. – Jeff Terich
Nick Cave & the Bad Seeds "Henry Lee (featuring Polly Jean Harvey)"
from Murder Ballads (1996; Mute)
One of the many highlights from the perfectly-titled album Murder Ballads is "Henry Lee." "Henry Lee," discovered by folk archivist Frank James Child, is based on a traditional folk song "Young Hunting," and is its most famous incarnation. The theme of the original, "Young Hunting," tells the tale about an unsatisfied philandering man who tells the woman he loves, and the mother of his child, that he's enamored with another mistress. Filled with raging jealousy, she in turn gets her lover drunk, kisses him goodbye and stabs him to death.
All of this sound's like quite the murderous ballad, but Nick Cave brings this tale of mayhem to life with the help of the lovely and luscious Polly Jean Harvey. They recreate this tale of killing under the guise of a love song. Harvey and Cave's vocals together echoing the heartfelt croons of a pair of eternal lovers is so tender that it's no wonder that it gets mistaken as a love song. Cave and Harvey's passionate video did me no favors. I myself thought of it as a romantic song that I would share with many lovers until I found out what "Henry Lee" was about. Often misunderstood, this brilliant reading of "Henry Lee" is anything but a true murder ballad. – Adrian Cepeda
Okkervil River "Westfall"
from Don't Fall In Love With Everyone You See (2002; Jagjaguwar)
Will Sheff's songwriting is the stuff of literary legend. His characters leap from the vinyl's grooves, claws drawn, thirsty for blood. The unrepentant killer of "Westfall" is perhaps Sheff's coldest of all, a calm prisoner staring down his own imminent death even as he recounts the murderous act that landed him in front of courtroom flashbulbs. As mournful mandolin plucks out intricate arpeggios, Sheff's acoustic guitar spins the tales' chilling climax: "And when I killed her, it was so easy, that I wanted to kill her again." Delivered with such nonchalance, the crime feels motivated by boredom as much as anything. In the song's lingering mantra, Sheff leaves the listener with the haunting reminder that even in the safest suburban streets of middle America, a darkness lurks in the hearts of those we presume to know best, and that "evil don't look like anything." – Mars Simpson
Neil Young "Revolution Blues"
from On the Beach (1974; Reprise)
Few killers have achieved the kind of media attention and cultural notoriety that Charles Manson has, particularly in popular music. From performers taking on the name Manson as a novelty to actually covering a song he wrote (Guns 'n' Roses, if anyone doesn't remember), Manson is something of a legend in pop music, which most likely stems from his failed attempt at becoming a pop musician himself. He had connections to the Beach Boys, and met Neil Young as well, who wrote "Revolution Blues" about the man. It's an abstract song, miles from the vivid details of a traditional murder ballad. Still, Young perfectly captures the paranoia and erratic behavior of Manson. The twisted family compound dynamic is captured as Young sings, "We got twenty-five rifles, just to keep the population down." But it's only in the closing lines of the song in which Young alludes to the actual murders that took place: "Well I hear that Laurel Canyon is full of famous stars/ But I hate them worse than Lepers, and I'll kill them in their cars." – Jeff Terich
The Decemberists "The Shankill Butchers"
from The Crane Wife (2006; Capitol)
There's an old-world charm, and a rustic folk style in The Decemberists' "The Shankill Butchers," which should come as no surprise to fans of the band or followers of murder balladry. After all, it's an art form that's existed long before pop songs were being charted. And yet the story of the Shankill Butchers is one that dates back only to the 1970s. Part of the Irish protestant loyalist outfit The Ulster Volunteer Force (a designated terrorist group in Ireland), The Shankill Butchers committed more than 30 murders, and kidnapped and tortured others, primarily those within the Roman Catholic community. Colin Meloy's reading of the song, however, sounds almost like a throwback to early 20th Century ballads with its rustic and stripped down sound. Meloy's voice is both cautionary and eerie, even sympathetic as he sings "they used to be such sweet little boys," before transitioning to the horrified resignation of "now killing is their only source of joy." Yet no moment is as chilling as the chorus, in which Meloy warns "the Shankill Butchers wanna catch you…awake." – Jeff Terich
Radiohead "Knives Out"
from Amnesiac (2001; Capitol)
"Knives Out" is one of the most traditional sounding songs on Amnesiac, and the structure of Ed O'Brien's chords was heavily influenced by the guitar stylings of Johnny Marr of The Smiths. Yet, Thom Yorke's lyrics were a little more unconventional. Whether unintentional or not, "Knives Out" is one of Yorke's very own murder ballads. "Knives Out" seems to be about a wife telling her kids, "I want you to know/ He's not coming back." that their father has gone never to return. But the further the song develops, you, as the listener feel uneasy, that something sinister is amiss. Then you discover as Yorke sings, "So knives out/cook him up/squash his head/put him in the pot," the wife cooks him like the rabbit in Fatal Attraction.
The fact that she feels little or no shame of feeding his remains as cannibalistic supper to her children is quite unsettling. The very disturbed wife refers to her husband as "the mouse" as she squashes his head inside of the pot. The way that Yorke sings the song, I imagine the mother telling the kids a bedtime story about how their father ran away. But in twisted form of reality he's always going to be inside of them because of the sick last supper she cooked her family. Just like "Henry Lee" if you listen to the chords and the rhythm you would never have guessed this song is a murder ballad about cannibalizing your straying husband. You will never hear "Knives Out" the same way again. Who's hungry for another serving of Amnesiac? – Adrian Cepeda