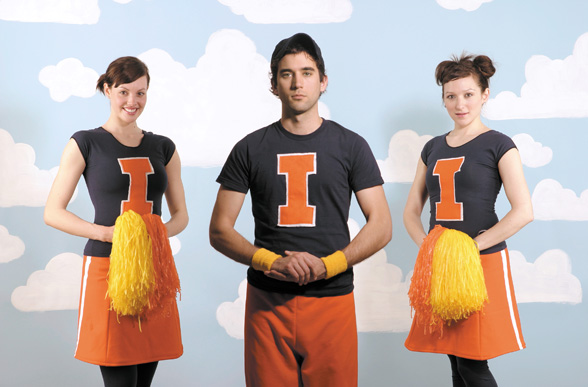 We could have gone with singles. In retrospect, it might have been an easier list to make: one with even more restrictions imposed upon it than those that govern the list we actually made. To actually compile a list of the year's best singles would automatically remove thousands of songs from the running, while merely choosing the best songs leaves a much wider spectrum of material to look at. But that's not how we do things here at Treble.
In the spring, we debuted our Best Songs Ever column, and from there, we've updated it on a monthly basis, even making time for a Best Songs Ever of the '70s to match our list of that decade's best albums. So when it came time to decide which year end lists to make, this one seemed like a natural. The only differences between this list and those that came before it are A.) it's restricted to songs released in 2005 and B.) it's ranked. What's a year end list without a hierarchy after all?
Many other webzines choose to list the year's best singles and we find nothing wrong with that. However, we aren't so much an outlet for mainstream pop or "charting" music as we are for (mostly) independent and underground music. That said, there were certainly some catchy and even popular singles that we found lovable this year, and they were included. But many of our favorites were album tracks and such that would have been excluded from the get-go. These are songs, regardless of popularity or commercial availability, which meant something to us this year. They were songs that resonated deep within our hearts, souls and eardrums. They made us smile, dance, daydream and, at times, weep.
There will be debate, we anticipate, over the validity and the necessity of this list. And you can never please everybody. But it's fun to make lists and, if nothing else, it makes for quite a playlist. Queue it up:
40. "Supreme People"
by Blackalicious
from The Craft
With a street-smart beat and a wicked flow courtesy of Gift of Gab, "Supreme People" is one of hip-hop's most blazing tracks of the year. You can almost picture Radio Raheem walking down the street holding his ghettoblaster and blaring this number (if he could have ever made it for five minutes without hearing Public Enemy's "Fight the Power"). But like Public Enemy's hottest anthems, "Supreme People" is not just a track that sounds good, but carries meaning with it as well. Earlier this year when Treble interviewed Blackalicious, Gift of Gab stated that "the song is about people who aren't taught to cultivate their spirit." That's certainly not the case for this NorCal duo. Right on!—Chris Pacifico
39. "Do You Want To"
by Franz Ferdinand
from You Could Have It So Much Better
On "Do You Want To," the first single from Franz Ferdinand's second album, You Could Have it so Much Better, frontman Alex Kapranos asks, "Do you want to go / Where I've never let you before?" The only correct answer to this question is "Yes, please." "Do You Want To," lays waste to any claims to minimalism that the boys from Scotland may have held on their debut. Beginning with the same false start of their breakthrough single, "Take Me Out," "Do You Want To" lays the guitars on thick and keeps the bassline danceable, creating one of the catchiest songs to be released in 2005. "Do You Want To" lodges itself in your brain and stays there, which, in the end, is nowhere near a bad thing and proves that, with Franz Ferdinand at your side, you could, indeed, have it better. — Molly B. Eichel
38. "The Two Sides of Monsieur Valentine"
by Spoon
from Gimme Fiction
When this comes up on my shuffle, the opening guitar chords always make me think the Drive-By Truckers have come up. But that's beside the point, and a few seconds in the song turns into another perfect Britt Daniel example of how much one instrument can speak if given the chance. Each bit of instrumentation feels entirely vital to the song; nothing seems extraneous. Every viola accent or cello swell lifts the basic rock `n' roll arrangement—drums, guitar, bass, and piano—into a piece that feels as if it were birthed in its entirety. Spoon doesn't write great songs, they simply articulate the jittery bounce present in indie-rock's collective consciousness. – Nate Hayden
37. "Black"
by Okkervil River
from Black Sheep Boy
"Black" sounds innocent enough at first—a bouncy rhythm, a catchy Rhodes melody, a simple bassline. But it doesn't stay that way for long. Soon, what was once a happy, Elephant 6-like tune turns into a dark and gritty narrative of childhood sexual abuse told from an angry and bloodthirsty observer, possibly a boyfriend, or maybe even a mother. Will Sheff's voice gradually ascends from upbeat and reserved to vicious and hysterical, shouting wonderfully cathartic verses like "I told you twice before, you should wreck his life the way that he wrecked yours." It's dark and captivating, sad and uncomfortable, but it's a hell of a song and a great release for your own unhinged screams. Sheff sings for Cynda Moore, whoever she is, but it's no less gripping blasting from your own stereo. Now, everybody, try and keep up: "If I could tear his throat, spill his blood between my jaws…" — Jeff Terich
36. "Did You See The Words"
by Animal Collective
from Feels
"Did You See the Words?" is one of those songs I find hard to articulate. It's gorgeous, its bubbly, it's giddy, it's folky, it's arty, it's a song that one can describe as effervescent without feeling guilty afterward. The clippity-clopping gallop that runs from end to end makes it feel as if there is truly something living in the messy mess of Avey Tare's surreal lines. The only thing I can liken it to is wiping the sleep from your eyes in the morning only to learn you've woken up into another dream. It's a whimsical dream, though, like being led by the arm on a whirlwind tour of the Wonka factory. From each confectionary peculiarity to the next, there's an ever-present childlike glee like running through a field full of rabbits or spinning and spinning until you're too dizzy to stand. And by the end, you rub the sleep from your eyes and wonder what exactly it was you dreamt about. Whatever it was, it must have been great. — Hubert Vigilla
35. "Krafty"
by New Order
from Waiting For the Siren's Call
From the opening Kraftwerk-like beat to Barney's instantly recognizable midrange croon to the soaring, anthemic chorus, the first single from New Order's Waiting For the Siren's Call is everything you expect, wish for and demand from a New Order song. All the right elements are in place, and with a newfound joyful perspective in Sumner's lyrics ("Out there the world is a beautiful place…this is where I wanna be") amidst a theme of following your muse, even in bleak circumstances. New Order have done just that, solidifying their long-term vitality and staying true to themselves, long after the ecstasy high of the '80s has worn off. – Jeff Terich
34. "Thirteen"
by Elliott Smith
from Thumbsucker OST
And now, after two years have passed, it still hurts. Hearing that there were still some Elliott Smith songs floating around in the æther gave me some hope, but upon learning that one was a cover of Big Star's tender ode to teenage love, awkwardness and rebellion, "Thirteen" made me sad all over again. Just as Smith made the Beatles' "Because" putty in his hands, so too did he with Alex Chilton and Chris Bell's song. The song has always been a spectacular one, even making an early edition of Treble's Best Song Ever feature as we listed our Best of the '70s, but somehow Smith manages to make everything seem MORE tender, MORE touching, and simply MORE. I rarely buy an album for one song, but did so in purchasing the Thumbsucker soundtrack for this and two other Smith songs. It was worth it. – Terrance Terich
33. "Marching Bands of Manhattan"
by Death Cab for Cutie
from Plans
The opening track of Death Cab for Cutie's fifth album, Plans, is an album within a song. It begins with an ethereal and suspenseful beginning and cascades into an intense and climactic close, paradoxically sounding like both an introduction and a conclusion. And within this contradiction, there is the lyrically contradictive theme of sadness and sweetness, as Ben Gibbard sings "Sorrow drips through your heart/through a pinhole/just like a faucet that leaks/and there is comfort in the sound." "Marching Bands of Manhattan" shows what a humble indie band can do on a major label budget, and just the slightest polish makes this heart-wrenching anthem one of the band's finest to date. And that's saying a lot. — Jeff Terich
32. "Ibi Dreams of Pavement"
by Broken Social Scene
from Broken Social Scene
On the super-powered super group's self-titled album, the transition from the opening track to "Ibi Dreams of Pavement" is like having your car transform into a rocket ship during a pleasant drive. There's that strange rumble below you, a countdown commences, and soon your car-turned-spacecraft takes off from the freeway in a triumphant, raucous swell of sound and surreal lyrics. Below, the entire world looks like it does from God's eyes and you can even catch yourself mouthing, "I can almost see my house from here." Yes, it's that exhilarating, from its triumphant horns and spacey streaks to its impassioned vocals partially hidden under the torrent of gorgeous noise. The ascension continues as the song builds itself to its wordless, towering conclusion. You can see the curvature of the earth, the bright beam of glorious light from the Arts and Crafts building, the stars, which are five pointed and bright colored just like kids draw them, seem so close that you want to just roll down your windows and touch them. As the song climaxes, there's a feeling rushing through your body like you're swimming in menthol and then suddenly the stars explode and dwindle into the ink of space. — Hubert Vigilla
31. "Over and Over Again (Lost and Found)"
by Clap Your Hands Say Yeah
from Clap Your Hands Say Yeah
Everything I want to call this song—precarious, spastic, whirling—somehow gives the wrong impression. It's certainly all of these, but at the same time far too delicate for any one of them to really nail it. The track sounds as if it may fall apart at any time, but not in an all-hell-breaks-loose-aural-chaos sort of way. Rather, the song careens through its own headspace as if it were a top on the brink of losing momentum. Each line vocalist Alec Ounsworth warbles gives the impression that he's made it to the mic just in time and is equally eager to back off again. When Clap Your Hands finally collapse on their own toy piano, it's as if they've pleasantly lost their battle with a bout of the spins and hit the pillow hard. — Nate Hayden
30. "Fake Palindromes"
by Andrew Bird
from Andrew Bird and the Mysterious Production of Eggs
I don't like the beginning of this song. Some kind of stringed instrument is making some sliding, high-pitched sounds, and the noise sounds whiny and pretentious. Upon listening to this song all the way through, I actually hated it at first. It just wasn't the style of song that I usually like—soft lyrics sung from an even softer voice, with lots of fingerpicked acoustic guitar and violin, despite its louder, rocking intro. And yet I found later that day that I kept humming the melody of this song, as it played over and over in my head. After ignoring it the best I could, I gave up, and listened to it again. This song has since grown to my liking, and I've been feeding the craving ever since. — Ayn Averett
29. "Mr. November"
by The National
from Alligator
Matt Berninger sounds desperate. He sounds regretful. He sounds like he's singing the last song he'll ever sing, and damn if it ain't one incredible tune. Sung from the perspective of a mysterious character, Berninger sings "I wish that I believed in fate/I wish I didn't sleep so late" in reserved detachment one moment, "I used to be carried in the arms of cheerleaders" with longing the next, climaxing in the delirious and frantic plea of "I won't fuck us over/I'm Mr. November." "Mr. November" builds and builds into a tightly wound coil of tension and anxiety. Once you're done listening, you're going to need a breather, maybe a glass of water, and most likely a hug. — Jeff Terich
28. "Glosoli"
by Sigur Ros
from Takk…
It begins with a low bass and adds subtle crackles and a quiet march before Jon Birgisson's voice floats around like a ghost hovering over the serenity. Of course, in true `Hopelandic' fashion, at about four and half minutes in, the march becomes an all out explosion, unleashing the unbridled ecstasy of the song, making the heart flutter and the knees weak. Hearing it live did exactly this. It made me swoon to the point where I felt like I had to sit down. It's not often that music can create such an emotional response, almost bringing tears to the eyes, but this is the magic of Sigur Rós. – Terrance Terich
27. "These Are the Fables"
by The New Pornographers
from Twin Cinema
I got this song stuck in my girlfriend's head before she'd heard it. Neko Case's always-gorgeous vocals, dreamy and effortless, take the lead on this one, guiding a guitar and piano accompaniment along until slamming headlong into a wall of group vocals in the chorus. The song drifts back into ballad territory, only to crash into the same backing choir and pop out an entirely different song on the other side. An arena-rock-beat and staccato-piano coda casts Case's voice as jubilant and light-as-air amidst the Pornographers' more upbeat, power-pop tendencies. Case, and the band as a whole, handle both pieces of the song masterfully and end up with one of the best amongst a long list of gems in the New Pornographer's catalogue. – Nate Hayden
26. "Loneliness"
by Ed Harcourt
from Strangers
Every album he puts out, Ed Harcourt has me singing along for hours on end, the same song over and over again on repeat. He had me singing about the apple of his eye; he had me crooning about singing birds and the sun coming up and blessed days; and now on Strangers he has me singing about good old "Loneliness," that cold and familiar friend who's always around when no one else is. Over a piano like a rain shower falling on shiny day, Harcourt provides various portraits of the eponymous subject; the physical manifestations of solitude followed by the effects of said solitude. Closing the catchy, bittersweet blast, Harcourt trudges up a few angst-ridden, impassioned banshee wails as if calling out for a reprieve. And as I sit here writing this in an empty room, no one to call, no one to go out with, and unrequited fancy weighing heavily upon me, Ed Harcourt has me singing along again like we're two lone drunks in a desolate bar. A song we both know, "Loneliness," has just popped on the juke and we're belting it out together because, as only the lonely know, you're never alone when you're singing with someone. – Hubert Vigilla
25. "Tribulations"
by LCD Soundsystem
from LCD Soundsystem
The perfect disco song doesn't have to mean anything. James Murphy's are mostly about the nerdy types that listen to his records, but not this one. "Tribulations," the fourth (!) single from LCD Soundsystem's debut record is simple and gossamer, reminiscent of classic New Order singles, with just enough of a modern twist to sound fresh. The song could be about something—waiting, other people's burdens, personal failures—but you don't really think about it when you're dancing, which is what you should really be doing when you hear this song. — Jeff Terich
24. "We Both Go Down Together"
by The Decemberists
from Picaresque
Elsewhere amongst this site's year-end hubbub, you can find my ravings about The Decemberists and their ability to literally sound like literature, and at times like specific authors or eras. Here, they tackle Hardy's struggles with class and love in 19th century England. And while that may sound dull and term-paperish, crammed into a three-minute pop song alongside swooning strings and an airy grandeur, it's one of the best pieces of music and of storytelling I've heard in recent memory. The Decemberists' penchant for gettin' all book-smart on us stems from Colin Meloy's own literary chops. None of this would work if he weren't able to write up to par with the masters he emulates, granted on a much smaller scale. But within the relatively abbreviated form he's chosen, Meloy tells a novel's worth of story. We're in no way slighted, the story in no way left unresolved, by this tale of love-across-class-lines and tragic destiny being told in a few short verses. Hugely charged lines like "I laid you down in the grass of the clearing, you wept but your soul was willing" pack more narrative, both active and emotional, than most acts can eke out over an entire record. – Nate Hayden
23. "Anytime"
by My Morning Jacket
from Z
In 2003, My Morning Jacket released It Still Moves to some accolades with their Neil Young-meets-Brian Wilson resonance. But this year with Z, MMJ have made their mark as one of the year's most innovative bands, going above and beyond to establish themselves with plenty of staying power. With the track "Anytime," things get started with some sticky keyboard licks that culminate into a powerhouse guitar grind straight out of classic rock radio but still sounding new and fresh, as the harmonies intertwine with Jim James' signature melting "aahhs." – Chris Pacifico
22. "Modern World"
by Wolf Parade
from Apologies to the Queen Mary
I count at least three songs on Wolf Parade's debut that mention ghosts in the lyrics. And yet, "Modern World" is the one that's most haunted. Dan Boeckner barks like Ichabod Crane with Tourette's in a creaky mansion, the song's spare piano plinking along with falsetto coos like specters shifting alongside a crooked candelabra. With no clearly defined verse or chorus, the song shifts from minor to major key, becoming something like Tom Waits jamming with the Pixies. And the ghosts, we learn, are really just there to have a good time. — Jeff Terich
21. "Formed a Band"
by Art Brut
from Bang Bang Rock & Roll
A Camden in-joke gone right, Eddy Argos and company provided some of the year's most quick-witted dispensable pop. In 2005 they walked a middle ground somewhere between Pulp and the Fall, and rather impeccably. "Formed a Band" expressed the intent to write a song "as universal as happy birthday" to "make Israel and Palestine get along." The result was a composition about writing novelty pop songs, which managed to sound like the start of something monumental. Dye your hair black, never look back. – Thomas Lee
20. "The Predatory Wasp of the Palisades Is Out To Get Us!
by Sufjan Stevens
from Illinois
There is more to this song than just a kick ass title; on this sublime track, Sufjan Stevens has outdone himself with musical craftsmanship. The song begins with a gorgeous verse melody, our narrator freezing while hiding in bed scribbling in cursive. A wasp on the wall evokes both a memory, and a lyrical wind and horn transition. This light and airy rhythmic introduction stirs up genuine emotion in me (something difficult to do). We're led into a memory of swimming, wasp stings, and childhood innocence. Then, in typical Sufjan Stevens fashion, the song explodes with cymbal crashes, a veritable plethora of chorus singers, overlapping melodies, and a poignant catharsis. Rarely has a songwriter so perfectly captured a turning point in someone's life with such spot-on music or lyrics. Yet, all of this musical chaos comes to a halt with the words:
"I can't explain the state that I'm in
The state of my heart, he was my best friend"
Slowly, one after the other, the lush instrumentation and chorus of voices return for closure on a tale that stings with the loss of childhood friends and imagination. — Becca Johnson
19. "Banquet"
by Bloc Party
from Silent Alarm
Bloc Party's steamy single sports one of the catchiest, head nodding, foot tapping hooks of all time. This ode to the joys of sex thumps out a rhythmic beat that won't let you stand still. And if you're not turned on by Kele Okereke's already scrumptious vocals, his repeating crescendo shouts of "I'm on fire" should be enough to make you sweat. "Banquet" demands that you have nothing less than unadulterated rump-shaking fun for three and a half minutes of your life. And in this life, we should all be grateful for a blissful musical three and a half minutes. — Becca Johnson
18. "For Real"
by Okkervil River
from Black Sheep Boy
The first `original' song on Black Sheep Boy, following the cover of the Tim Hardin song on which the album is based, is one of the album's best. Dark, brooding and somewhat suicidal, "For Real" is exemplary of the introspective work that is within Black Sheep Boy. Is this song folk? Rock? Alt-country? Who cares? It has a depth and energy that captivate the listener as he rolls on and on through his `short drive' until he screams "You can't hide" at the close of the song. To great effect, Will Sheff repeats the words `real' and `really' creating a dark and chilling poem set to dramatic music. "Then I really miss what really did exist when I held your throat so tight" is one of the creepiest, yet vulnerable lyrics I've heard. — Terrance Terich
17. "Mushaboom"
by Feist
from Let It Die
I don't know what kind of music "Mushaboom" is. Jazz? Folk? Adult contemporary? You've stumped me on this one, Leslie, but damned if it isn't a wonderful tune. And it sure as hell sounds nothing like Broken Social Scene. Happy-go-lucky, carefree, and, a bit curiously, similar in lyrical theme to "Livin' On a Prayer" (check the lyric sheet: "I got a man to stick it out…"), it's a musical miracle. I'll probably never get this thing out of my head. — Jeff Terich
16. "Jumpers"
by Sleater-Kinney
from The Woods
Sleater-Kinney have always had raw power surging throughout their veins, pouring out of their bodies to create mind blowing lyrics, and heavily rocking beats. Further powered by the intense voices of Carrie Brownstein and Corin Tucker, the standout song "Jumpers" is a testament to that high-powered superhero-like strength. Ms. Brownstein's intense vocal is a gateway of pathos in this song, singing about suicide, sounding oddly empowered and not scared. The beginning starts with a great, atypically subdued guitar riff, that falls into the melody of the song. "Jumpers" never gets boring. And its short pauses, and even shorter drum fills, will keep you listening to it over and over again. — Ayn Averett
15. "The Bones of an Idol"
by The New Pornographers
from Twin Cinema
When I first heard the New Pornographers' third album, Twin Cinema, I was quite distraught. Neko Case wasn't given any of the barnstormers, like Mass Romantic's "Letter from an Occupant" or Electric Version's "Miss Teen Wordpower." But after several listens to Twin Cinema, it becomes increasingly difficult to stay mad at the Pornographers. Despite the slower pace of "The Bones of an Idol," it is anything but boring. "The Bones of an Idol" gives Twin Cinema a certain amount of substance missing on the Pornographers' pop-filled previous efforts. Shoegazer worthy guitars build up to the song's end where "Ooohs" and "Aaahs" give "The Bones of an Idol" an ethereal feel, making you forget that Case even sung the rabble rousers of previous records in the first place. – Molly B. Eichel
14. "Poison Oak"
by Bright Eyes
from I'm Wide Awake It's Morning
The first song that really gave me a shot to the gut and a tug on the heartstrings from the stunning I'm Wide Awake It's Morning was its second to last track, "Poison Oak." Rumored to be about Conor Oberst's cousin Colin, who committed suicide in 2001, the song resonates with personal anguish and eventual hope. Conor references a `yellow bird' that could be from fellow Midwesterner Truman Capote and his true crime novel In Cold Blood, where one of the two men on trial dreams of a giant yellow bird that lifts him to salvation. Transvestitism, heroin use and eventual death all play a part in the lyrics, but it is Oberst's vocal performance that takes center stage and sells this song. There is a breakdown just under the surface here, waiting to happen, causing the singer / songwriter to sometimes stop the live performance of this song due to overwhelming emotion or lack thereof. This is the type of song for which I am an absolute sucker. From spare acoustic at the onset to full-on exploded build up with Mike Mogis' gorgeous pedal steel, "Poison Oak" is an emotional rollercoaster, but one you don't want to exit. It is songs like these that earn Oberst the Dylan comparisons, which is staggering considering how much music he has left in him. — Terrance Terich
13. "Dear Sons and Daughters of Hungry Ghosts"
by Wolf Parade
from Apologies to the Queen Mary
"I was safe using God's hands, but God doesn't always have the best goddamn plans…"
In my opinion, that was one of the best lines of the year—it reached out and grabbed me by the seat of my pants the way a good line should. While it may or may not have been in their plans, Wolf Parade definitely delivered one of the best damn songs of the year with "Dear Sons and Daughters of Hungry Ghosts." The band's 2005 Sub Pop debut Apologies To The Queen Mary generated more than its fair share of buzz, and much like their Canuck pals the Arcade Fire did last year, Wolf Parade managed to live up to the hype. "Dear Sons and Daughters" was written by Spencer Krug, one half of Wolf Parade's unique songwriting pair, and its keyboard-based melody is exemplary of Krug's style, being very different from his counterpart Dan Boeckner's guitarist tendencies, which at times are very reminiscent of Bruce Springsteen.
The Issac Brock/Modest Mouse influence can definitely be heard in this song (listen for Krug's best Brock impression as he wails "la la la la la la" in the breakdown); however, the song manages to be one of the best examples of Wolf Parade's very original sound, a sound that is fiercely unique, refreshingly creative and one that I hope to hear more of in the coming years. — Christian Conlon
12. "Blue Light"
by Bloc Party
from Silent Alarm
Giving us a reprieve from the Gang of Four-like angular jams, "Blue Light" was one of the standout tracks on Silent Alarm. One of the few ballads on the record, "Blue Light" does rock out in the bridge, but returns to its tame beginnings by the end. I'm not quite sure what it means when they sing in overlapping lines, "You are the bluest light," but I do recognize and feel the resignation with the lines, "If that's the way it is, then that's the way it is." The song doesn't overpower with shouting, nor with loud guitars, instead it is a beautiful digression in an album filled with quality post-punk, like a flower in the middle of an oil field. — Terrance Terich
11. "I Turn My Camera On"
by Spoon
from Gimme Fiction
When I hear "I Turn My Camera On" with its thudding groove and falsetto vocals, its simple and oh so catchy bassline, it combines two incongruous idioms in my head. On one hand, there's the idea of intermediaries and detachment. The further you get from the original form of something, the more diluted said form becomes. Think back to that undergrad allegory of the cave and the shadows on the wall. In the case of painful emotions, which is what the song's about, a little detachment is natural. On the other hand, I can't help but conjure the image of The Bee Gees feeling melancholy, dressed in gaudy black jumpsuits with their bright white smiles replaced by painful grimaces. With their crossed arms, the Brothers Gibb no longer look so carefree. So nodding their heads to Britt Daniel's slinky yet sinister ditty, The Bee Gees go over grievances, living through the photographs of painful moments rather than the moments themselves; looking though the world through distanced lenses. But even then, it don't stop them dancing. – Hubert Vigilla
10. "Shine a Light"
by Wolf Parade
from Apologies to the Queen Mary
There seems no better song this year than "Shine a Light" to epitomize the listlessness and uncertainty we go through every day. There's always that possibility that despite all of your best efforts, the hard work, the days in the office tower, you may or may not be coming out on top. In fact, the song points toward the inevitability of failure. It's an anthem of disappointment tethered to the fatalistic chorus barked by Dan Boeckner: "You know our hearts beat time out very slowly / You know our hearts beat time / They're waiting for something that'll never arrive." But even with its downtrodden subject matter, there's a whimsy in that bounding verse, the quirky synth, the rhythm section racing like an irregular heartbeat; in Boeckner's voice; a brightness even in that pessimistic chorus with its haunting backing vocals. And maybe that's what this song presents us with: a chance to examine our deadbeat dreams and do something about it rather than just play a waiting game. Our blood is alive, it beats through these veins, and we haven't burnt out yet so let's shine, shine, shine so we can be content to be quiet. – Hubert Vigilla
9. "7/4 (Shoreline)"
by Broken Social Scene
from Broken Social Scene
Broken Social Scene's previous LP, You Forgot it in People, differentiated each multi-layered guitar line and random bit of instrumentation from BSS's expansive soundscape with a crispness of production that demanded a relevancy to the song. This time out, on the band's third and self-titled album, they allow every guitar, horn, whispered vocal, Theremin, etc. to coalesce into a beautiful, impressionist mess: edges unsanded, layers painted over layers, intricate and engrossing up close, and stunning from a few steps back. "7/4 (shoreline)" serves as a perfect bridge between the two Scenes. The song starts out all crisp acoustic guitars and vocals lapping over the verse like waves. But slowly and steadily, the layers fall on top of one another as the song pulls you out into its swirling, cacophonous sea of a climax. BSS has long held their everything-and-the-kitchen-sink approach as their signature, but by the end of this tune, they've left the kitchen sink to run in the background, creating a sort of pop+white-noise haze. If there's anything on Broken Social Scene that sums up the breadth of the project in one take, this would be it. – Nate Hayden
8. "Feel Good, Inc."
by Gorillaz
from Demon Days
Although they followed the cliché, Apple got this song right on the money when they placed it over rollerskating iPod wearers in their ads. "Feel Good, Inc." is the rollerskating jam of the year, acting as the warning shot for the return of the animated supergroup Gorillaz. Damon Albarn (oh, sorry, 2D), new DJ Danger Mouse and guests De La Soul combined to make one of the catchiest dance numbers on wax. Seeing and hearing people from completely different walks of life intonating both "Windmill, windmill for the land," and "Watch me as I navigate, ahahahahaaa" was inspiring. — Terrance Terich
7. "Price of Gas"
by Bloc Party
from Silent Alarm
First come the trickles of delay-treated guitar, then the marching military beat, and then, as if shot from a rifle, comes the riff: ascending and descending, like a creeping menace, a fine match to the song's overall sinister feel. Kele Okereke's delivery works as a conversation, pleading "I never hurt anyone" one moment, and spitting back "is that a fact" the next. "Price of Gas" draws no conclusions or points any fingers, but Bloc Party knows what you did and you do too. Shame on you. Now go to your room and listen to this over and over again. — Jeff Terich
6. "Apply Some Pressure"
by Maximo Park
from A Certain Trigger
Now I don't necessarily believe in providence or an interventionist god, but occasionally something comes along just when you need it, helping you put things into perspective and hence scooting you out of the meddlesome mire of human drama. Case in point: "Apply Some Pressure" by Maximo Park seemed to remain on repeat a little after I got dumped on my ass for being a neurotic jerk. The jagged guitar and drive of the drums were just what I needed when my self-loathing and clouded head were getting in the way of getting on with my life. My head bopped and toes tapped even though my spirits were sitting around my ankles and untying my shoes. But there was also frontman Paul Smith, his lyrics so playful and straightforward yet somehow profound. At my lowest, there Smith was with a nugget so simple: "What happens when you lose everything? / You just start again / You start all over again." Thanks guys. You're right, you've got to get up and start all over again. Maximo Park helped me realize that, to riff off Albert Camus, even in the winter there is within me an invincible summer. I owe each one of you fellows a Newcastle. – Hubert Vigilla
5. "Sing Me Spanish Techno"
by New Pornographers
from Twin Cinema
At midnight on a warm fall evening, on a Monday-come-Tuesday morning, an employee at the Sonic Boom record store in Ballard, WA announced the New Pornographers as the best pop band in the world. The Neko-less Pornographers proceeded to rock a packed house during what was without a doubt the best in-store record release performance I've ever been to, and if I'm not mistaken, the biggest turn out for a live in-store that Sonic Boom has ever had. Shortly after midnight I purchased Twin Cinema, the New Pornographers' third album, and despite the fact that I had to be at work at 7 the next morning, I proceeded to listen to the record three times straight through. The vast expansion beyond the band's first two efforts, combined with a flawless set of songs, made me realize that the statement that the New Pornographers were the best band in the world had more than a little truth to it.
The next day I was dog-tired, and I did feel punished for listening too long to one album, an album full of good songs where one gem stood out in particular, and that was "Sing Me Spanish Techno." Structurally, this song captures the genius of Twin Cinema perfectly; it has the bombast of the band's first album Mass Romantic, with the creative melodies and songwriting maturity of their second, Electric Version. I believe that like most good songs, "Sing Me Spanish Techno" is open for a wide variety of lyrical interpretations, but to me, it is really about the ability good music has to transfix its listener. Every self respecting music geek has stayed up WAY to late listening to a new album, or has gone to a show they HAD to go to the night before they had to work early the next day. "…the hour glass spills its sand if only to punish you, for listening too long to one song, listening too long to one song, sing me spanish techno…"
— Christian Conlon
4. "16 Military Wives"
by The Decemberists
from Picaresque
Hey kids, math can be fun! How's that, you say? Well, if we've learned anything from Colin Meloy, it's not only that imagination and wit are king, but that they keep royal company with arithmetically correct metric verse. "16 Military Wives," the first single from The Decemberists' third album, counts off the wives, their soldier husbands, cannibal kings, celebrity mimes and academy chairs, all to the tune of a soulful, triumphant and irresistibly catchy pop melody. Of course, like its hip-hop predecessor (I'm totally serious), Mos Def's "Mathematics," this tune is actually some biting social commentary, dressed up with poetic license. But the difference between the Decemberists and many of their socially conscious peers is that when they have you singing along to a line as cynical as "America does if America says it's so," you're doing it with a smile. — Jeff Terich
3. "Your Ex-Lover is Dead"
by Stars
from Set Yourself on Fire
When there's nothing left to burn, you have to set yourself on fire.
This is the quote that starts both the album named within and its first song, "Your Ex-Lover is Dead" from Montreal band Stars, as intoned by singer Torquil Campbell's father in his `God voice.' What follows is one of the best takes on failed love ever written and recorded. Not as biting as Lush's "Ciao!" nor as sappy as most other songs, "Dead" tells it like it is, the man feels awkward and can't remember her name, the woman dismisses him with a thought and feels no regret. And yet, through all of that, the voices of Campbell and Amy Milian are beautiful and have a depth which belies the lyrics. They sing together at the end some of the most direct and achingly truthful lyrics in the pantheon, which go from touching to painful within seconds, with "I'm not sorry I met you, I'm not sorry it's over, I'm not sorry there's nothing to save." – Terrance Terich
2."Chicago"
by Sufjan Stevens
from Illinois
"Chicago" was the one song Sufjan Stevens had finished when he made a tour stop in Seattle while supporting his Michigan album. The song had less of a polished `all-band' feel, but was unmistakable with its chorus of "All things go." My brother was surprised when he realized that a year later I had recognized and remembered the song from the show. This is the power of Sufjan Stevens. Songs have simple enough hooks to stick in the memory, yet are intricately orchestrated, layered and arranged. It's no mistake that Stevens takes three places out of our top 40 songs of the year, nor that two are the top two. I know that his albums and songs will continue to amaze and impress me years down the line. I still feel as if I should demand a recount on the albums total, except that I did the counting. Maybe when Stevens does his album on Ohio the truth will come out. Back to "Chicago," Stevens is at his lyrical best with lines like, "If I was crying / in the van with my friend / it was for freedom from myself and from the land / I made a lot of mistakes." One of the songs out of many on Illinois that makes you want to cry and dance and cheer all at the same time. — Terrance Terich
1."John Wayne Gacy, Jr."
by Sufjan Stevens
from Illinois
In Seattle this year, Sufjan Stevens played in a dinner theater called the Triple Door. The crowd ate and drank as the bands played, making the room sound like the café Sin-É in Jeff Buckley's debut EP. Yet, as Stevens began to play "John Wayne Gacy, Jr.," one of the most talked about songs on Illinois, the crowd was, appropriately enough, deathly quiet. "Gacy" has a power that can almost not be described. Its subject matter is creepy, yet Stevens can find beauty in the ugliest of themes. The idea of a song about a serial killer is odd enough, but the fact that the song makes its subject human, vulnerable and sympathetic is phenomenal. But that's not to say that Stevens ignores the other side, the agony and pain of his victims. When he sings, "Thirty-seven people, even more / They were boys, with their cars / summer jobs, oh my God," it brings tears to the eyes. Stevens brings a humanity to the entire story, one not often found as in cases like these, people tend to want to distance themselves so as to avoid the pain and suffering. Instead, Sufjan dives right into the thick of it all, getting the story accurate, which is important, but also bringing it to a personal level, internalizing it, and then sharing it with us as he sings, "And in my best behavior / I am really just like him / Look beneath the floorboards / For the secrets I have hid." For me, this is the most moving and touching song ever written, and definitely the best of the year. — Terrance Terich