Björk is one of only a few artists who doesn't just release albums, but fully encompassing sensory experiences. From the beginning of her solo career with Debut, the shape-shifting Icelandic artist offered a kind of broad-based art that extended beyond music, reinventing herself following the dissolution of The Sugarcubes with eccentric electronic sounds and a nightmare fairytale video in which she's stalked by a giant teddy bear. Since then, her ambition has only expanded and her boundaries seemingly disappeared. Her live performances are legendary works of melodic performance art, her Vespertine tour incorporating curious touches like live percussion created from stomping on snow, to the dynamic visuals of flag-waving dancers in her performances following 2007's Volta. Add to that her contributions to Matthew Barney's "Drawing Restraint" series. But seventh album Biophilia is another leap forward in Björk's artistic evolution, technologically and conceptually.
Released as both a 10-track album and an interactive "app album," Biophilia is designed to comprise a multi-dimensional experience for the listener/user, based around the idea to "define humanity's relationship with sound and the universe." The bundle of apps released in conjunction with the album features one app to correspond with each song, each of which contains a game, animation, animated score, lyrics and essay about the song. And the act of physical innovation and invention spills over into the composition of the album as well, with Björk commissioning the construction of such odd instruments as the gameleste (a celeste fitted with metal gamelan parts) and musical Tesla coils. And should one care to learn more about the process, there will be a series of musical workshops held for educational purposes.
All of this is fascinating, and definitely intriguing on a highbrow, conceptual art level, but first and foremost, Björk is a musical artist, and without an impressive musical statement to match, all of Biophilia's conceptual minutiae wouldn't really matter. Yet for as arty and abstract as Björk can sometimes be, she's never anything less than captivating musically, and Biophilia fully succeeds on its own merits, no interactive iPad journey necessary. In fact, it might actually be better to allow the music to sink in first, its delicate, often spare arrangements requiring a bit more careful attention than a complementary video game might allow.
Where predecessor Volta was a much more aggressive and explosive statement, Biophilia is more spacious and intricate. It is, by all accounts, one of her most elegant creations, yet sometimes in a most contradictory manner. First single "Crystalline" is one of the album's few songs to contain a relatively conventional verse-chorus-verse structure, but its sonic components are anything but typical, its gameleste twinkle laying a delicately sparse melody under which distorted, squelching electronic drums break through. And in somewhat similar fashion, "Mutual Core" opens with spare organ tones and Björk's narration, "I shuffle around/ tectonic plates." But those plates ultimately open up, letting out a molten lava core of electronic beats and static.
In spite of these few moments of incendiary climaxes, Biophilia is, on the whole, a much more atmospheric and intricate affair, its beauty often arising from the barest of arrangements. It's rare for a Björk album to begin with a track as simple and ambient as "Moon," but here it offers a sublime gateway to Biophilia's delicate graces via multi-tracked vocals and harp. There's an eerie quality to "Thunderbolt" that's compounded through its mighty pulses emitted via the aforementioned Tesla coils. "Cosmogony" bears an entirely different kind of spookiness, this time delivered via the shifting, sometimes dissonant harmonies of an Icelandic choir. And "Virus," which plinks and rattles like a music box, contains one of the purest, most hypnotic melodies on the album, marking yet another moment in Björk's career in which a track is likely to seduce the listener into placing it on an endless loop.
Given the elaborate presentation designed around Biophilia, it is to a certain extent intended to be experienced on numerous levels – aurally, visually and interactively. Still, the pure, stark musical statement at the heart of it is such a compelling work of art on its own, as to render any additional applications unnecessary. Björk has yet again offered an entirely new and compelling aspect of her artistic persona on Biophilia, and no matter how one chooses to experience it, it provides another uniquely breathtaking musical journey.
---
Label: Nonesuch
Year: 2011
Buy this album at Turntable Lab
---
Similar Albums: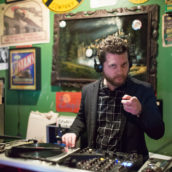 Jeff Terich
Jeff Terich is the founder and editor of Treble. He's been writing about music for 20 years and has been published at American Songwriter, Bandcamp Daily, Reverb, Spin, Stereogum, uDiscoverMusic, VinylMePlease and some others that he's forgetting right now. He's still not tired of it.