Black Belt Eagle Scout : The Land, The Water, The Sky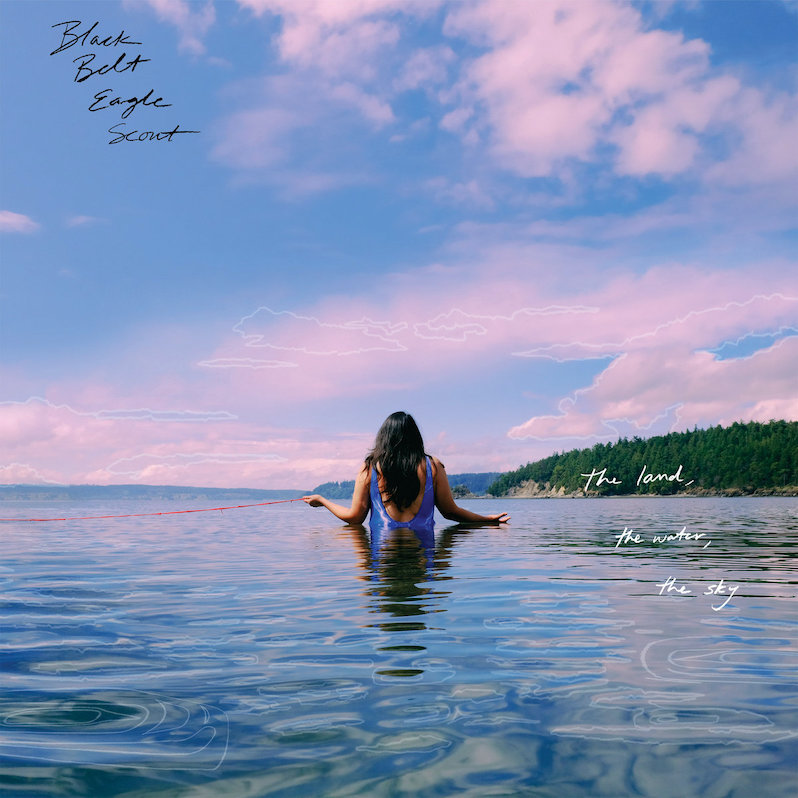 The opening tracks on previous Black Belt Eagle Scout albums have been wonderfully outsized epics. Within seconds of "My Blood Runs Through This Land," the opening of her third record, The Land, The Water, The Sky, Katherine Paul cements that trend in bombastic style. The lead single is an absolutely stunning, goose-bump-inducing affirmation of belonging (not even to mention a triumphant achievement of progressive post-rock). The ensuing record fittingly evokes an immense and poignant journey.
Her second album, At the Party with My Brown Friends, was a joyful and intimate project dedicated to friendship. There is joy here as well, but on a much grander scale. The Land, The Water, The Sky is about indigeneity, returning to ancestral land and finding hope in that deep relationship. Katherine Paul returned to her home to write and record it, marking a chapter of deep reflection on the nature of belonging and ancestral history.
As her thematic scope widens the resulting soundscape sharpens and expands. The songwriting palate that Paul draws on is her most tightly focused to date, but the result also blooms into a more emotively expansive sound than we've heard before. There is breathing room within each song for her ideas to stretch out. Each riff seems to evolve organically, taking shape over time through elongated solo lines and subtly shifting verses.
For two albums Black Belt Eagle Scout was an entirely solo project written, performed and produced by Katherine Paul. On her third record, she is still the singular mind behind the project, but she was joined in the studio by her longtime live band bassist Grace Bugbee, as well as an array of guest musicians. "Salmon Stinta" features Phil Elverum of Mount Eerie and The Microphones on a brief but characteristically devastating guest vocal line, and a trio of strings swell beautifully underneath Paul's guitar on "Blue."
Her journey home to the Coast Salish Territory is mirrored by a return to Nicholas Wilbur's Anacortes Unknown studio that helped shape her debut album. Perhaps it's some combination of additional and returning personnel and a familiar studio that helped her recapture much of the quietly epic feeling from her debut as on "I Don't Have You In My Life" and "Sam, A Dream." Above and beyond the circumstances of the record, Paul has tapped into the deepest connection between her music and her history, and the resulting project is her best yet.
---
Label: Saddle Creek
Year: 2023
---
Similar Albums: