Built To Spill : You in Reverse
1965 – A rabid English fan starts a graffiti craze by spraypainting "Clapton is God" on a wall during the guitarist's stint in John Mayall's Bluesbreakers.
2003 – A clever young fan sports a homemade t-shirt at All Tomorrow's Parties that reads "Martsch is God."
Since Built To Spill's 1994 classic There's Nothing Wrong With Love, Martsch has been viewed as not only a great songwriter, but a guitar hero as well. Whether sincere or ironic, the description stuck, and for better or for worse, made indie rockers into classic rock fans by default. Martsch's soloing on Love was sloppy but big-hearted, ambitious, yet unpolished, like J. Mascis with a little less noise and more songs about growing up in Idaho. On Perfect from Now On, that sloppiness was transformed into dreamy soundscapes. On Keep It Like a Secret, those dreamy soundscapes returned to quirky riffage. But in any case, Martsch always spoke just as loud with his guitar as he did with his earnest voice, which endeared him to the hearts of many a fan.
Guitar hero though Martsch may be, Built To Spill have never been, nor will they ever be, the pinnacle of wankery. They've always strived for something better than needless noodling. Even the lengthiest of their indulgences (which rarely surpassed 8 and a half minutes save for live performances) combined those epic jams with actual melodies, smart lyrics and no shortage of hooks. In 2001, the band's fifth album Ancient Melodies of the Future sacrificed a lot of the trippy guitarscapes and instrumental exercises in favor of more prominent hooks. And, nice enough as it was, it seemed to be missing something. Even I, a strong advocate of wank-free music, missed the lengthy instrumentals and multi-layered riffs, though they would, of course, be nothing without the fantastic songwriting.
Five years have passed since Future, and since then Martsch released a solo, blues-heavy album and continually teased the sound of the forthcoming BTS full length with suggestions of it being inspired by blues or reggae, two rather unusual directions for the band to go. After much anticipation, five years wearing like an eternity for some, the finished product has arrived and, unsurprisingly, it doesn't really bear many shades of either. Finally owning up to the reputation that has preceded them for so long, Built To Spill offer a genuine guitar rock record in You in Reverse. Martsch, Scott Plouf, Brett Netson, Brett Nelson and Jim Roth took the studio and produced their own album, resulting in a raw, gritty rock album, much less "produced" than Phil Ek's prior works of effervescent sheen.
On Reverse we find the band reunited with whatever it was that took an extended hiatus after Keep it Like a Secret, and its ten songs are absolutely mesmerizing as a result of this invisible quality. For several weeks the band had been teasing "Goin' Against Your Mind" and "Conventional Wisdom" on their MySpace page, and both of these lengthy rockers still manage to stun after countless listens. The former stretches out over more than eight minutes, brief verses interspersed with lofty vapor trails of guitar. Though it's somewhat more straightforward than the band's epics of yore, it never plunges below captivating. "Mind" also contains one of the best lyrics Martsch has ever penned:
"When I was a kid I saw a light
Floating high above the trees one night
Thought it was an alien
Turned out to be just God"
"Conventional Wisdom," meanwhile, sounds more like a single should sound, with echoes of J. Mascis in its super-catchy main riff. Yet, unlike your typical single, it floats off into realms of dreamy instrumentation during the song's last couple minutes. The next catchiest song is "Liar," a lighter gem that surprisingly doesn't delve into the wild instrumentals, focusing instead on a fun, breezy melody seemingly pulled from a twee hero's best-of. The minor key "Traces," meanwhile, spaces out in atmospheric pop that, though limitless in scope, remains one of the shortest songs on the album at 4:42 (that should be some indication as to how huge of an album this is).
Neil Young and Crazy Horse comparisons have been thrown at Built to Spill in the past, one particular connection being their live cover of "Cortez the Killer," but never has it been so easily recognizable as it is now. "Traces" and "Gone" both echo Young's dustier rockers from the mid-`70s, the latter featuring psychedelic organ treatment courtesy of Quasi's Sam Coomes, while "Wherever You Go" not only rocks a waltzing Crazy Horse-like riff sequence, but even echoes Young's older, wiser, angrier attitude toward corporate bullshit: "they call them `markets' instead of towns/they like how it sounds." Though Martsch's lyrics have often been warmer and fuzzier in the past, this newfound role as a more cynical and mature figure has its comforting side as well.
The album closes with "The Wait," a simple, strummy acoustic pop song that best sums up every fan's anticipation: "You wait/you wait…she says darling/patience, patience…it will come." Throughout the song's simple melody, the mesmerizing guitar interplay during the outro and Martsch's comforting, familiar voice, that warm fuzzy feeling returns. This may be a much grittier and, perhaps, even more heroically guitar oriented Built To Spill than before, but they're still conjuring up the kind of magic that won us over when they sang of big dippers and dystopian dream girls.
Similar Albums:
Neil Young – Rust Never Sleeps
Dinosaur Jr. – Bug
Modest Mouse – Good News For People Who Love Bad News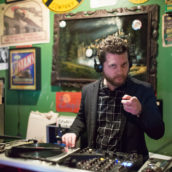 Jeff Terich
Jeff Terich is the founder and editor of Treble. He's been writing about music for 20 years and has been published at American Songwriter, Bandcamp Daily, Reverb, Spin, Stereogum, uDiscoverMusic, VinylMePlease and some others that he's forgetting right now. He's still not tired of it.