Buzzcocks : Another Music In a Different Kitchen (Deluxe reissue)
Approach any Buzzcocks fan with the inevitable question of where a newcomer should dive into the group's discography, and the inevitable answer is their 1979 compilation Singles Going Steady. A perfectly paced and sequenced collection of the group's A-sides and B-sides between 1977 and 1979, it's not only the most flawless collection of the band's work on a single disc, but arguably the greatest single-artist punk singles compilation ever released. And yet, Singles Going Steady only tells part of the story. It's an important part, there's no question about that. But consider that, unlike The Sex Pistols, they put out more than one album. Unlike The Clash, they resumed activity in the 1990s, and they did so without as many lineup changes as The Damned.
Beyond Singles, a leap into the Buzzcocks discography is essentially best done in chronological order, as the group's first three albums, Another Music In a Different Kitchen, Love Bites and A Different Kind of Tension are, undoubtedly, their strongest long players. Having retained their freshness well over 30 years, these three classic Buzzcocks releases have been reissued and expanded by Mute Records, each being released in the United States with a bonus disc, and somewhere in the ballpark of 30 bonus tracks each. This follows a similar recent series of reissues in the U.K. released in 2008, commemorating the 30th anniversary of the group's first two albums, but even if the U.S. releases came a little bit later, they have proven worth the wait.
Another Music In a Different Kitchen, the band's first full-length, is as smart, streamlined and seamless as punk rock debuts go. More upbeat and hyperactive than The Sex Pistols, and much more pop-oriented than arty contemporaries such as Wire, The Buzzcocks mastered early on the art of witty, aggressive two-minute punk-pop bangers. Having been released during a time when singles were often released separately from albums, there are few Singles Going Steady gems to be found on Another Music, save for the chugging standout "Autonomy" and tuneful anthem "I Don't Mind." Yet it's part of that separation that makes Another Music such an essential addition, as each of its 11 tracks is utterly fresh and fantastic, from the fierce riffs in opener "Fast Cars" (and its repetition of the two-note solo from early single "Boredom") to the nervy, motorik grooves of "Fiction Romance," and its intensifying coda. Frontman Pete Shelley's articulate humor abounds, as he throws out hilarious lines like "All this slurping and sucking…it's putting me off my food!" And the group saves their biggest surprise for the end, hammering out a Can-inspired epic in the seven-minute "Moving Away from the Pulsebeat."
Fantastic as the original, 11-track album is, Mute's reissue packs on so many extras that the collection more than doubles the length of the first issue. Long-adored and famous singles "Orgasm Addict," "What Do I Get?" and "What Ever Happened To…?" immediately follow the album, as does a Peel Session with two of the album's tracks and yet another version of "What Do I Get?" Meanwhile, more than half of the second disc is made up of demo versions of 14 of their classic tracks, beginning with Spiral Scratch standout "Boredom." Many of these are actually being released for the first time, including a surprisingly loud vocal take of "You Tear Me Up" and a near-professional sounding "Get On Our Own" that only pales in comparison to the original by mere decimal margins.
Closing out the second disc the furious "Live at the Electric Circus" recording, which is not only intense and loud, but surprisingly crisp in fidelity. It's a blazing way to close out an expansive and exhaustive look at the band's first album and singles that surrounded it. It's a bit mind blowing to think all this was recorded not just in one year, but that it would be accompanied by yet another blistering full-length later that same year! Admittedly, this is a lot of music for one sitting, and only a small part of Mute's insanely extensive reissue collections. But if Another Music In a Different Kitchen is an essential purchase, and believe me, it is, then it's that much more of a treat to have basically everything else the band did in the first half of 1978 in the same package.
Similar Albums:
The Damned – Damned Damned Damned
Stiff Little Fingers – Inflammable Material
Wire – Pink Flag
Download at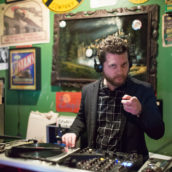 Jeff Terich
Jeff Terich is the founder and editor of Treble. He's been writing about music for 20 years and has been published at American Songwriter, Bandcamp Daily, Reverb, Spin, Stereogum, uDiscoverMusic, VinylMePlease and some others that he's forgetting right now. He's still not tired of it.