Cadence Weapon : Afterparty Babies
Rollie Pemberton has a "Stakes Is High," tattoo on his left arm. That the Canadian rapper, a.k.a. Cadence Weapon, would choose a classic De La Soul album as source material for his ink is pretty telling. Much like Trugoy, Posdnuos and Pasemaster Mase, Pemberton has a particular knack with a surreal, heady, but ultimately fun style of hip-hop, dropping good-time nerdy rhymes that simultaneously hark back to an early '90s renaissance of rap creativity and point toward the future of the genre. On his debut, Breaking Kayfabe, the then 18-year-old rapper unveiled a fresh, scrappy sound that, while consistently wearing a smirk, was a welcome respite from the prevalent coke rap sound of the current hip-hop landscape.
Pemberton, formerly a music journalist during his teen years (this kid apparently wants to show us all up), funnels his own love of music into his strange mish-mash of old school beats, video game synth patches and electro melodies. Calling it `nerd rap' is way too easy, but far too lazy as well. Though his Atari beats and highbrow rhymes are essential to the Cadence Weapon equation, his sophisticated approach is deeper, more interesting than that. Nobody's going to confuse him with MC Frontalot.
Both classicist and fairly unconventional, Pemberton's sophomore album Afterparty Babies is a hell of an effort. "Dedicated to all the accidents," as he announces at the end of opening track "Do I Miss My Friends?", Afterparty Babies is supposedly inspired by the children conceived during those late-late-night bashes, while the Dom P buzz is still fresh and the noise curfew has been well breached (Pemberton, himself, is a confessed `afterparty baby'). Yet Afterparty Babies takes this idea of unplanned (pro-)creation and turns it into some kind of strange but awesome party.
While "Do I Miss My Friends?" sounds more spoken-word than legit hip-hop, opening ceremonies with a curious flow and hummed backing track, the ignition isn't truly lit until the single "In Search of the Youth Crew." With a simple, looping electro sample, Pemberton drops his hands-in-the-air chorus of "the youth crew's back!" between barrages of hyper-fast verses. "Real Estate" has a similarly crowd-riling chorus: "I made a deal today/ I'm selling real estate." Yet these moments of rap-along catchiness aren't necessarily the norm. That isn't to say that accessibility isn't Pemberton's forte, he just displays it in less ordinary ways.
The Nintendo breaks in "Limited Edition OJ Slammer" (in which Pemberton boasts "Tom Cruise and Katie Holmes was my idea") may come off as a bit goofy upon first listen, but the production is so solid that it seems less like novelty and more like genius. Meanwhile, Pemberton's rock-crit pedigree shines through on the line "I'm not bohemian like you/ not if I was the last one on earth," coming off of it sounding far more likable than Courtney Taylor-Taylor. "Messages Matter" is utterly mind-blowing; over eerie backward samples, Pemberton brags "when I spit, the words say `glisten'/ `cause where I'm from all the birds stay and listen" and later laments "I don't respond to emoticons." And I can think of few laugh out loud, yet clever moments, that can beat "I went where George Wendt, where everybody knows my name" on "Your Hair's Not Clothes!" (also a pretty good title).
Perhaps it's because Cadence Weapon hails from a city with no discernable rap style to pigeonhole (Edmonton, holler) or maybe it's his youth, or even how eclectic his iPod is—whatever the case, Afterparty Babies shows a new and uncharted form of hip-hop. After Pemberton shouts out his dedication in "Do I Miss My Friends?", he encourages his audience to "make more mistakes." I feel I must add an appendix to that: skipping over this album is the kind of mistake that would be unforgivable.
Similar Album:
Aesop Rock – None Shall Pass
Busdriver – RoadKill Overcoat
Antipop Consortium – Arrhythmia
MP3: "Real Estate"
Download at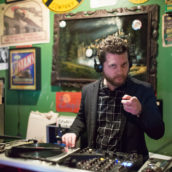 Jeff Terich
Jeff Terich is the founder and editor of Treble. He's been writing about music for 20 years and has been published at American Songwriter, Bandcamp Daily, Reverb, Spin, Stereogum, uDiscoverMusic, VinylMePlease and some others that he's forgetting right now. He's still not tired of it.