Treble Album of the Week Mix: Spring 2008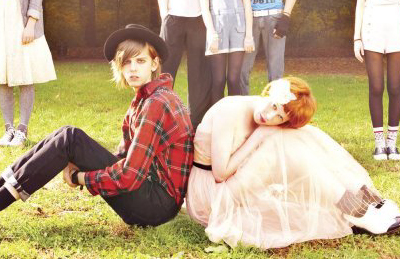 We've been making Album of the Week mixes at Treble for around four years now, and it doesn't appear that we're going to stop anytime soon. And why should we? It's one of the most fun things we could possibly do. So, while we've been recommending albums that have blown us away, two per week, for the last four years, we can't help but pick and choose one track from each of those albums for an ongoing mix that just may end up being the world's longest mp3 playlist at some point. That's certainly something to strive for, but for now, here are 21 tracks that demand your attention, with streams, MP3s and videos provided for your listening and watching pleasure.

Headlights
"Cherry Tulips"
From Some Racing, Some Stopping
"Fittingly, the song's arrangement conjures up images of stargazing at the ocean on a chilly night."

Beach House
"D.A.R.L.I.N.G."
From Devotion
"When Legrand sings it, letter by letter, it seems to convey all of those things that are nearly impossible to convey in language."

Los Campesinos!
"Death to Los Campesinos!"
From Hold On Now, Youngster
"`Death To Los Campesinos!' practically begs for hyperactive jumping and bouncing, yet in its super-speed twee-punk explosion, there's a melody that almost sounds Dinosaur Jr. in nature."
The Ruby Suns
"Oh, Mojave"
From Sea Lion
"On `Oh, Mojave,' handclaps are everywhere and, in tribute to the citizens just south of his homeland, McPhun, along with his merry troubadours, offer lyrics in Spanish, kicking up some Southwestern dust and a sound that's nothing if not purely joyous."

Grand Archives
"Miniature Birds"
From Grand Archives
"You can just picture yourself swinging your arms with your iPod on, strutting a happy strut as the organ pipes in, happy squirrels and birds bobbing their heads along with you."

Gutter Twins
"All Misery/Flowers"
From Saturnalia
"`All Misery / Flowers' is one of the best examples of the balanced combination of both artists, sounding like a Tom Waits meets Godspeed You Black Emperor Southern Gothic masterpiece."

Kelley Polar
"Rosenband"
From I Need You To Hold On While the Sky Is Falling
"`Rosenband' is a rare example of Polar putting more boost behind the bass, yet still leaves plenty of breathing room, allowing for gorgeous, glossy synths to fill in with melodic wonder."

Destroyer
"My Favorite Year"
From Trouble In Dreams
"Some of the lyrics, thanks to Bejar's rapid-fire delivery, are incomprehensible, but the song's appeal is hard to deny."

Sera Cahoone
"Baker Lake"
From Only As The Day Is Long
"In songs such as the stunning `Baker Lake' the requisite plucked banjo notes juxtaposed with the soulful pedal steel set the scene, yet never overpowered the main event, Cahoone's smoky vocals."

Dodos
"Fools"
From Visiter
"This is what makes the music so compelling and beautiful, and why the Dodos should be deemed a contemporary than a derivative of Devendra or Animal Collective."

Neon Neon
"I Told Her On Alderaan"
From Stainless Style
"The Star Wars referencing `I Told Her On Alderaan' should be a megahit."

Fuck Buttons
"Bright Tomorrow"
From Street Horrrsing
"On the other side there is a steady beat, `Bright Tomorrow,' semblance of arriving somewhere more static, sunlight and the slow motion of an early morning hour."

Cadence Weapon
"Real Estate"
From Afterparty Babies
"`Real Estate' features a great crowd-riling chorus: `I made a deal today/ I'm selling real estate.'"

Foals
"Cassius"
From Antidotes
"When frontman Yannis Philppakis yelps `I wish we'd gone/ wish we'd gone away,' it's best left to surrender; that's the hit right there."

Long Blondes
"Round the Hairpin"
From "Couples"
"I would have never guessed they could pull out an abstract post-punk gem this bizarre and this amazing, but I'm glad to be wrong."

R.E.M.
"Houston"
From Accelerate
"(`Houston') is stunning. It's pure Automatic for the People dark harmonies and gothic overtones."

M83
"Graveyard Girl"
From Saturdays=Youth
"Gonzalez takes his homage seriously and, according to him, there isn't a hint of irony."

Nick Cave and the Bad Seeds
"Dig, Lazarus, Dig!!!"
From Dig, Lazarus, Dig!!!
"This is a more of a plugged in, cranked up, adrenaline surging direction for Cave."

Constantines
"Our Age"
From Kensington Heights
"Standout track `Our Age' is, without a doubt, one of the best songs the band has written to date, beginning with a quiet folky sound before erupting into a magnificent, emotionally gripping chorus."

Portishead
"We Carry On"
From Third
"One of the more direct songs on the record, and that's truly stretching, is `We Carry On,' a track whose menace is in its marching drum and intense building guitars."
Live on `Later with Jools Holland'

Cut Copy
"Lights and Music"
From In Ghost Colours
"…splitting the difference between the disco and the dashboard with millimetric precision."