A funny thing happened to me in a record store a few years ago. At the time, I was looking to track down a copy of Architecture in Helsinki's In Case We Die, but had no luck in finding one. So I ask the clerk if they have any, and after he determines they don't, turns to me and asks `Is Helsinki a real place?' Of course, I noted that it was the capital of Finland and was soon on my merry way. It's an amusing story, but I bring it up because I had a moment of hesitation before concluding that Andorra, the title of Caribou's fourth album, was a real place. Before you chastise me for allowing my geographical skills to go limp, keep in mind that it's easy to confuse with Endor, the planet orbited by the lunar forest home to many a fuzzy Ewok in Return of the Jedi. The actual Catalan-speaking Principality of Andorra has a much cooler factual history, in that it's a haven for tourists and bank accounts, and has the highest life expectancy in the world at 83.52 years. Given this info, it seems a much better muse than a LucasArts creation.
It's probably a given that Andorra is not an ode to forests and furry dwarf critters, and rather a much more romantic and beautiful pop record. This far into his career, it's hard to imagine Dan Snaith building to anything bigger than his 2003 breakthrough Up in Flames, as it was as immense as an album could possibly sound. It pummeled like a euophoric monsoon, drenching everything with swirling mesmerizing psychedelic dance movements, dwarfing pretty much every other electronic album of the decade. And though Snaith hasn't necessarily attempted anything bigger, he's certainly been building toward a new peak, and Andorra is just that new artistic apex.
Retaining vestiges of Up in Flames' dancegazer sound and the kraut-pop of The Milk of Human Kindness, Andorra is Snaith's most accessible and vocal-oriented album, opting for melodies and verses over swirling mass of sound. And it seems a bit more human, as well. Where Kindness opted for bestial song titles and robotic rhythms, this album has a warm, organic feel, and titles that primarily use people's names—"Sandy," "Eli," "Desiree," "Irene," etc. To put it in completely oversimplified and probably by this point redundant terms: This is Snaith's pop record.
As a pop record, and as a Caribou record, Andorra is breathtaking. It begins with "Melody Day," which is quite simply the best single Snaith has ever recorded. With an insistent pounding rhythm, jangly guitar chords and a chorus that soars into another stratosphere altogether, it's an amazing rush of sounds and emotions, gorgeous but rocking hard. In this bold and stunning move, Snaith has taken a great leap from "Tits & Ass: The Great Canadian Weekend" to some sort of re-imagined California summer of love. With "Sandy," the flute-centric psychedelia of Up in Flames is funneled into a three-minute pop song, as is "After Hours" to a much more epic end, building and blossoming in psychedelic bliss.
Junior Boys' Jeremy Greenspan provides guest background vocals on "She's The One," a mellow and pretty tune, though its mid-tempo shuffle is much subtler than the dramatic movements that surround it, like "Desiree," which begins quiet and melancholy, but swells into a chorus of orchestral majesty. "Sundialing" is the closest to Milk's Neu! and Can inspired 4/4 repetition, but it's also one of the coolest sounding tracks, muted looping beats providing a soft bed for a playful, yet minimal guitar and vocal progression. While "Irene" is the most overtly `electronic' sounding, basic drum machine beats and woozy analog synth melodies fading in and out, closer "Niobe" is the real behemoth here. Nine minutes long, beginning with very little, and very little which is identifiable as music at that, it continually grows and grows, its beastly power eventually erupting into a full-blown disco blaze. It's not as immediately accessible as any other song here, but it'll sure knock you on your ass.
In retrospect, it makes perfect sense that Snaith would name his album after a region whose inhabitants come closer to immortality than anyone on earth. Andorra, itself, is timeless and absolutely magical. Its melodies mesmerize, its sounds and textures enchant, and above all, seamlessly combines all of the best aspects of the Caribou canon into a concise and cohesive pop masterpiece.
Similar Albums:
Broadcast – haha Sound
Flaming Lips – The Soft Bulletin
The Zombies – Odessey and Oracle
MP3: "Melody Day"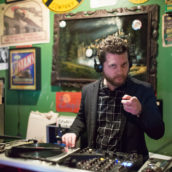 Jeff Terich
Jeff Terich is the founder and editor of Treble. He's been writing about music for 20 years and has been published at American Songwriter, Bandcamp Daily, Reverb, Spin, Stereogum, uDiscoverMusic, VinylMePlease and some others that he's forgetting right now. He's still not tired of it.