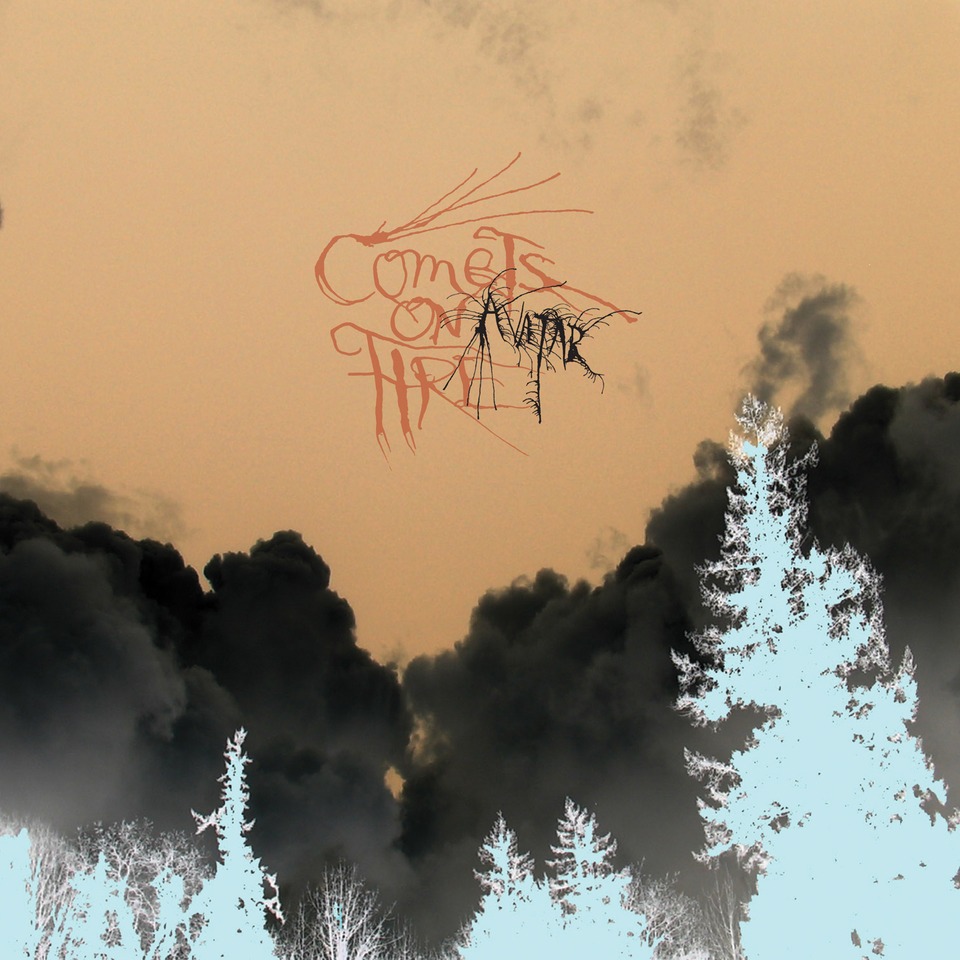 With what may very well be the revivalist record of the year, Comets On Fire, who combine '60s psychedelia with reckless heavy metal abandon, are back with their latest full-length, Avatar, the ear shredding and overwhelmingly powerful follow up to 2004's acclaimed Blue Cathedral. Pressing the play button on your stereo will ignite an auditory experience more incendiary than any rock band you're likely to hear all year, let alone this decade. Avatar, quite simply, is the most explosive album gifted to man since Prometheus stole fire from the Gods, but the only repercussions that front man Ethan Miller and his bandmates need fear is becoming critic darlings for their ever-improving approach to rock music. Every bit as boisterous as Blue Cathedral, and yet much more accessible, Comets On Fire's latest takes no prisoners, burning a hole into your consciousness you'll not soon forget, nor will you want to.
Avatar, as a title as well as an idea, embodies the foundations of meaningful heavy metal pioneered in the late '60s by bands such as Blue Cheer. It's an intense attitude toward rock, re-imagined and brought blazing into the new century by Miller and company. The triumphant return of the echoplex, a delay device operated by Noel Harmonson that creates a wall of distorted noise by running anything from guitars to vocals through its input, is just one of the unique features employed by the band that elevates them within the genre. The results are gratifying indeed, as the echoplex imbues each track with a buzzing atmosphere that enriches the dual guitar assault of Miller and Ben Chasny (the one man wonder behind Six Organs Of Admittance). The device emits violently undulating screeches that are as unsettling as exploring a dimly-lit cave only to disturb its winged inhabitants. And sonically, the sound of the echoplex isn't much different from the sound you'd hear from those same startled bats.
Still, on Avatar, the Comets have finally landed. Miller and drummer/pianist Utrillo Kushner's songwriting is greatly ameliorated, the lyrics touching on various elemental subjects (fire, wind, water, etc.) while maintaining a certain air of mystery about the true content of each song. The volcanic opener, "Dogwood Rust," erupts with a flurry of Kushner's turbulent drumming over Miller and Chasny's attacking guitars as Miller unfurls a slew of apocalyptic lyrics that ultimately transform into a tale of lost love: "Is it not strange the way we fade?/From each other's thoughts/ Reduced to orphaned memories." "Jaybird" follows immediately with a jazzier, almost improvisational intro and Harmonson's unassuming echoplex. Miller comes blaring with a cavalcade of Zeppelin-esque lyrics: "The windmills with their sorrow and cold eye/ Standing on a hill/ with arms as still as dust in a tomb/ Crying where is the wind?"
But the slow-burning piano jam of "Lucifer's Memory," written by Kushner, is the real treat on Avatar. It offers a brief respite from the rock onslaught and reveals a more introspective side of Comets On Fire, which until now, wasn't apparent on previous releases. The instrumental "Sour Smoke" revels in its bouncy Hammond organ as Miller and Chasny continue to perfect their weaving guitar riffs and extended jamming. Of the seven tracks on Avatar, only one clocks in at under six minutes, but Miller and company never get lost within their calculated jam segments.
The sheer face-melting power of Avatar stands as a testament to the fact that something interesting can still be done with the heavier side of rock music and yield impressive results. A new generation of fans will gather around the crater left by Comets On Fire to witness the awesome magnitude of their incinerating new album. Let's just make sure there are plenty of fire extinguishers handy.
Similar Albums:
Awesome Color – Awesome Color
Black Sabbath – Sabbath Bloody Sabbath
Comets On Fire – Blue Cathedral